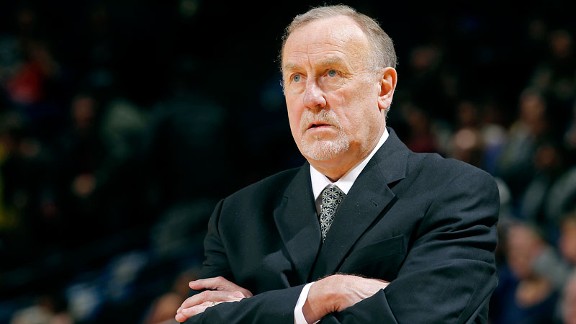 Rocky Widner/NBAE/Getty Images
Rick Adelman: The quiet innovator
Name: Rick Adelman
Birthdate: June 16, 1946
Is he an emotional leader or a tactician?
A tactician whose schemes have influenced coaches at every level of competitive basketball. When Adelman wants to motivate a player or address a potential conflict, he's far more likely to sidle up next to the guy at a shootaround or at practice for a quick conversation than make a fuss. Adelman is not a consoler, pep squad leader or speechmaker. His dominant message? Practice is tomorrow at 11. For players who prefer more communication or need hand-holding, this can be difficult, but Adelman has a knack for maintaining harmony.
Is he intense or a go-along-get-along type?
He has the unique ability to manage diverse personalities with his even temperament. Clyde Drexler clashed with an intense Mike Schuler during his early years in Portland, but when Adelman took over, Drexler was on the same page as his new coach from the outset. Adelman errs on the side of less practice, not more, and is constantly mindful of whether his players are in a good place, and that basketball isn't becoming a chore to them. He isn't inclined to develop deep relationships with players, but they're confident he won't play favorites and won't call them out in a group setting. Adelman is a quiet teacher, a stoic and somewhat of an introvert, which is a rarity in this profession. On the road, he's more likely to spend a night in than go out to a dinner where basketball might be the leading topic of conversation. He requires time to recharge.
Does he rely on systems, or does he coach ad hoc to his personnel?
Although his schemes offer a fair amount of flexibility, Adelman certainly falls on the system end of the spectrum. He wants the game played a certain way, something expressed in his corner sets that have been replicated a million times over in the league. A few NBA teams actually refer to these play calls as "SAC" (as in Sacramento), where Adelman refined his offensive approach. While the principles of Adelman's offense remain the same -- all five players engaged, move the ball quickly, remain aggressive as you read and react -- he will adjust and modify the primary options to accommodate different skill sets. The best example would be Yao Ming, who needed to be fed the ball in places on the floor that, in most circumstances, Adelman would prefer vacant.
Does he share decision-making with star players, or is he The Decider?
Adelman believes that a player who buys into the program is entitled to a piece of the enterprise. He doesn't preside over a dictatorship, but most of all, he pre-empts any conflict by making decisions his players can get behind. His system also entrusts players to make decisions and unleash their creativity.
More coaching profiles
Does he prefer the explosive scorer or the lockdown defender?
He has an affection for high-IQ scorers -- Peja Stojakovic, Kevin Martin, Mike Bibby, even Von Wafer. Under Adelman in Houston, Aaron Brooks got the bulk of the minutes over Kyle Lowry at the point until Brooks went down with an ankle injury in Adelman's final season with the organization.
Does he prefer a set rotation, or is he more likely to use his personnel situationally?
A set rotation works best for Adelman, who wants to avoid making waves that might divert the focus of the team away from what's happening on the court. When Adelman assigns someone to the starting lineup, he'll exercise patience with that player.
Will he trust young players in big spots, or is he more inclined to use his veterans?
Young players, especially those who can score, get plenty of opportunities under Adelman. He took immediately to Cliff Robinson in Portland when the Trail Blazers were among the elite. Rookie Jason Williams led the Kings in minutes during the lockout-shortened 1998-99 season. Houston was largely a veteran outfit during Adelman's tenure. Minnesota has been a MASH unit -- any healthy body will do.
Are there any unique strategies that he particularly likes?
Adelman isn't looking for one specific shot in a possession. He imagines a range of positive outcomes and has created a framework for achieving one of those objectives, which we know generally as the corner offense.
The corner isn't so much a system of play calls as it is a systematic way to promote ball and player movement through smart reads. Multiple players are involved in just about every possession, which keeps offenses humming and players happy.
At its most basic, a corner set will feature three players on the strong side -- at the wing, corner and a big man at the elbow who has the instincts and skills to facilitate offense on the fly, players such as Chris Webber, Vlade Divac or Brad Miller. Offensive players size up the defense, then choose an action that best exploits what the defense surrenders.
In short, read and react.
For instance, a dribble handoff is a popular option within the corner. A wing who can capably read a defense will play out the sequence based on what the defense affords him. If his defender is trying to deny the handoff by hugging him tightly, he can slip back door. If the defender goes under the big man, the wing can stop and pop. If the defender is trailing, then take the ball and penetrate, draw contact or, if help comes from the weak side to collapse, make a pass to a shooter in the corner (Stojakovic and Shane Battier were frequent beneficiaries). Of course, the big man can always fake the handoff and, if his defender bites, turn around and shoot an open jumper. While all this is going on, the weakside big might give his weakside small a down screen. This gives the corner crew another option -- a shooter popping out to the perimeter.
A lot of cool stuff can materialize with the corner, and most playbooks around the league include a couple of "C-sets" with multiple triggers. Ultimately, the collective instincts of the five-man unit drive the offense, and each player on the floor is empowered to do something over the course of the possession to test the defense and keep it guessing. The ball moves and, when run correctly, the offense never starts and rarely finishes with isolation basketball. The corner doesn't offer the level of structure found in the Triangle or the continuity offense in San Antonio, but it's easier to pick up and allows players to be a bit more creative -- which can be both an asset and a drawback.
What were his characteristics as a player?
A standout at Loyola Marymount, Adelman was a 6-foot-1 point guard without much of an outside shot and zero speed. But he could defend in the half court, move the ball to the scorers and make a pass on the move. He was chosen by the San Diego Rockets in the seventh round of the 1968 draft, and wore a hockey mask for the first couple of months of his NBA career after breaking his jaw in a preseason game. That Rockets team included Pat Riley. Two years later, Adelman became a charter member of the expansion Portland Trail Blazers team.
Which coaches did he play for?
His first NBA coach was Jack McMahon, regarded as a players' coach. He also played for Rolland Todd, Stu Inman and Jack McCloskey, all of whom lost a lot of games. Adelman then moved to Chicago, where he played for Dick Motta, before moving on to New Orleans, where he played for the nomadic, fiery, profane Butch van Breda Kolff, then finished his career with the Kings and Phil Johnson.
What is his coaching pedigree?
Adelman got his start at Chemeketa Community College in Oregon, where coaching basketball was just one part of the gig. The position was actually the province of the college's counseling department and Adelman's other responsibilities included educating high school kids about the junior college system. Adelman's big break came in 1983, when he got a phone call from Dr. Jack Ramsay asking him to join the Trail Blazers' coaching staff. Ramsay's "turnout" offense, with its continuity, multiple screens, cuts and quick passing, was foundational for Adelman, and Ramsay is very much the spiritual godfather for much of what Adelman has developed as an offensive practitioner. After Ramsay's departure from Portland, Adelman stayed on under Schuler, then took over the head job when Schuler was let go in February 1989.
If basketball didn't exist, what might he be doing?
A lover of history who appreciates time to contemplate, Adelman would be on the faculty of a junior college in California or Oregon.