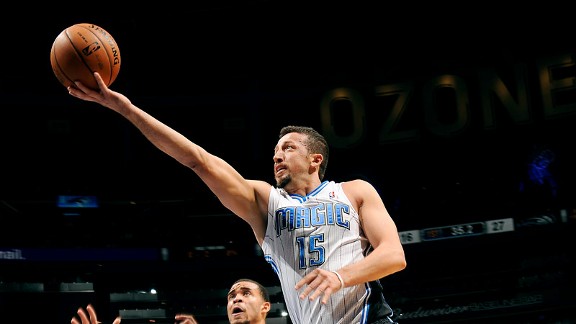 Fernando Medina/NBAE/Getty Images
The Magic forward was suspended 20 games after testing positive for methenolone.
During the next few days, all kinds of experts will have a lot to say about performance-enhancing drugs in the NBA.
Hedo Turkoglu's suspension for a steroid associated with Belarusian shot-putters will churn up analysis from a sporting public seeing things a bit differently since Lance Armstrong shattered so many assumptions. Commissioner David Stern and his deputy, Adam Silver, are assured of having to take questions on this topic at their annual All-Star news conference Saturday.
The central question: Are NBA players using performance-enhancing drugs? Is the sport we love tainted, as so many others have proven to be?
The one true answer: "I don't know."
Nobody really knows.
Why not?
Mostly because the NBA has vast loopholes in its current anti-doping program, which was singled out as a laggard even before baseball installed important reforms to move further ahead. Not even Stephen M. Taylor, M.D., who runs the NBA's testing program, can say what's running through players' bodies day to day. NBA players are seldom tested -- with typically no more than six urine tests a year, often with enough advance notice for a sophisticated cheat to appear clean. Amazingly, their blood is never tested.
Techniques to beat an NBA-style testing regimen are detailed in any number of books and on plenty of websites, and they're not that complicated. Taking tiny doses at night so you're clean in the morning is a big one. Taking drugs they don't test for -- like human growth hormone, or your own infused blood -- also works. Chugging lots of water or infusing intravenous saline solution (which only takes a few minutes) has saved athletes facing similar tests in other sports in the past.
Thanks to workarounds like those, Armstrong says he didn't worry about failing a drug test -- even when he was cheating -- until 2008, when he says the testing suddenly got "really good." That's when Armstrong and others had to reform, retire or take evasive action. The key change? Biological passports. That's when the dirtiest sport changed forever -- the past five years in cycling have seen one embarrassing admission after another -- and much slower riding. Many cyclists attribute it to biological passports. They are still the state of the art.
Maybe the Turkoglu news changes things, but a few weeks ago, sources insisted no such program was being seriously discussed for the NBA. That kind of testing is seen as too invasive for a sport that still clings to the outdated idea that there's nothing to worry about.
Stern and his staff have a history of pushing for good drug testing, and they have won some concessions from the players' union through the years. There was a time when NBA testing was seen as advanced. Any big changes to today's program, however, must be collectively bargained with the union. Here, it's especially tragic that the union is in profound disarray. Even if the NBA was seeking sweeping drug reforms, it's unclear with whom they might be negotiated.
In the meantime, beware anyone who tells you they know what's going on.