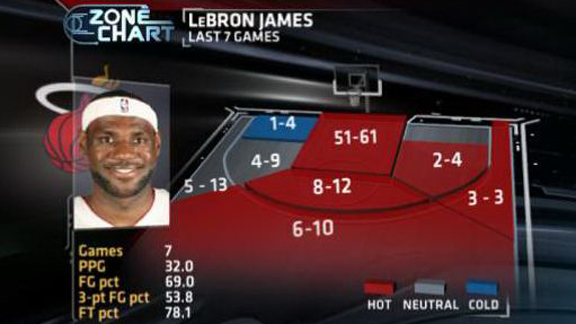 So LeBron James didn't shoot 60 percent from the field tonight, snapping his streak of six straight games with a 30-point, 60 percent combo, but …
• He did become the first player to score 30 or more points in seven straight games leading into the All-Star Break in 50 years. The Elias Sports Bureau tells us that the last to do so was Wilt Chamberlain in 1962-63.
• His streak of 30 or more points in seven straight games is tied for the second-longest of his career (he had a 10-gamer in 2006).
• He became the first player in the NBA this season with at least 39 points, 12 rebounds, and seven assists in a game, the first to hit all three of those numbers since he did so against the Indiana Pacers in the playoffs last season.
• He had his sixth game with at least 30 points and 10 rebounds. No one else in the NBA has more than four such games.
• He improved to 9-2 all-time in head-to-head regular-season matchups with Kevin Durant (13-3 if you include last year's NBA Finals).
James is averaging 30.2 points, 10.3 rebounds,and 8.2 assists in his last six games against the Oklahoma City Thunder (all Miami Heat wins).
James had his best game of the season on shots of 20 feet or longer, going 8-for-12 from that distance. The eight makes were a season high.
He was also good on the defensive end. Kevin Durant shot only 4-for-10 with two free throws and four turnovers with James guarding him. Durant was 8-for-14 against other Heat defenders.