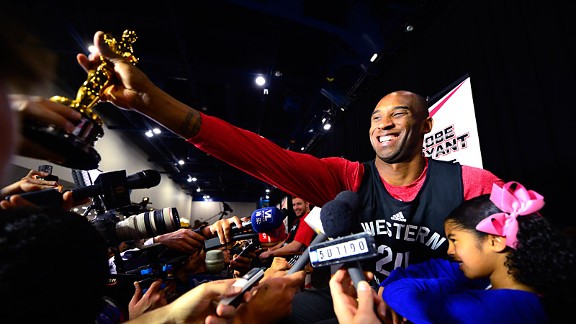 Bob Donnan/USA TODAY Sports
If there were an award for Most Competitive at an All-Star Game, Kobe Bryant would win it.
Kobe Bryant cares about the All-Star Game more than each and every one of the fans who cast 1,591,437 votes for him to start in it a record 15th time cares about the All-Star Game. That's strange, because the All-Star Game is supposed to be for the fans, while for the players it's usually a weekend of camaraderie, sponsor tie-ins and maybe a little chance to showcase their skills. Not for Bryant. For him, it's another opportunity to win.
He doesn't just show up to All-Star Games, he competes in them.
"When have I not competed?" he says.
You could scratch your head until you're bald trying to come up with the answer to that one. I've even seen him compete when he's injured, challenging ballboys or media members in shooting competitions before games he couldn't play in. (Watch him revel in making a reporter do 200 pushups after Bryant sank a left-handed shot from halfcourt).
It explains why Bryant ranks among the NBA's all-time greats, and how he has whittled the choice of greatest All-Star performer down to two: Bryant and Magic Johnson.
Bryant has the most points in All-Star game history, and he shares the record for All-Star Most Valuable Player awards. Today will be his 14th start, the most of anyone (he also was voted into the starting lineup in 2010 but couldn't play because of an injury).
Magic has the most All-Star assists and has won the MVP twice, half as many as Kobe. Magic could have had more for himself, if he hadn't been dedicated to setting up Ralph Sampson in 1985 or enabling Tom Chambers of the SuperSonics, the local favorite, to win it in Seattle in 1987. David Stern said Saturday that his favorite All-Star memory is Magic winning the MVP in Orlando in 1992, three months after Magic announced he was HIV-positive.
Both Kobe and Magic brought the right combination of playoff intensity and charity game showmanship to the All-Star Game. Magic pushed the ball upcourt, forcing his teammates to fill the lanes, daring the opposition to keep pace. Kobe plays lock-down defense and goes at opponents with ferocity when he has the ball.
"In those situations you don't have to worry about zone coverages or double-teams," Bryant says. "You just get a chance to go at a guy. It's fun for me to be a part of."
He might be the only one who thinks the game is the most fun part of All-Star Weekend. By the time tipoff finally arrives on Sunday evening, most folks are ready to head out of town. There have even been some snide remarks about Bryant's effort from his fellow All-Stars, who in the past have adopted the attitude, "If Kobe wants that MVP so badly, he can have it."
He's never thought that way. If you're going to be the one holding that trophy at the end of the day, you'll have to beat him out for it. Last year that mentality resulted in a concussion and a broken nose when Dwyane Wade fouled him on a drive to the basket, and it led to a national referendum on LeBron James' heart when LeBron passed off while Kobe was daring him to shoot at the end of the game.
Bryant shares the MVP record with Bob Pettit, who won his four awards in a seven-year stretch between 1956 and 1962. Bryant's four are spread over 10 years, from 2002 and 2011. He emerged as the best on a court filled with the best for a full decade. The last one seemed to be a message to the likes of James, Kevin Durant and Blake Griffin -- who will be All-Star fixtures for years after Bryant is gone – that he hasn't left the stage yet.
"It may have a little bit to do with it," Bryant says. "But for me I've been that competitive about the game since I was 18. I don't know, it's just the way I've been."
There's a basketball game on the schedule today. That's all Kobe Bryant needs to hear.