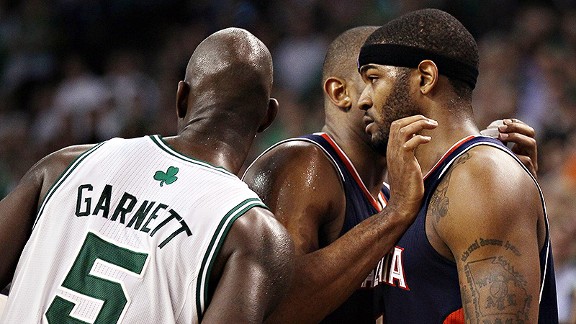 Elsa/Getty Images
You don't have to listen too closely to hear trade chatter about Kevin Garnett and Josh Smith.It didn't take long, coming out of All-Star Weekend, from the trade chatter to crank back up again.
Some fresh dribbles of that chatter follow in the lead-up to the NBA's 3 p.m ET Thursday trade deadline:
---
The Atlanta Hawks have convinced numerous teams that they're definitely trading Josh Smith this week, largely because they see the unpredictable lefty as a virtual lock to leave them in free agency this summer.
So ...
Destinations?
One team close to the situation consulted Monday night predicted that the Nets would ultimately land Smith via a three-way trade after ESPN's Chris Broussard reported Feb. 11 that Smith is a prime Brooklyn Nets trade target.
Another team pinpointed the Phoenix Suns and Milwaukee Bucks as the strongest contenders to win the Smith sweepstakes. The big worry for both of those teams, though, is whether they could really risk trading for Smith when convincing him to re-sign for the long term is likely to be a serious challenge in either city. Especially with Smith said to be angling for a max deal … and with nobody confusing the Suns or the Bucks with Mikhail Prokhorov's Nets.
Broussard, furthermore, tweeted early Tuesday that the Washington Wizards have made anyone on the roster available for Smith, apart from John Wall, Bradley Beal and Nene.
Which brings us to the Boston Celtics.
NBA front-office sources told ESPN.com on Monday that the Boston Celtics have, indeed, registered their interest on the Smith front, with the caveat that they also remain highly interested in the Clippers' Eric Bledsoe.
Yet a Boston deal for Smith, sources said, would almost certainly have to be built around Paul Pierce, because Kevin Garnett isn't waiving his no-trade clause to go to the Atlanta Hawks if he's not willing to waive it to go to Clipperland. And the prospect of Celtics front-office chief Danny Ainge exiling Pierce to the Hawks for Smith, after everything Pierce has done to restore the Celtics to glory over the past half-decade, is still hard to imagine.
At least for me.
---
According to one theory in circulation on the personnel grapevine, Celtics officials could be moved this week to try to make the case to Garnett that waiving his no-trade provision to accept that long-rumored trade to the Los Angeles Clippers would be the best thing not only for himself but for the long-term health of the franchise. Combine that approach with the expected lobbying from the L.A. side by good buddy Chauncey Billups, as the theory goes, and maybe Garnett will ultimately relent and consent to a swap.
Have to add three follow-up caveats here, though:
1. After spending a solid 15 minutes in the same room with Garnett in Houston as part of ESPN Radio's All-Star Weekend team, I became convinced that KG isn't waiving that no-trade clause. For anyone or any team. My impression is that it's going to take more lobbying than anyone out there can muster.
2. Broussard reported late Monday night on "SportsCenter" that Billups has already warned the Clippers that Garnett's position appears to be firm … and that Garnett spelled out the exact same thing to Chris Paul last summer when Paul informed KG that the Clippers wanted to pursue him via trade.
3. Even if Garnett did wind up with the Clippers this week, after all the bluster against the idea, I still struggle to picture the Celtics telling Pierce that they're going to send him to the Hawks for the good of Boston's long-term health. The deal might make sense for Atlanta -- since Pierce's $5 million buyout for next season would extend the Hawks' window of flexibility and create a new set of options -- but it still looks like as an impossible sell in Boston.
I've always thought Rajon Rondo, not Pierce or Garnett, would be the first member of Boston's star trio to be dealt. There simply might not be a shake-up move available to the Celtics at this deadline now that Rondo has been lost to a season-ending knee injury.
---
There's more on that subject.
The Clippers, according one source close to the situation, would not be willing to surrender both Bledsoe and DeAndre Jordan to Boston even if Garnett was willing to waive his no-trade clause.
Is that posturing? An absolute stance?
We'll find out for sure between now and the deadline, but the source insisted that the Clippers feel that a Bledsoe-and-Jordan combo is too much to surrender for a 36-year-old who isn't sure how much longer he'll be playing.
---
The consistent word out of Houston, incidentally, is that the Rockets -- long known to be Smith fans -- are far more likely to pursue J-Smoove in free agency than to try to trade for him this week.
The Rockets are expected to use their leftover salary-cap space from last summer to extract an extra draft pick from teams looking to shed salary for luxury-tax reasons right before the trade buzzer.
---
Veterans who remain available in trade talks this week include San Antonio's DeJuan Blair, Cleveland's Omri Casspi, Charlotte's Ben Gordon, Brooklyn's Kris Humphries, Oklahoma City's Eric Maynor, Minnesota's Luke Ridnour, Phoenix's Sebastian Telfair and Washington's Jordan Crawford.
Orlando, meanwhile, continues to seek no less than a first-round pick for sharpshooter J.J. Redick, who is scheduled to become an unrestricted free agent in July.