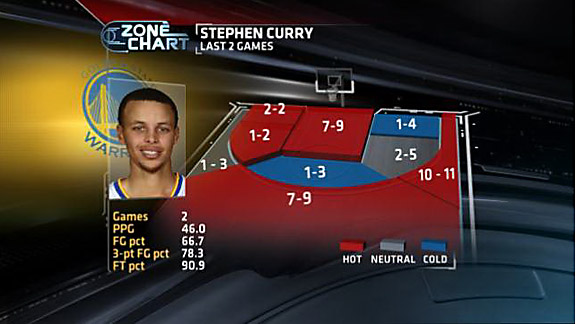 Stephen Curry has put up amazing numbers the last two games.
The show of the night on a wild NBA evening (one that included two buzzer-beating shots and a triple double) was the New York Knicks-Golden State Warriors matchup that featured a couple of rack-up-the-stat-sheet efforts.
Let's take a look at some of the statistical highlights.
The Stephen Curry Show
One night after scoring 38 points, Stephen Curry poured in a career-high 54 in an epic effort in defeat.
Most Points in a Game
With At Least 10 3-pt FG
Let's run through all of Curry's superlatives, with help on these notes from the Elias Sports Bureau.
His 54 points were the most by anyone in a game this season, surpassing the 52 by Kevin Durant against the Dallas Mavericks.
They were the third-most by an opponent at the current Madison Square Garden, which opened in 1968. The only two players with more are Kobe Bryant (61) and Michael Jordan (55).
His 54 points were the fifth-most by anyone in a loss to the Knicks, trailing three games by Wilt Chamberlain (the most being a 67-point game in 1962) and one by Rick Barry. Both Chamberlain and Barry did so as members of the Warriors franchise.
His 11 3-pointers were a Warriors franchise record, and one shy of the single-game NBA record set by Donyell Marshall and tied by Bryant.
Curry's effective field goal percentage in this game was 83.9 percent. That was the second-highest by anyone who took 20 shots in a game this season, surpassed only by the 87.5 percentage he shot on Tuesday.
Our video review via Synergy Sports showed that Curry made his shots on all different types of plays. He was 4-for-5 as a pick-and-roll ballhandler, 3-for-4 as a spot-up shooter, 2-for-2 in transition, 1-for-1 off screens, and 1-for-1 in isolation.
Chandler owns the boards
Tyson Chandler had a career-high 28 rebounds, one shy of the most by anyone in an NBA game this season (Nikola Vucevic had 29 for the Orlando Magic).
It was the most rebounds by a Knicks player since Willis Reed tied Harry Gallatin's club record with a 33-rebound game in 1971.
Chandler set the tone in the game's first 10 minutes, grabbing 13 of the Knicks first 14 rebounds in the game.
The Knicks dominated the offensive glass in this game, outscoring the Warriors 27-2 in second-chance points, including 9-0 in the fourth quarter.
Smith was spot-on
Knicks guard J.R. Smith scored 26 points off the bench. The key to his success was his effectiveness on spot-up jumpers. He was 7-for-9 when spotting up, including 6-for-8 from 3-point range.
What's Next?
The Knicks next face the Washington Wizards on Friday. Their next home game
is Sunday against the Miami Heat.
We'll see what LeBron James has in store this time. In 2009, two days after Bryant scored 61 against the Knicks at MSG in 2009, James poured in 52 of his own for the Cleveland Cavaliers.
Curry and the Warriors have a day off before they continue their road trip on Friday against the Boston Celtics. In two career games in Boston, Curry has totaled 22 points.