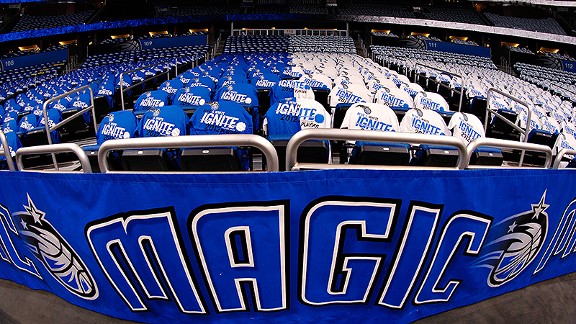 Fernando Medina/NBAE/Getty Images
When Dwight Howard left Orlando, the Magic's bean counters found other trees to shake.
A caricature of how NBA teams use analytics could be an unshaven Daryl Morey sitting alone in a laboratory feeding statistics through some Rube Goldberg computer contraption programmed to calculate wins. But there is a whole other side to how franchises crunch data that has nothing to do with basketball statistics -- it's strictly business.
In 2013, teams use analytics to increase their bottom lines as much as they do to boost their win totals.
The Orlando Magic, for example, knew that ticket demand would nose-dive after they traded Dwight Howard. But Orlando's gate revenue is down just 3.3 percent this season compared to 2010-11, according to team vice president of business strategy Anthony Perez, who spoke on a ticketing panel during the 2013 MIT Sloan Sports Analytics Conference in Boston.
Compared to the related fall in the secondary resale market for tickets, which Perez said has dropped 28 percent, the sales team seems to be doing well. Although fewer people are coming to games (1,322 fewer fans per game from a franchise-high average of 18,972 two years ago), Orlando has gotten better at squeezing money out of its building.
"Our goal is not to sell out games necessarily," said Perez. "We're trying to maximize revenue."
To do this, the Magic and many other teams have adopted a sales practice commonly used by energy companies, hotels and airlines but relatively new in sports: dynamic pricing.
For several years, NBA teams have charged different prices for tickets depending on the opponent or the day of the week. This season, the Magic have taken it a step further, using data-intensive software models to adjust prices in real time as market demand ebbs and flows.
Just like gas prices.
This is far from the only way teams are using analytics to drive revenue. Data has become vital to selling season tickets, which Amy Brooks, senior vice president of the NBA, called the "most critical part of our business" during an MIT Sloan panel session.
To predict which customers are likely to purchase ticket packages, the NBA assigns each fan in its database what Brooks calls an "NBA FICO" score, a term coined for its similarity to consumer credit ratings. This number (from 1 to 100) can be determined by any number of factors: age, income, home ownership, season-ticket buying history, distance from the arena, games attended, purchases made on NBA.com, number of stadiums visited, League Pass subscription renewals. The goal is to gauge the revenue potential the league can expect from a fan buying full or partial season-ticket packages.
If John Hollinger had devised the formula, it would be called the fan's BER (Buyer Efficiency Rating).
Given that the average NBA team has 100,000 leads, according to Brooks, cold-calling is a daunting proposition. So the more teams know about each, the more they can sell.
"We love behavioral data," Brooks said. "We want to automate this as much as possible."
This more than anything is why teams are phasing out paper tickets in favor of digital entry passes that force fans to reveal so much information about themselves.
Because ticket sales can go only so far. The gate has actually seen its slice of the overall revenue pie shrink in recent years.
"We know the revenue growth isn't coming from fans spending more money on tickets," said Jonathan Kraft, president of the company that owns the Patriots, who was part of an MIT Sloan ownership panel. "We're looking at other areas to increase revenue."
Outside of local media deals, sponsorship is the biggest potential source of growth, and compiling fan data can help teams lure whale companies.
The days of calling up American Express and having the company cut a check to put its logo in the stadium are over, said Elizabeth Lindsey of Wasserman Media Group during an MIT Sloan panel. The financial crisis of 2008, which tanked the economy and accelerated the trend of sports becoming more corporate-like, has forced teams to actually listen to what the sponsor wants.
Now company reps might start a conversation outlining that they are a Fortune 500 company with one of the most recognizable logos in the world. So they don't need signs and branding splattered all over the arena.
These big-name companies want to make a genuine connection with fans. They want to engage them in a way that is memorable. They want to provide an experience instead of just delivering a passive message on a billboard that is easy to ignore. They want to emulate the passionate consumer reaction to a brand that sports teams seem uniquely capable of creating.
Then the team's execs usually nod and say they understand -- only to come back with a sponsorship package that includes big, expensive ads on the scorer's table.
For franchises living in the past, these unappealing, traditional avenues are all they really have to offer. But creative teams that have a deep analytical understanding of who their fans are can present opportunities that are much more attractive to potential sponsors.
The Celtics, says Lindsey, are one team that really gets it.
They have partnered with AmEx, for example, to give cardholders who buy season tickets access to exclusive events -- attending practice, sitting down with Boston legends, going to player autograph sessions. Such access resonates with consumers in a way that no scoreboard sign ever could.
Kyle Sherman of Fox Sports Media Group, on the same panel, noted why these new-age partnerships are alluring to companies: "If I love the Clippers, and Toyota sponsors the Clippers, then I love Toyota by default."
And with deep analytic knowledge of who their fans are, teams like the Celtics and Magic are able to create custom pitches. Having the numbers allows them to prove their value to both current sponsors and potential ones. They can let you know how many 18-to-34-year-olds attend the average game, how many beers the typical male spectator buys or what might happen to attendance if J.J. Redick is traded in the middle of a losing season. (Orlando can -- and did -- model those figures before the recent deal that sent him to Milwaukee.)
This gives data-rich franchises something in common with Facebook: They are becoming increasingly attractive platforms for advertisers because they can offer laser-guided customer targeting. Just as Facebook can let companies show ads to, say, only Pearl Jam fans or those who self-identify as Republicans, teams can now step into a meeting armed with reams of demographic information about who comes into their arenas.
Ultimately, however, the on-court analytics popularized by Morey and the Rockets are still where the money is. By comparison, the business-based data sets offer low-leverage advances in revenue -- and they'll never get you James Harden.
Perhaps a better example: Chandler Parsons. While he may never become an All-Star, the Rockets are getting an incredible on-court return on investment given Parson's meager salary.
And if these types of moves lead to an extended period of success -- or even the ultimate goal of winning a title -- then the windfalls the team makes through its stat crunching would greatly outweigh the smaller revenue increases brought on by fan data mining.
Mark Cuban summed it up best at Sloan: "When a company has a good year, you don't throw a parade. When a sports team wins, the whole city celebrates."
Fan-behavior analytics alone will never win a championship, but they can create more financial flexibility for a front office and reinforce a culture of critically thinking about how to improve a franchise -- both on and off the court.