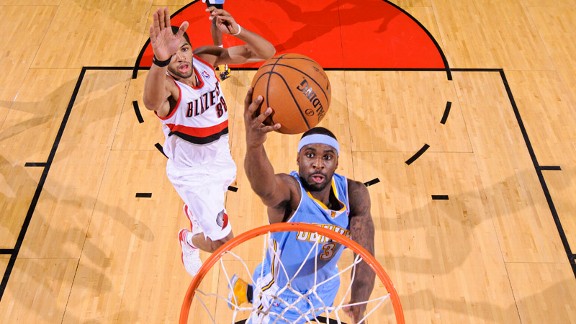 Sam Forencich/Getty Images
Ty Lawson and the Nuggets get more of these shots than any other team.
Whether or not you agree that the level of play in the NBA is at an all-time high, there's no question that the amount of data available to coaches and teams has never been greater.
The digitalization of scouting through services such as Synergy allows coaches and players to watch playlists of the most granular detail. If Gregg Popovich wants to tweak his team's defense on Steve Nash pick-and-rolls, he can instantly pull up a series of clips focused on instances in which Nash dribbles left after splitting the initial coverage. SportVu can help them find the optimum number of dribbles for Tony Parker over the course of a game.
All this information leaves many to wonder if the way teams play basketball will become, as Ethan Sherwood Strauss described the Houston Rockets' offense, like so much "savvy accounting." Crunch the numbers, program the players to avoid scenarios with low probability of success, repeat ad infinitum.
That's not exactly a new process; coaches have sought maximum efficiency since the day the league began. But we also want improvisation, grace and athleticism, and the worry seems to be that increased data and scouting will lead to increased control from coaches.
Instead we're seeing something a bit different. A few of the teams that have invested seriously in analytics are playing the most exciting and free basketball. Nuggets coach George Karl appeared on the Dan Patrick Show to talk about his team's thrilling, up-tempo style (via Grantland's Brett Koremenos).
Karl said that the smarter teams become, the more important it is to encourage the kind of athletic, aggressive open-court style that just so happens to be the most entertaining style of play.
Coaching has now gotten so technical and scientific and there's so much of it and there's so much video and and there are so many statistics, that basically the reality of coaching is when you play 5-on-5 basketball it's very difficult to beat the defense and the scouting reports and the preparation and the tendencies that we know teams have. So what we're trying to do is play before those things can be settled in to.

We want to play early. We want to play before the defense sets. We want to play when there's mismatches running up and down the court. And to do that it takes a little extra work on working on your spacing and working on your commitment to run and play fast. I mean very few players want to play fast because you don't get rewarded all the time. You have to run maybe 10 times to get 2 shots, maybe 15 times to get 2 shots.

It's like offensive rebounding. A lot of big guys don't like to offensive rebound because you got to go all the time to get a few reinforcements. Our big guys here have done a great job the last few years. They really do run the floor well which helps the beginning of the spacing and gets the freedom of the ball. And then the other sport aspect of it is I just watch football. They're playing quicker, they're getting faster. They don't want the defense to get set, they don't want the defense to rotate in and match up their strength against your strength.

We're kind of trying to play not against the strength of a good defensive team, and the weakest part of the defensive team is normally in transition. I watch a soccer team like Spain play and so much of what they do is they don't hold the ball. They ping the ball around and make quick decisions. And I'm sure they have great plays and great actions, but it's basically don't let the defense feel like they can zone in on you because you're making quick decisions.
Translation: The analytics tell us the best way to play is in transition, and with maximum ball movement. That is, to give the fans what they want.
That's why the Nuggets lead the league in attempts at the rim by a wide margin and score in transition more than any other team. It's also great news for NBA fans who prize creativity and athleticism.
For teams like Denver, more data equals more fun.