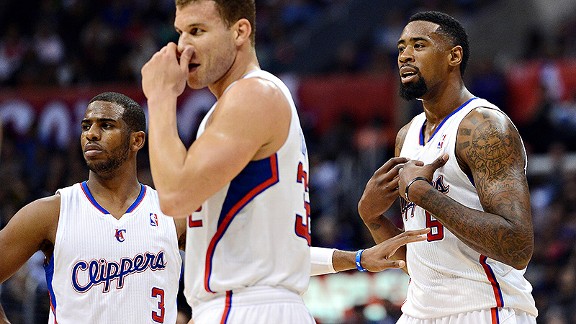 Harry How/NBAE/Getty Images
The Clippers: When very, very good might not be good enough?
When the Clippers were plowing through an undefeated December, there were a number of popular points in favor of calling them contenders. For a while, they were the only team in the league that had both a top-5 efficient offense and a top-5 efficient defense. The Clippers' locker room was the happiest place on earth, with players' sons trading a little trash talk with Blake Griffin and generally being endearing and hilarious. There were two well-defined five-man units, each thriving and learning each other's tendencies. The team's flaws were very manageable, and its combination of athleticism and confidence intimidated opponents.
The Clippers haven't experienced a crash of any kind since the halcyon days of December. They've won 10 of their past 13 games, the majority of them handily. Although there are certainly players who'd like to be seeing the court a little more consistently, the roster is still populated by guys who are well-versed in the art of being a quality teammate. On Sunday night, the locker room was celebrating DeAndre Jordan's theatrical dunk. It was a nice emotional boost for Jordan, one of those with a legitimate case for additional minutes. On the heels of the two-man stunt Blake Griffin and Jamal Crawford performed Wednesday against Milwaukee, Jordan's dunk was a reminder that the Clippers offer an energy not too many teams in the NBA can deliver a nightly basis.
Still, there's a certain restlessness around the Clippers. For weeks, they were regarded as a lock for the No. 3 seed, but they're now fending off Memphis, who has lost once since the All-Star break (a well-played nail-biter at Miami). The high-grade product the Clippers showcased during their 17-game winning streak is still there most nights against most opponents, but there are a few teams who play better basketball more often. Vinny Del Negro conceded as much pregame Sunday, and it speaks highly of a team when it acknowledges underperformance, even while it's winning most of its games.
The electricity generated from the collective buzz is important for a team's psyche, but you can take only so much satisfaction from the drubbing of a lottery-bound team ranked in the bottom third of the league in both offensive and defensive efficiency. A win over Memphis on Wednesday night would be a helpful salve, but the shadows of recent home losses to San Antonio and Oklahoma City will recede only so far. That's when the whispers started that the Clippers are just shy of elite, that there's no shame in being the fourth- or fifth-best team in basketball, but that might not get you past a conference semifinals.
This is what begins to happen in March -- the range of possibility narrows, and the road becomes better lit. The doubt that results from big home losses is more dangerous because identities are harder to shake when March and April arrive. A team can grow in the playoffs (e.g. Dallas in 2010-11, when they entered the postseason with 57 wins and a No. 3 seed), but an 82-game regular season has historically been a reliable predictor of how far a team can advance in the playoffs.
That's the pressure that hangs over the Clippers now, even as they win three out of every four games. Barring a collapse by San Antonio (which will be without Tony Parker for another three weeks) or Oklahoma City, the Clippers will have to outperform their seeding and pull off an upset against an elite opponent to exceed what they achieved in the 2012 postseason.
There's a higher threshold for progress these days for the Clippers. Not clearing it will introduce uncertainty about the futures of Chris Paul, Del Negro and the team's young players into an organization that's this close to relative stability. Promising futures are precarious in the NBA, something the Clippers understand better than anyone.