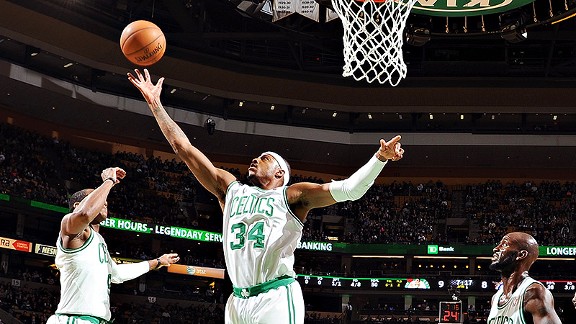 Brian Babineau/NBAE/Getty Images
Paul Pierce has been outrebounding All-Star big men during the Celtics' recent run.The Celtics were on the verge of collapse when the Heat came to town on Jan. 27. It wasn't merely the frustrating six-game losing streak, it was also the rumor: As the game progressed, whispers bounced around TD Garden that All-Star point guard Rajon Rondo, who was sitting out, had torn his ACL.
The Celtics hung tough with the defending champions that afternoon. The defensive struggle came down to the closing seconds of double overtime with the Heat trailing by one. With the shot clock winding down, LeBron James pulled up for a midrange jumper.
By the time James' shot had been released, Paul Pierce had already abandoned his man, Shane Battier, at the 3-point line and headed to the paint to set up shop.
Four bodies crowded the missed shot. But only one player, Pierce, came away with the rock. It was Pierce's 13th rebound of the day. The Celtics escaped with a 100-98 win, a flicker of title hopes still alive, if barely.
Although not what he's most famous for, rebounds like that have always been typical of Pierce -- and more now than ever. The underlying truth about The Truth is that he's always been a good rebounder, averaging 5.9 rebounds per game over the course of his career, an impressive number for any small forward.
"I felt like in every big game you can count on him for 10 rebounds, no matter who you are playing, or their size," former Celtics assistant coach and current Bulls head coach Tom Thibodeau said of Pierce. "He's never been afraid to stick his nose in and he'll scrap with everybody."
Despite reliable output over the past 15 seasons, a decline on the glass would be expected at this juncture of any player's career. Scrapping for boards is a brutal assignment for any player, let alone a 6-foot-7 35-year-old, playing through a pinched nerve in his neck, who was called "unathletic" even before logging almost 45,000 NBA minutes.
And yet this is the season Pierce is posting the best rebounding numbers of his career, amazingly grabbing a higher percentage of his team's defensive rebounds than bigger, stronger, quicker and younger players like Marc Gasol, Nikola Pekovic, Roy Hibbert, JaVale McGee, Pau Gasol, David West and Carmelo Anthony.
Pierce has grabbed more rebounds per 36 minutes played this season (6.8) than any other season in his entire career, a startling feat that seems to defy the laws of NBA aging.
So what's been the difference this season for Pierce? It's simple really: This season, it's what the C's need.
"We talked about it," Celtics coach Doc Rivers said. "Because of our size and at times we've been going small, he's had to be a big rebounder. I think at his size, I don't think there's a better rebounder."
Even at the start of the season, Rivers had been relying on Pierce to rebound. The burden intensified when two key Boston rebounders, Rondo and Jared Sullinger, were lost to injuries, and the Celtics' rebounding situation suddenly became dire. Outside of Kevin Garnett, the Celtics' roster is loaded with poor rebounders. Who would grab the key misses?
The answer, increasingly, has been Pierce.
Over the 22 games since Rondo went down, Pierce has grabbed 21.9 percent of all available defensive rebounds, while posting a staggering 7.2 defensive rebounds per game. That number puts him in the NBA's top 20 for defensive rebounds per game since Jan. 27.
Those aren't just elite small forward rebounding numbers. Those are elite numbers for any player in the league. In fact, over that stretch, Pierce has bested All-Stars like LaMarcus Aldridge, Kevin Durant, Chris Bosh and even LeBron James on the defensive glass.
"I just try to do what I can to help the team win. Whether it's scoring, my rebounding, or my passing, I have ability. I try to be consistent with it every night I go out there," Pierce said.
"You know I coached Paul in 2002," former USA Basketball head coach George Karl said, "I think he is one of these players in this league, when he puts his mind to something, he's capable of getting it done."
So how exactly has Pierce, so late in his career, been able to corral all these loose balls?
"It's not the size or the quickness," Rivers acknowledged. "Otherwise all those big guys you've seen in the league would be great rebounders. It's more instinct and feel. And he has that. He can do that five years from now, he'll be able to get rebounds."
A video investigation supported by the NBA's stats site shows his 2013 rebounds result from many tricks: The Celtics' help-heavy defense sometimes leaves him guarding a big man in prime boarding position under the hoop. Somehow, he's a master of corralling missed free throws. And there are more than a few artful shoves and grabs. But his most consistent trick is something that might work in your pickup game: He guards players who don't rebound much, and then abandons them entirely, leaving himself free to run wherever a missed shot may go.
While his teammates take care of boxing out their men, Pierce leaves his man early -- for instance Battier on that key double-overtime rebounding play against the Heat -- which lets him swoop in to collect the rebound.
And Rivers, for one, says it's a key factor in determining wins and losses.
"When he rebounds, we're better -- there's no doubt," Rivers said. "When he does it, it's big for us, especially because we don't have Rondo."
The Celtics are 7-2 this season when Pierce grabs 10 or more rebounds, including 6-0 since Rondo has been out, earning the lifetime Celtic plenty of accolades from afar.
They are also, somehow, 16-6 since Rondo went down.
"Never underestimate what Pierce brings to that team," Thibodeau said. "It's just like last year, when people wrote this team off. You can never write this team off."
Brian Robb writes for Celtics Hub, part of the TrueHoop Network.