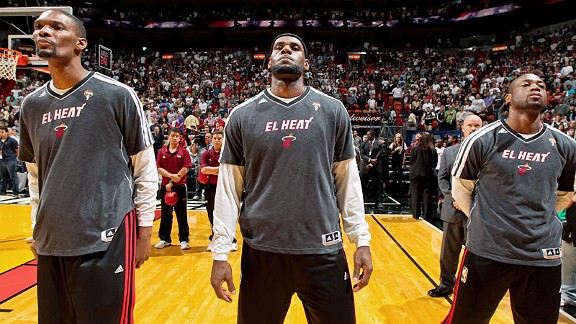 Issac Baldizon/NBAE/Getty Images
The Heat could lose at any time. Who they're playing is secondary.
The Heat's winning streak -- 23 and counting, second longest in NBA history -- has touched off a parlor game for NBA fans and Vegas bettors.
Which team will finally beat them?
The schedule would seem to be a logical place to seek answers, and the Bulls and Spurs stand out as tough upcoming opposition.
But the first good team pops up a whole week from now. The Heat just beat a staunch opponent in the Celtics. For now, it's all cupcakes:
Wednesday: At the Kyrie-less Cavaliers.

Friday: Hosting the muddled Pistons.

Sunday: Home against the 15-52 Bobcats, a year removed and little improved from being the worst team in NBA history.

Monday: On the road against the not-much-better Magic, who famously got little in return for Dwight Howard in the name of rebuilding through the draft.
I'm here to tell you that every single one of those teams is as likely as the Bulls or Spurs to end the Heat's streak. It matters way less than you think who the Heat play. That's not because the Heat are so good it doesn't matter who they play. (The Spurs are a handful!) That's because the Heat's next loss will likely be in deference to the team of exhaustion and injury concerns, a combination that threatens to cost every NBA team a game at almost any time.
All through this streak, the Heat have been mailing in portions of games, letting inferior opponents hang around. It's a dangerous game, as far as the streak is concerned, that could go wrong at any time.
It has almost cost them games already. Even during the streak, the Heat have almost lost to the Bobcats, Cavaliers and Magic, winning by five, four and one, respectively. The mighty Sacramento Kings took the Heat to double overtime. The broken-spirited 76ers had a lead in the closing minutes.
Those teams couldn't touch Miami when it's playing at its best, but the Heat can't afford to do that very often.
This is no criticism of the Heat. Rather it's a criticism of the NBA, whose schedule has never allowed coaches and players to do their best work night in and night out. It's physiologically impossible for the best players to perform their best all season long. We'd like this game to be about bringing your A-game every night. But that's really not how it is done. Never has been. Steve Nash's Phoenix years are a case study in this. He went hard every single night, and despite amazing training and diet, was gassed by the playoffs. The schedule simply won't allow full effort all season.
They used to say you can't "turn it on." This was offered as a reason for teams not to play it cool throughout the season, expecting to rise above in the playoffs. But they don't say that anymore, because in recent years teams have been doing just that, most notably Kevin Garnett's Celtics and also Kobe Bryant's Lakers. Research suggests teams that have recently won titles have a long history of taking it a bit easier in the regular season, then playing much better when it matters in the playoffs.
The truth appears to be that you simply must ration effort one way or another. The best coach in the NBA, Gregg Popovich, knows this and brilliantly leads the league in keeping his players off the floor, even while they're healthy. Sometimes for entire games. That's a big part of why the Spurs have long had the best records in the NBA.
Heat coach Erik Spoelstra has pecked at the edge of Popovich's approach -- nowadays he sits James for a few minutes to start most fourth quarters, in the name of a fresher player. (The Heat organization is convinced that the story of LeBron James' poor performance in the 2011 Finals against the Mavericks was one of exhaustion from a player who had played insane minutes all season.)
James and Dwyane Wade honor fatigue and injury risk less by sitting for long stretches, and more by taking it easy on the court. Watch Wade as he fluctuates between vigorous and serene. Watch how James metes out his forays to the rim, which are taxing both in the explosive movements and the dangerous fouls. When the team has a lead, James and Wade tend to spare themselves that punishment -- as, research shows, NBA stars tend to do. When the team trails and needs a bucket, however, they attack viciously.
It's not such a dangerous game from the point of view of a playoff series, in which a team can afford to lose a game or two. But for keeping a streak alive, when no losses can be tolerated, it's a ticking clock. Against weak opponents, the Heat offense is at its very best for only a few possessions per game.
Even in a streak like this, it's important to think about the long term. You can't win a marathon at Mile 16.
Very sophisticated research in elite soccer has shown that just two competitions a week, as opposed to the traditional one per weekend, ramps up the injury risk significantly. It removes entirely the ability for a player to do a real conditioning workout and recover in time for the next contest. Getting the same exercise in games comes with vastly higher injury risks. Conditioning and rest have real benefits that professional basketball players know too little.
The cost is that we seldom get to see the best NBA players -- who play far more than twice a week -- performing at their very best.
I have asked several players recently at what time of year they're at their physical best. So far, to a man, they answer: training camp.
(How messed up is that, from the league's point of view? They're at their physical best, and nobody is even watching.)
From there, no matter how tough your spirit or inspired your workout plan, it's an athletically degrading league-mandated saga of long travel, short sleep, minimal conditioning and a growing collection of injuries, bangs and bruises. One injury expert told me he thought almost every NBA injury was an overuse injury.
"When you get down to those late months and the playoffs, you know that guys aren't at their peak physically," says the Heat's James Jones. "They're gutting it out. You're seeing performances in spite of injuries, in spite of fatigue, in spite of nicks and bruises. And that's where the greatness is revealed."
Where it's not revealed, at least not intelligently, is in a Monday night in March, on the road against the lottery-bound Magic.
The Heat could lose at any time, because any team can lose at any time. Because in this league, it's about fatigue and injury risk as much as it is about the other team. To win that contest, you've got to ration your A-game.