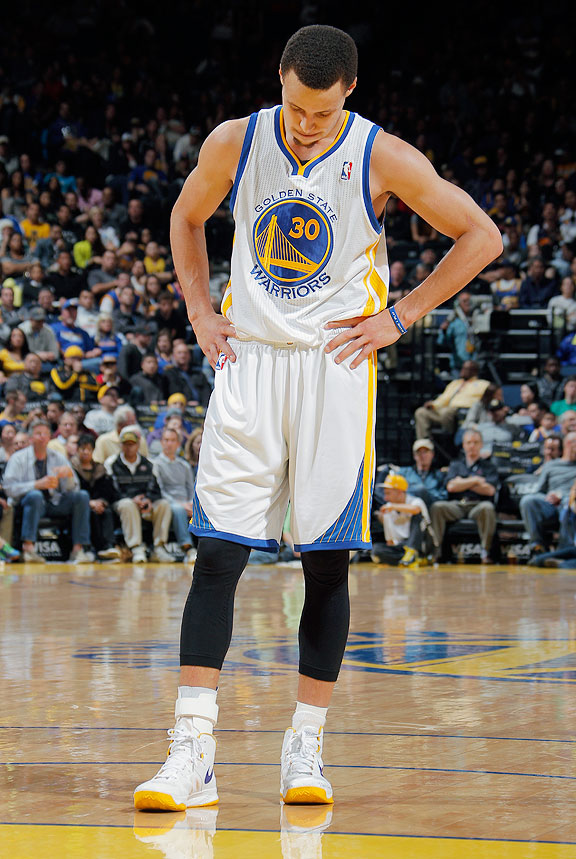 Rocky Widner/NBAE/Getty Images
Stephen Curry was yanked to the ground and had to leave the game.
Stephen Curry was leading the Warriors on a 3-on-1 fastbreak as the Wizards scrambled to get back. Advantage: Golden State.
Until Cartier Martin, trailing the play, made what has become a fairly routine, if constantly dangerous, NBA play. Rather than concede the offense the advantage, he grabbed Curry around the waist.
Curry is crafty, however, and initially eluded Martin with a nifty behind the back dribble. Except Martin wasn't just reaching for the ball. He wasn't really playing basketball at all. His intent was to stop the play. Instead of a touch foul, he held on to Curry who -- in a scene all too familiar to Golden State fans -- rolled over his surgically repaired right ankle (VIDEO).
Curry stuck around to hit his free throws, then went to the locker room to be examined by medical personnel. He would not return to the game.
With all those huge players moving at high speed, injuries like rolled ankles are bound to happen. But the Curry-Martin incident was in a different category of blatantly intentional fouls that never would have happened if the rules didn't encourage players like Martin to prevent likely scores with drastic fouls.
The mission of HoopIdea's Working Bodies campaign is to maximize player safety. Although a number of dangerous plays and injuries are very tough to prevent, intentional fouls are different. There's no mystery about why they occur. They are the result of conscious decision-making, not random chance. On TrueHoop in the days to come, we'll explore this overlooked but important (ask a Warriors fan!) part of the game, and what can be done about it.