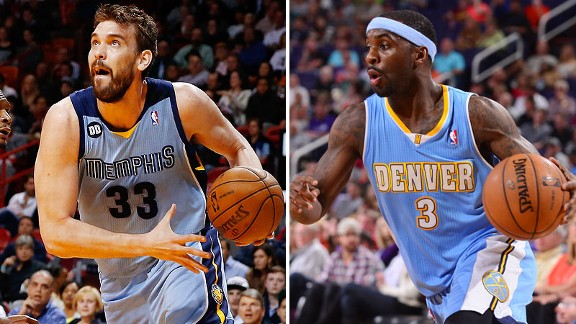 NBAE/Getty Images
Just as their teams were hitting their strides, Marc Gasol and Ty Lawson went down.For a while, the Memphis Grizzlies were the Western Conference's most intriguing story. During the height of the season, they dealt their most prolific scorer (Rudy Gay) for a less selfish one (Tayshaun Prince). Following the trade, the Grizzlies cratered for a period, as a malaise infected a somber locker room. But once they incorporated Prince into their defensive schemes and worked out their rotations, the Grizzlies rallied with a fury to win 14 of 15 games.
While Memphis was experiencing its Glasnost, the Denver Nuggets cruised through their schedule like a snowmobile through powder. They ran up 15 straight wins with the NBA's most improvisational and electric offense, paying tribute to Doug Moe's "organized chaos" of the early-model Nuggets.
For weeks it appeared the Los Angeles Clippers were a lock to finish in the No. 3 slot, but with Memphis and Denver ripping off wins in bunches, the West's third seed was put back into play -- and the best race for playoff positioning was under way.
Then, just as the drive for the postseason was becoming scenic, the Grizzlies lost Marc Gasol to an abdominal tear and Denver's Ty Lawson was sidelined with a heel injury. As Gasol watched in street clothes, the Grizzlies fell back to earth. The Grizzlies barely held off at home a Celtics team that hadn't won a road game since March 6 and dropped a game in ugly fashion at Washington. With Lawson out, Denver stole a game at home against a decimated Sixers squad, squeaked by Sacramento (also in Denver) and was blown out in New Orleans.
In an instant, the screen went dark in the Western Conference just as things were getting good. The Grizzlies and Nuggets are still playing games, but at the moment when each team was hitting its stride and making a compelling case that it could play with anyone, the best talent left the scene.
Injuries are an inconvenient reality in pro basketball, and every night coaches and players stand before the media and insist that a depleted roster is no excuse for a drop-off in performance. "Nobody is 100 percent this time of year" is practically a spring sonnet in the NBA.
Consider the implications of this: At the most dramatic juncture of the season when elite players should be putting their imprints on the playoff race, they're competing at less than full strength -- if they're competing at all. In addition to Gasol and Lawson, Dwyane Wade and David West are missing games; Carmelo Anthony and Tony Parker have missed significant time as well.
It's tough to draw a direct correlation between the length and workload of an NBA season and player health. Abdominal tears can occur during Game 10, and a player can suffer a heel injury during a summer workout. But when you talk to NBA players and coaches about player health, when you see more and more guys shuffling in and out of the treatment room after practices and games as the season grinds on, it's clear that an 82-game season isn't helping. Humans are far more likely to suffer injuries when they're exhausted, and there's legitimate evidence that excessive minutes hurt performance while rest improves the well-being of an athlete.
The result is that fans are also deprived of barn-burner basketball. Did you see the Memphis' new killer lineup and its plus-13.4 point differential per 100 possessions? Or the skid marks left by the Nuggets on a nightly basis at Pepsi Center? There was hardly a trace of all that Monday night in Washington and New Orleans, respectively.
"Nobody is 100 percent this time of year" is a silly way to run a business that's driven by star power during the latter stages of the season. In what other sector are the highest performing employees absent during the busy time of year when the success and failure of the enterprise is on the line?