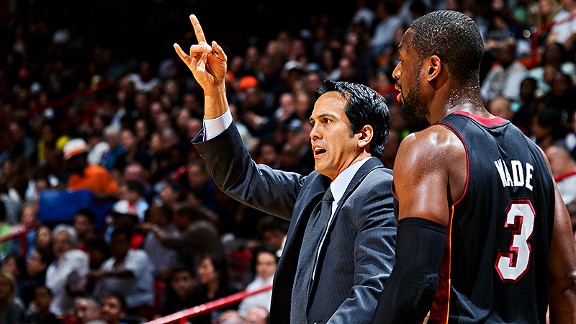 Issac Baldizon/NBAE/Getty Images
The Heat's head coach made an adjustment many coaches' egos won't allow."But what did he do?" I can hear you thinking. "Any coach can roll the ball out for those three guys and earn a bunch of wins, right?"
I could build a case that simply keeping the Heat doing what they do for this long merits serious consideration for Erik Spoelstra as coach of the year:
Keeping calm and carrying on through incredible highs (a title, second-longest winning streak in NBA history) and lows (assembling one of the league's most notorious superteams and then not winning it all, not to mention the biggest horse pill of invective and doubt in NBA history).

Building and maintaining relationships with a prickly array of powerbrokers -- any one of whom could undermine him -- from Pat Riley and Micky Arison to LeBron James and Dwyane Wade.

Improving a great team.
To be honest, I knew all that, and had no urge to campaign for Spoelstra. But then I read this from Tom Haberstroh, about the Heat's short-handed victory over the Spurs on Sunday:
When Popovich called a full timeout with 32 seconds left with the Spurs ahead by one point and with possession, it gave Spoelstra an opportunity to lay out his game plan for the rest of the game. Spoelstra, who once helped build Pat Riley and former Heat coach Stan Van Gundy an advanced stats database, has seen the numbers: taking timeouts in late-game situations hurts a team's ability to score. Spoelstra had two timeouts to burn, but he told the team to save them.

"We talked about it during the (Spurs') timeout," Spoelstra said. "If we forced a miss, we'd go for it."

Sure enough, Duncan ended up missing his ensuing shot and Ray Allen found Bosh for the go-ahead trey after reaching a dead end in the left corner.

"It was probably a better look than anything we could've diagrammed," Spoelstra said.
This is big.
To understand how big, you have to understand how impossibly tough it is for coaches to come around to the idea that the best thing for their team might be ... less coaching.
By the time you have put in the insane hours that it takes to become an NBA head coach, often generally at the expense of a quality family life or anything else that matters much, you have to really be attached to something.
For many coaches, the thing they're attached to is the idea of calling the shots. Which is most fun and momentous in late-game timeouts. Watch any sports movie ... that's when coaches coach. Those are the moments that make all those sacrifices worth it.
On top of that, NBA coaches are a group of men who are generally allergic to the idea of "letting things run their course." Other than a super-empowered, can't-be-fired Phil Jackson here or there, taking the hands off the controls is not a brand of wisdom that resonates in this pack of alpha dogs. These are the high priests of effort and determination and focus and doing things. Unless you're extremely driven and among the most freaky of control freaks, you're unlikely to make it to the top of the coaching pile while believing in the power of not doing things.
The first ever HoopIdea was about speeding up crunch time. While digging into all those late-game shenanigans, I got the idea that, while coaches insist late-game timeouts are amazingly helpful to their teams -- it's a central tenet of how we see the game -- perhaps that was simply never true.
And sure enough, Beckley Mason dug in and found strong and consistent evidence of precisely that. If timeouts are helping anything, it's the defense, not the offense. If your team has the ball and you call a timeout, you're coming out of that break less likely to score than if you had never called it.
It was a piece of news I discussed with several coaches, and by and large they simply didn't want to hear it, for reasons that I understand. Many predicted doom for any team that skips those opportunities for coaches to pass wisdom to players. Nobody wants to believe the team gets better when they do less. But sometimes it's true, even for the men in charge.
Spoelstra evidently did something amazing. He saw the evidence, and in a big game against the most respected in the business in Gregg Popovich, he adjusted to it. And it worked.
Spoelstra's not the first coach to forego a timeout, nor will he be the last. Nor does one incident of anything prove much. Plenty of coaches have done plenty of masterful things.
But you know what Spoelstra did? Everything he could. Everything possible to be as smart as possible in helping his team win, even when that meant stepping out of the center. People who keep doing everything they can to get better at something tend to get really good.
Spoelstra's not just coaching the team with the best record in basketball. He's also doing so while adjusting to whatever it is that can make his team better, even if, once in a while, that means less of him. Of all plays, that's the toughest for most coaches to draw up.