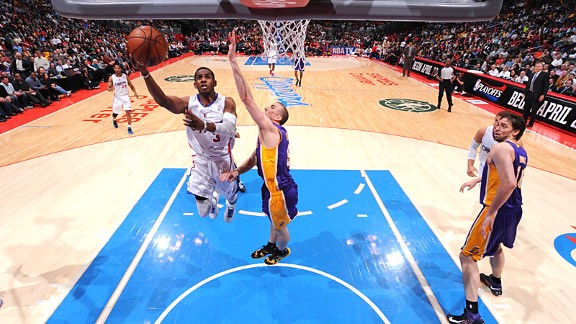 Andrew D. Bernstein/NBAE via Getty Images
The Lakers' leaky defense put out the welcome mat for Chris Paul and the Clippers.LOS ANGELES -- As rivalry games between the Los Angeles Lakers and Los Angeles Clippers go, Sunday's tilt at Staples Center on the Clippers' home court felt less charged. Chris Paul didn't growl at Pau Gasol for patting his head. Metta World Peace wasn't in uniform to torment any opponents. And Blake Griffin didn't posterize any unwitting victims at the rim.
The teams were far more concerned with their respective agendas. For the Lakers, a win was necessary to maintain their hold on the No. 8 seed, while the Clippers are acutely aware they're in danger of opening the postseason on the road. Those shadows eclipsed any animosity that might have previously existed over head-patting, post-dunk mugging, or bragging rights.
Five thoughts about the Clippers' steady 109-95 win over the Lakers:
The Clippers shredded the Lakers' defense. In a game that featured only 88 possessions (unofficially), the Clippers had an offensive efficiency rating of 123.9 points per 100 possessions. The Lakers are such an easy defense to scramble. Why is Steve Blake cheating eight feet off Paul to offer a meek double-team on Griffin, who's more than capable of kicking the pass out or spinning baseline away from Blake? What kind of defense worth its salt doesn't pick up either of the opponent's two wing players in transition? Why on earth is Antawn Jamison finding himself on the high side of a Paul-Griffin slip screen, essentially creating a five-on-four situation for the Clippers in the half court? And these are just a few examples from the Clippers' run late in the first quarter. Optimists can talk all they want about how the Lakers will make noise in a potential first-round matchup with San Antonio, but the Spurs run the kind of offensive system that brutally punishes defensive cluelessness.

Kobe Bryant's first and only breather came with 40 seconds remaining in the fourth quarter long after the Clippers tied a bow on their victory. Bryant is now averaging more than 46 minutes over the past four games, and he looks exhausted. He's getting to the line at a fair rate, and averaging 11 assists per game over the stretch, but shooting just 37 percent from the floor. Following the game, Mike D'Antoni took a slew of questions about the load Bryant's carrying, even as he maintained the management of Bryant's minutes has been ceded to Bryant. "That's a risk we're running with Kobe," D'Antoni said. "We're playing with a little bit of fire, and we wouldn't like to. But we've put ourselves in a position where we have to. … He wants to go. He wants to do it. He has to know his body and he will." Is this denialism on the part of the D'Antoni and Bryant? The Lakers aren't a deep team along the perimeter, but one look at Bryant down the stretch against Memphis on Friday -- when he looked as if he might just expire at the top of the floor while plotting the offense -- and again on Sunday, and it's hard to fathom that the Lakers can't find three or four minutes a half to spell the guy.

After some throat-clearing to begin the game, the Clippers refocused their offense around their two horses, Paul and Griffin. For Paul, it was child's play. All afternoon, he swung right of a high pick from his big men and found space to launch uncontested mid-range jumpers. And that's when the Lakers were lucky. When Howard was on the bench, Paul maneuvered his way to the rim with little resistance. For Griffin, nothing inspires like a few possessions matched up one-on-one with Jamison. When he caught the ball at the elbow, he didn't deliberate and drove without hesitation. Griffin is well-served when he thinks dribble-drive as his first option in that situation, especially if he has space to get into his move. For Griffin, just because the jumper is "there," doesn't mean a drive isn't. "Whenever those two guys are aggressive, it opens up the floor," Jamal Crawford said. Crawford, Caron Butler, Willie Green and Matt Barnes -- the Clippers' wing crew -- saw a bevy of open looks from the perimeter, many of them by way of Paul (12 assists) and Griffin (five dimes of his own).

The Clippers have had their own issues defensively of late, particularly against the pick-and-roll. They got somewhat of a pass on Sunday because Lakers don't run a lot of ball-screens. The Lakers looked early into Dwight Howard, posting him up quickly if he found deep position. They also ran a bunch of stuff out of the horns formation, with dribble-handoffs and swing passes until Howard found a spot on the block, Gasol had a clean look in a good spot, or post-ups or freelance isolation for Bryant. The Clippers weren't perfect. Howard bullied their big men, and defensive rotations were slow at times when they blitzed Bryant on the pick-and-roll. But things improved for the Clippers in the second half as the Lakers became more desperate and the Clippers used their speed to compound that desperation with chaos.

Griffin couldn't find the net during warmups from long distance. Asked a minute or so after that warmup session whether players are less likely to look for shots they missed badly before the game, Griffin said no -- though he conceded other players might approach things differently. Sure enough, despite the cold snap during warmups from beyond the arc, Griffin attempted three 3-pointers for the first time this season, hitting one of them -- a dagger in the fourth quarter that essentially iced the game and induced a laugh from Griffin. "The thing I was laughing about was that I'd missed every single shot before that," Griffin said (he was 0-for-7 from outside the paint before the 3). "Guys on the bench were telling me to keep shooting. 'We want you to take that shot. We see you every day before practice. Keep shooting.' And I was just like, 'Man, you guys are crazy.' So for it to go in, I was laughing."