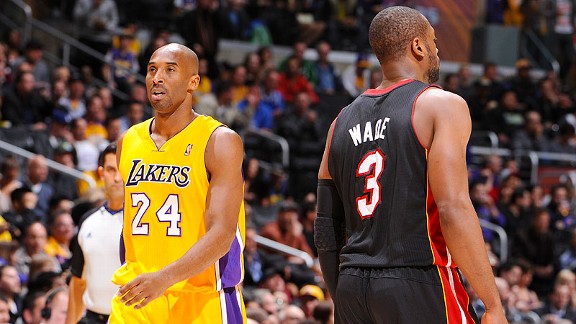 Andrew D. Bernstein/NBAE/Getty Images
Kobe Bryant finished fourth in #NBArank, but did Dwayne Wade deserve the pewter medal?
We know who the three best players are. We know the order of their ranking. By broad consensus, the gold medal goes to LeBron James, the silver to Kevin Durant and the bronze to Chris Paul. This is all subject to change, but to deny the top three or the order of the top three is to express a minority opinion in the here and now.
The question then naturally follows: Who is the fourth-best player? In last year's #NBArank, it was Chris Paul, but only because people were mistaken in believing Dwight Howard's back surgery was no big deal. The No. 5 ESPN #NBArank selection went to Derrick Rose, but that was more a placeholder than a ranking, as he has been out for a season with a surgery of his own. In the most recent #NBArank, fourth place goes to one Kobe Bean Bryant. Congrats to Kobe on this strange incarnation of a lifetime achievement, but there are many arguments to be made against his current fourth-ness.
The truth is, there is no fourth-best player. Through a bizarre combination of older players hanging on, younger players getting hurt and great players getting fewer minutes, the NBA's second tier has become more muddled than a kite-flying contest inside a tornado. If "one is the loneliest number," then "four" is a rollicking family reunion, packed with all kinds of different characters. Let us survey the challengers for fourth and finally make an impossible choice. In a world where the gold, silver and bronze medals have clear owners, who should get the tenuous, controversial, pewter medal?
The Old Guard
Kobe Bryant, Los Angeles Lakers
This season served as a shocking reminder that Kobe Bryant is still Kobe Bryant. Last season, Kobe was at his most inaccurate, finishing with the worst true shooting percentage of his long career. Most were braced for a continued decline, the kind that befell other great scorers at this point in their careers.
That hasn't happened, as Kobe has found new life on a Lakers team that has straddled the precipice of death. His calm, ego-steeped confidence amid disaster reminds one of Denzel Washington in "Flight," trying to land a foundering plane of a Lakers season. Movie analogies aside, Kobe misses the cut largely on account of defense that smacks of "I'll let Dwight handle this." It's hard to argue that a player who contributes massively to his team's worst flaw is the league's fourth best.
Tim Duncan, San Antonio Spurs
On a per-minute basis, he's still the best big man around. One problem, though: It's hard to call him the fourth-best player when he's available for only a little over 60 percent of the minutes.
Perhaps Duncan would be just as great if Gregg Popovich ran him into the ground. We'll never know. What we do know is that he sinks toward the basket more often on defense these days, and the improved rim protection has fueled an elite Spurs D. Duncan's skill and decision-making are also essential to the whirring machine that is San Antonio's motion offense. Like Kobe, Timmy hasn't so much declined as plateaued in his dotage. This refusal to age clouds our rankings, as we're perpetually braced for Father Time's victory.
The Young Guns
James Harden, Houston Rockets
The Beard has probably delivered the best offensive performance this season among listed players, when you add up his production along with his heavy minutes. Many fans hate the whistle-heavy way he accomplishes such efficiency, but a lot of skill goes into all those drawn fouls.
The herky-jerky lefty can shoot, dribble, pass and get to the rim with ease. Reading this sentence means you probably just fouled James Harden (he leads all players with over 10 free throw attempts per game).
Harden would have this fourth-best distinction locked up, were it not for his abysmal defense. Perhaps because of the massive offensive load he carries, Harden's D can look like some apathetic lethargy.
Russell Westbrook, Oklahoma City Thunder
He's a fine passer and an incredible athlete. If only that shot fell a bit more often, if only his decisions were a bit better. Though the public mood swings rightfully cause concern, this has been another impressive Westbrook season. Again, he's highly involved in a great offense. If Russ could just stop inexplicably taking terrible, early shots off the dribble, he could even do better than "fourth-best player."
Kyrie Irving, Cleveland Cavaliers
His first two seasons compare favorably to other superstars at age 20. He's a 40-50-90 threat who hoists many of his roughly five 3-pointers per game off the dribble. Between his league-best handle, creative drives and sharpshooting, Irving should be his conference's best point guard next season if he isn't already.
Obviously, he's not there yet as a fourth-best or even top-10 player. Injuries are a big factor here, and so is his defense.
Second-Tier Superstars
Carmelo Anthony, New York Knicks
Carmelo Anthony was having a career season in the early months. He was shooting more 3s than ever, with more accuracy than ever. That efficiency regressed for Melo as it did for the team in general.
He's still playing really well overall, and the 3-heavy strategy has been a boon as it culls Melo's less efficient long 2-pointers from the shot chart. Melo has also had an awesome late-season flurry of high-scoring, high-efficiency games. The only obstacle, or at least the primary one, is that he remains a poor defender, especially off the ball. Frontcourt defense is generally more important than guard defense, so this is no minor flaw.
Tony Parker, San Antonio Spurs
Tony Parker's offensive numbers have a near argument against Chris Paul's, and TP is a good defender. He also suffers from the Spurs problem of playing fewer minutes than most stars his age.
Perhaps this is unfair, but the onus is on Parker to prove that his production isn't overly dependent on San Antonio's motion system. Parker has had three consecutive shaky postseasons, wherein opponents keyed in on the Spurs' offense and schemed Parker into the ground. During those playoffs, Tony registered a worse PER and average win shares than he registered in the preceding regular seasons.
The nagging concern is that Parker might not be the most creative of players when forced outside his comfort zone. Sure, he's clever around the rim, but Parker lacks the unpredictable, genius floor game of a younger, healthier Manu Ginobili. The subjective sense when the two have played together is that one guy is painting an improvisational masterpiece and the other's painting by numbers. For now, I'll celebrate Parker's 2012-13 production (20.6 points, 7.5 assists per game) while remaining a bit suspicious of it at the same time.
The Injured List
Derrick Rose, Chicago Bulls
He had a fair claim to the pewter medal, before a slew of injuries that culminated in a nationally televised ACL rupture. The assumption is that he'll return to his former MVP level of play, and I hope I'm not assuming too much. The game is poorer for lacking Derrick Rose.
Dwight Howard, Los Angeles Lakers
Truth be told, I don't believe he should have gotten selected over Chris Paul in #NBArank last season. We're now two seasons removed from Dwight's best, and there's a very real fear that 2010 Dwight will never come back -- no pun intended
At least Howard has regained his hops, which were absent for much of 2012-13. His offensive fluidity hasn't followed, though. This has escaped observers who reflexively insult Dwight's skill, but Howard used to score outside the paint some. He's shooting 26.8 percent from outside of 10 feet this season. Two seasons ago, Dwight shot 41.2 percent from that range, while taking many more attempts. This version of Howard isn't proof of his deficiencies, but instead a reminder of how he used to be so much better.
Kevin Love, Minnesota Timberwolves
This could have been his year. This could have been Minnesota's year. Instead, Love's part of a team injury plague that wavers between depressingly comical and just plain depressing. As an aside, Ricky Rubio has been masterful down the season stretch. Imagine what the two can accomplish together if ever they're healthy simultaneously.
Underrated Bigs
Marc Gasol, Memphis Grizzlies
Defense is an undervalued component of basketball, which might be why Gasol is underrated. It's hard to claim that the game's fourth-best player just might be someone who missed the All-Star cut. I'll stop short of making that claim, but I'll also say that Gasol is solidly in this conversation, just as he should be solidly in the NBA Defensive Player of the Year discussion.
Also, Gasol doesn't just play a wonderful brand of communicative, involved defense. He's a deft passer with a feathery shot to match. With Rudy Gay out of the picture, we may see Marc put up the kind of offensive numbers that command respect from fans.
Chris Bosh, Miami Heat
You'd take this pick more seriously if Bosh got more offensive possessions and was allowed to do something other than shoot long jumpers. But this is the role he chose, and it has massively helped his team.
Bosh is a fantastic offensive player whose rebounding has declined primarily due to his seal-off responsibility on the boards. Were he just a bit better at rim protection, he could make this cut.
Brook Lopez, Brooklyn Nets
Brook Lopez is fourth in PER and well on his way to earning the max contract everybody laughed at this summer. At roughly 30 minutes of playing time per night, he can't be considered for fourth best. That, and his defense is still rather slow.
The Choice
Dwyane Wade, Miami Heat
You need a flashlight to spy him in LeBron's massive shadow, but Wade looks fantastic since fully rehabbing from offseason surgery. He has moved up to seventh in PER, and plays significantly more minutes than Lopez and Duncan (fourth and fifth in PER) while taking less away defensively than Melo (sixth). He's also now managing a career high in field goal percentage despite an early-season shooting slump that prompted whispers of his demise.
Wade still can't hit a 3-pointer, and his complaints to refs can hurt Miami's transition defense. Flaws aside, he remains a devastating offensive force because of his slithery drives and incisive passes. Also, he and LeBron have a telepathic on-court rapport that borders on extraterrestrial. Wade's injury caused him to miss out on an actual gold medal in London, but today, he receives an imaginary pewter one. In a league with no fourth-best player, Wade's the safest pick.