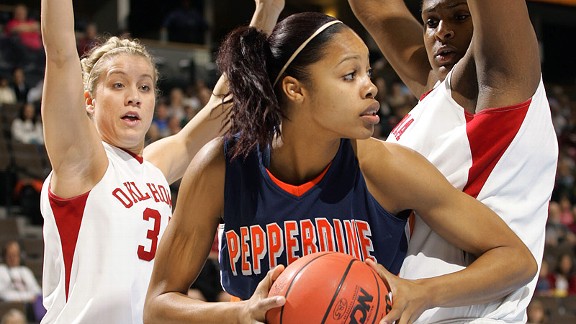 AP Photo/Jack Dempsey
Firsthand experience playing Teiosha George tells the tale.
"I would beat him so bad sometimes, he would cry."
That's what Teiosha George told ESPN.com's Israel Gutierrez for a story about her brother, Indiana Pacers All-Star Paul George.
But she might have been talking about TrueHoop Network contributor Kirk Henderson, who as a 6-foot-2, 225-pound former high school player, was on Pepperdine's practice squad from 2003 to 2006, and tells this tale:
While I don't recall crying, I know the feeling. I spent three years as a practice player for the women's basketball team at Pepperdine, where I had to match up against Ms. George on a near-daily basis. While Paul George was free to point out the age difference that caused his losses, Teiosha outplayed me regularly when I was in my 20s and, for a time, was heavier and stronger.
In 2003, Teiosha joined a talented Waves squad, led by Nicole Funn, current University of Oregon assistant Shandrika Lee, and current Tulsa Shock forward Jennifer Lacy. Teiosha red-shirted her first year, but she still practiced. Like many freshmen, George faced a tough adjustment -- she had dominated in high school, but as a freshman she struggled to adapt to the physicality of the game. Despite her length at 6-4, George was easy to push around offensively and defensively, both by the practice squad and her older teammates.
But things changed quickly. I remember the 2004-05 season vividly. In practice, Teiosha began to use her height and skill advantage, particularly over us male practice players. Though at this point I was still able to push her out of the post, I remember a particular scrimmage when she realized she could simply face up and shoot over me, as she had longer arms and great touch out to 15 feet. Despite playing short minutes, George managed to be the team's fourth-leading scorer.
It was during the 2005-06 season that Teiosha came into her own. Thanks in no small part to her development, Pepperdine reached the NCAA tournament for the first time since 2002-03. In practice, I matched up with her almost every day. By this point in her career, Teiosha had developed a great deal of strength at no cost to her speed or athleticism. As a result, I was no longer able to physically outmatch her, particularly in drills.
During one specific drill working on post-entry passing and catching, George was able to hold me off from deflecting any incoming pass with her upper body while maintaining her post position using her base. At that point, she was able to score on me at will, both inside and out of the lane. Defensively, getting shots up against her in the post area was a challenge; her height and arm length were an effective deterrent against a roughly skilled offensive player like myself.
I was happy for her, and consider her a friend. But as a former not-terrible high school player, her success was secretly frustrating. Those seasons as a practice player (point of clarity: no, we didn't get paid other than in practice fear) became my daily dose of humility. Then again, one of the reasons to have practice squad players is to provide a challenge for the players on the team. In this regard I succeeded. Mostly. The final two seasons of Teiosha's career at Pepperdine saw her further cultivate her game, and she became the team's leading scorer her junior year. She also stepped into a leadership role her final two years with the program.
Paul George's Pacers career arc is surprisingly similar to that of his sister: arrive, improve, contribute, and finally, lead. In retrospect, it's hard to determine when, exactly, the George siblings went from having promise to living up to their potential. With Teiosha George, I recall looking forward to matching up against her in practice during her first season. By the end of the 2004-05, however, I hoped one of the other guys would get that responsibility.