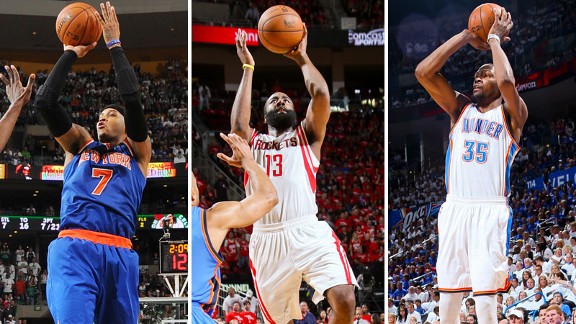 Getty Images
Even on teams with great scorers, "just get it to that guy" is bad strategy.
It's late in a close game, your team has the ball, and they need to decide what to do.
Pick and roll? Isolation? Drive and kick? This shooter? That one?
These are tough decisions and precisely why coaches get the big bucks.
Too bad so many teams keep screwing these decisions up in these playoffs.
My radical proposal, developed over the last several years of obsessing over this stuff: Whatever your team does, it ought to be something with a good chance of succeeding. There are lots of right answers.
I'd bet big money time will make clearer that the wrong answer is to call timeout to set up an isolation play. No matter your opinion of advanced stats, these things are all true:
And yet, look what has been happening in these playoffs.
THUNDER GAME 4 vs. ROCKETS
This has been the season that many teams have seen the light about moving the ball to the open man. For instance, instead of LeBron James and Dwyane Wade vs. the world, the Heat have surrounded their stars with deadly shooters. Predictably, it has made a massive difference.
The Spurs were counted out as old, but dusted almost everybody by continuing their long-term worship of uncontested shots.
See the trend there? Good teams that don't play Hero Ball sweep the first round.
Meanwhile, of the league's three top contending teams (Miami, San Antonio, Oklahoma City) this season, the Thunder were always the holdouts. They have long believed in isolation hoops. Perhaps this is no surprise ... their coach had a playing career that coincided almost perfectly with the heyday of isolation play. Smart research has long shown that the Thunder's offense is at its best when Kevin Durant and Russell Westbrook shot a little bit less, but the team sure does not run plays with that in mind. Their strategic approach has always been built around the idea that they want those guys shooting the rock.
The Thunder roster, led by the stars, are so doggone good that makes for a top-five NBA' offense anyway. But when Westbrook went down to a knee injury, a scary new decision faced Oklahoma City. Without Westbrook, would they finally see the value in open shooters? Or would they double down in their commitment to superstars, only this time with just one left?
The problem with having only one superstar is that my mom could draw up the defensive scheme. (On Monday night's broadcast Chris Webber saw what the Rockets were doing late to cover Durant and declared it the first time in his entire life he had seen a full-court double-team.) It's easy to make sure Durant faces a ton of defense every possession, and so what if he occasionally beats 'em all?
The result was the Rockets -- perhaps the worst defensive team in the playoffs -- held one of the league's best offensive teams (60-game winners) to a grand total of three buckets over the game's five final minutes. In that time Derek Fisher, Kevin Martin, Serge Ibaka and Thabo Sefolosha spent all kinds of time -- on video, it's glaring -- standing all alone in position to catch and shoot. Research shows open role players in those kinds of situations are vastly more effective than covered stars. According to NBA.com's stats tool, however, those four together combined for a grand total of one attempt, while Durant and fill-in Westbrook -- Reggie Jackson, took all the shots.
Simply put, with more respect for open shooters, and less fascination with who's shooting, the Thunder absolutely could have scored more. And they only had to score a tiny bit more to, you know, end the series.
It came to a hilarious head with 12 seconds left. The Thunder had been force-feeding Durant so religiously the defense scarcely looked at anybody else. And yet, in the face of evidence timeouts only help the defense, and despite a Rockets team scrambling to get in place, the Thunder called a timeout.
They hadn't run an actual play in a half-hour, and weren't about to. What could there have been to talk about? It was the stuff of Twitter jokes:
@truehoop "just to confirm guys, we're going with Kevin. I know you know, just wanted to emphasise. So, yeah... ' - Scott Brooks.

— Anton Trees (@as_trees) April 30, 2013
After letting the defense get set, the Thunder flirted with turning the ball over, and ended up losing valuable seconds trying to establish Durant. He gave up his dribble in the face of tough defense, almost turned it over trying to get it to Jackson, who scrambled to create a Hail Mary out of a broken play that failed at the buzzer.
Would it kill you to run a pick-and-roll?
ROCKETS GAME 4 vs. THUNDER
All the things I just wrote about Durant and the Thunder go double for the Rockets and James Harden. Kevin McHale uses Harden like you used your favorite new song when you were 12 -- again and again and again until it's completely worn out.
As much as the Thunder offense was good all season but bad in crunch time, the Rockets are the kings of that particular dynamic, and have been for the same reason all season. They're also famously the most analytical team in the league, meaning almost certainly somebody is telling McHale this is a bad idea, but he's doing it anyway.
The Rockets' late-game offense consisted largely of Harden shooting tough shots against the Thunder's hand-picked defenders, Sefolosha and in one case after a switch, Ibaka, with teammates standing still and watching with the shot clock expiring. These are awful conditions for an offense -- how strange for the offense to have set up the conditions that precise way.
Non-Harden players made two of five shots in the final five minutes. None of Harden's three shots were all that close. One was an airball.
This is an old trend from the Lakers, which has been generally true throughout Kobe Bryant's career: The team builds a lead playing some kind of team-focused ball, and then the offense grinds to a halt late in games when the offense focuses increasingly on the team's "best option." In reality the team's best option is to keep using the screens, cuts, passes and movement of people and the ball that got them the lead in the first place.
KNICKS vs. CELTICS GAME 4
The Celtics won this game. Here's an exchange that shows why: With 1:12 left in regulation and the Knicks up two, Paul Pierce took a handoff from Kevin Garnett on the left side. Everyone knows Pierce is the Celtics' closer, and everyone knows his go-to closing move is a nifty little fall away jumper around the free throw line. By the time Pierce got to his spot and elevated, Tyson Chandler, Carmelo Anthony and Raymond Felton formed a nice crowd around him.
But ... surprise! Pierce didn't shoot. He passed. Back to Garnett. Who had roughly 400 square miles of open space all around him, as the defense had been wholly duped into crunch time hero worship. Garnett stepped into a nice tidy open jump shot. Not a hero shot at all -- and therefore a wonderful one, with very high expected points per possession. The best shots are open shots.
Meanwhile the Knicks, like the Thunder, were missing a key scorer -- in this instance J.R. Smith was out. And like the Thunder they used that as an excuse to go Hero Ball all the way.
So on the next possession New York got the ball to Carmelo Anthony, who was very well covered by long, lean Jeff Green, and missed a 29-footer as the clock expired.
It was as the Knicks believed there was literally magic in Anthony's fingertips. For much of the season the Knicks were a study in ball movement, with shooters hoisting open 3s at record rates. They tossed that playbook for this game, however, instead having Anthony launch 35 shots almost all of which were heavily covered. He missed 25.
The Knicks averaged more than 19 assists per game this year but finished this 53-minute overtime game with 10. It's easy to see why -- because in situations when a covered Anthony would have once passed to the open man -- and there were plenty of them -- out of a misguided conviction it was best for his team, in this game he fired away.
In the final five minutes of regulation plus overtime a collection of the Knicks most efficient shooters -- Steve Novak, Jason Kidd and Tyson Chandler -- didn't take a single shot, while Anthony shot a mighty ten and made but two. Non-Anthony Knicks, meanwhile, were three-of-six over those crucial ten minutes.
The role of a coach is to guide a team to run the plays that give the team the best possible chance of success. If you were an NBA owner, how long would you keep believing in a coach whose teams used the exact opposite approach when it mattered most, running plays that would predictably get bad results?