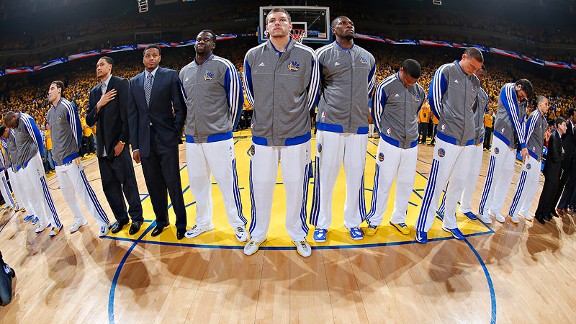 Rocky Widner/Getty Images
The Warriors are at their best shooting 3s, which they don't do much with Lee in the game.
A team gets its first All-Star in 16 years. They've been wandering, starless, through the desert, and finally, this guy's featured in the big game. In that game, he represents the ascent of a much maligned franchise, and the validation of the new owner's controversial signing.
Can you really argue that this team needs less of the star, be it by trade or minutes allotted?
Yes.
You can make these arguments when the All-Star is David Lee and the team is the Golden State Warriors.
Warriors-Nuggets was over early, supposedly. The Warriors had squandered Game 1, the game they had to steal. Denver is famously unbeatable at home, and here the Warriors had lost an opportunity for a Mile High victory to a creaky Andre Miller up-and-under. They were unlikely to get another opportunity like that one because -- and this is when it got really dire -- Lee had gone down with a torn hip flexor. Lee claimed that he had heard a "pop," which might as well have been the noise of a Warriors season bursting into ruin, all in one moment.
And yet, in destruction's wake, Golden State gained new life. The power forward's injury forced the Warriors to get creative. And oh, how it worked.
As a result, Lee should be less central to future Warriors plans.
Mark Jackson's most common lineup in the Warriors' victorious Round 1 was the Don Nelson fever dream of Stephen Curry, Jarrett Jack, Klay Thompson, Harrison Barnes and Andrew Bogut. You know how often that happened in the regular season? Once -- and for a mere minute in a March 8 loss to Houston. After appearing together in six playoff games, this particular lineup already has gotten 76 times more run than it ever got in the first 82 games.
Jackson can be forgiven for declining to play Barnes at power forward until now, though I wish he'd dabbled more with the idea this season. Barnes is a 20-year-old rookie. Asking him to guard NBA big men is a tall order -- he didn't even guard a lot of big men in college. He doesn't set the best screens, and it's not as if he's a dead-eye small-ball shooter, at 36 percent from 3. To gamble with the rookie as a "stretch 4" was quite the risk. What if Barnes crumbled? What if he whiffed on every screen and bricked every shot?
This is probably why Jackson came to his decision to go small with self-aware incredulity. As Jackson told it: "I came to my coaches early this morning. I said, 'Am I crazy to start Harrison at the 4? Somebody talk me out of it.' "
Nobody did, and the result was a Warriors unit that drowned the Nuggets in 3s. The lineup fired up 27.2 3-point attempts per 48 minutes, and hit a scalding 41.9 percent. By the end of Game 6, the Nuggets were dead, and this formerly untested lineup had played 26 percent of all minutes in the series. Beyond that, the Warriors succeeded with every lineup that featured Barnes at power forward (excluding a few that played less than a minute together). Harrison himself had quite a series, making 41 percent of his 3s, while making, for him, a quarter-season's worth of 3s in a mere six games.
That the Warriors thrived while playing small and shooting lots of 3s begs the question: Well, why don't they shoot more 3s sooner? Golden State finished this season a league-best 40.3 percent from deep. But it was only 15th in the league in pace-adjusted attempts (19.4 per game). It would seem like this team is leaving points on the table, points it can ill afford to squander with a roster that struggles to attack the rim or draw fouls. Why not let it rip?
The answer is that Golden State so rarely has more than three 3-point shooters on the floor at once, in part because Lee played so many minutes. To be clear, Lee is a skilled offensive player and he's clearly better than his primary backup, Carl Landry. The problem isn't that Lee or Landry is inadequate. The problem is 3s are incredibly valuable, and neither shoots them.
This means that Lee is, in some ways, a drag on his team's greatest offensive advantage. That's more than a mild issue when he's making more than $15 million in 2016, and offers some of the league's worst interior defense to boot.
Hypothetically, let's say that Lee's large contract precludes a helpful trade (or perhaps more accurately, Lee's relationship with management precludes a trade). At the very least, the Warriors have learned that spacing the floor with four 3-point shooters can be a great strategy.
Curry scares up marvelous amounts defensive attention on the perimeter. Klay Thompson, too. Place two more guys outside the arc, and you're stretching an opposing defense tissue-thin. Hello, more room for Curry's drives, more opportunities for Bogut's alley-oops and more explosive dunks from Barnes. In the NBA, extra space is like a PED; it imperceptibly helps an athlete reach new heights.
The Warriors can't get to this basketball Shangri-la while continuing to play Lee heavy minutes. If this team is to reach its potential going forward, it needs to either develop Lee's 3-point shot, trade him, or curtail his role.