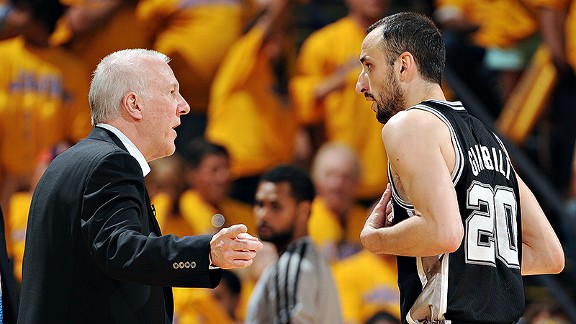 Garrett W. Ellwood/NBAE/Getty Images
Gregg Popovich might have again volunteered to cook Manu Ginobili breakfast if a late 3 had dropped.OAKLAND, Calif. -- Before the San Antonio Spurs squandered their last chances to salvage Game 4, an eventual 97-87 Game 4 overtime loss to the Golden State Warriors, Manu Ginobili had another hero's set up, similar to the one he seized in Game 1. But this time, Manu had been playing brilliantly all game. And this time, Manu demonstrated further genius when conjuring his big, open shot.
With the game tied 84-84 and fewer than 30 seconds remained in the fourth quarter, Ginobili received Tony Parker's pass and drove hard left at rookie Harrison Barnes. Suddenly, Manu shifted back in the other direction with a surfer's lean, pulling the ball behind his back while spilling Barnes to the floor. This was the moment of triumph for veteran savvy versus an overeager youth.
Except, the shot skipped across the front of the rim. The miss gave way to a nightmare San Antonio overtime during which the Spurs were outscored 13-3, and Manu went on to airball a 3-pointer and miss a layup. You'd think San Antonio's most dexterous, creative scorer would be kicking himself, shamed by his literally coming up short on that jumper.
Not so much. San Antonio is extremely process-oriented. The correct result is fantastic, but playing the right way takes precedent. After the game, Manu explained his feelings on the big miss:
"After I shot it, I realized that I didn't push it the right way. But you can't blame yourself. I think that I took an open shot. Where you can blame yourself more is when you take a messed-up shot, or a shot that you shouldn't have taken."
Or, to summarize those sentiments: "Sometimes they don't fall, and life goes on."
The Spurs feel similarly when it comes to how they played Harrison Barnes on defense. San Antonio elected not to help when Barnes went to the post against smaller players, baiting the Warriors into a less efficient means of production.
Harrison's team ultimately prevailed and he had big shots toward the end. Ultimately, the strategy worked, with Barnes getting 26 points, though inefficiently scoring them on 26 shots. The Warriors' offense closed the first half going 12-of-40 for 37 points. San Antonio broke apart at the end, but they'd made the proper pregame adjustments. By refusing to help on Harrison, the Spurs are shrinking space that might help Stephen Curry and Klay Thompson get loose for 3-pointers. Considering that Curry was able to hit five 3-pointers while slowed by an ankle injury, who knows what he might do with better health and more room?
Assessing the strategy on Barnes, Danny Green said:
"It was pretty good for the most part. We had a game plan and stuck to it. Defensively, I think we did fine. We just couldn't get the ball to go in the hole when we needed to."
Green would not agree when asked if he thought his team let one slip away: "You know you gotta give credit to them. They played very well. It's not like we lost the game. They won the game."
That's the overarching sentiment from the Spurs. They made shots. We did not. Or, as Gregg Popovich succinctly framed it, "They made some shots. You make shots, you win."
It's just not what you typically hear when the losing team led by eight points with under five minutes to go. Usually there are morose self-criticisms of letting the game slip away, or not closing the deal. Usually, teams promise better execution, or proclaim, "We have to do better."
The Spurs just keep doing what they do, waiting for the math to correct itself, waiting for the shots to fall. In theory, the drought should cease sometime soon. San Antonio has shot only 33 percent from 3-point range and 70 percent from the line. In Game 4, they missed 20 3-pointers and hit only 14-of-25 free throws.
Choking? Losing confidence? Getting tired? Popovich rejects every trope, dismissively saying, "We didn't make our free throws. And I don't think I'll be able to watch the film and come up with an answer for you of why we missed our free throws."
Popovich's players don't need to psyche themselves up in order to overcome these unexpected misfires. Their confidence is derived from trusting the process. In the end, they believe that playing the right way will be rewarded.