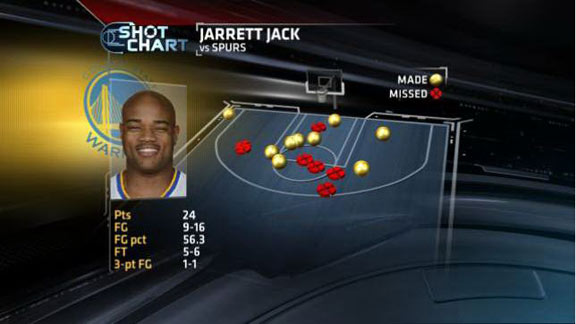 Jarrett Jack succeeded in key moments in Game 4.The San Antonio Spurs and Golden State Warriors are even at two games apiece after a riveting Warriors comeback to take Game 4.
Home teams are 4-0 in overtime games this postseason, with two of those wins coming in this series.
Let's look back at the statistical highlights from this one.
A long time coming
The Warriors won their first playoff overtime game since a win over the Detroit Pistons on April 30, 1976.
Game 4 Was So Close
The Warriors are now 2-6 all-time in overtime playoff games. The win snapped a four-game overtime losing streak in postseason play and shed them of the billing of worst playoff overtime team in NBA history. That mark now belongs to the Memphis Grizzlies, who are 1-4 (.200 winning percentage).
The Spurs had their three-game playoff overtime winning streak snapped.
Difference-Maker: Jarrett Jack
Jarrett Jack made three big baskets in a 69-second stretch late in the fourth quarter to spark the run that sent the game into the extra period.
Jack scored 12 points in the fourth quarter and overtime, giving him 61 such points in the postseason, trailing only Nate Robinson and Carmelo Anthony.
Jack made 5-of-5 shots as the pick-and-roll ball handler in the last 17 minutes of play. He was 6-for-18 on such shots in the series prior to those makes.
Curry Watch
Stephen Curry scored 19 of his 22 points against Tony Parker in Game 4, including an and-1 driving layup to extend the Warriors' lead to nine points with 1:46 remaining in overtime.
Stephen Curry by Defender
vs Spurs
Danny Green only defended Curry on four shot attempts (all in the fourth quarter), despite success guarding him throughout the series.
Curry is now 3-for-24 when shooting against Green.
He's 31-for-56 against everyone else.
What went wrong for the Spurs?
The Spurs shot 2-of-14 during "clutch time" (less than five minutes remaining, score within five points) in Game 4 against the Warriors (1-of-10 shooting from Tim Duncan, Parker and Manu Ginobili), squandering an eight-point lead with 4:49 remaining in the fourth quarter. They shot 16 percent from the field in the final 9:40 of the game.
San Antonio had thrived in clutch time in its Game 1 double-overtime win, making 12 of 19 shots, including 4-of-5 from 3-point range.
Not your typical Duncan double-double
Tim Duncan registered his 142nd career postseason double-double, tying Shaquille O'Neal for third-most in NBA history. The Elias Sports Bureau notes that the two players with more are Magic Johnson (157) and Wilt Chamberlain (143).
Duncan has taken 20 shots or more in 56 playoff games, but only had two in which he shot worse than Sunday's 7-for-22.
The last time he shot so poorly in a playoff game was 2005 against the SuperSonics, when he went 6-for-21 (29 percent) in a Spurs win.
Looking Ahead: The Spurs and Game 5
This will be the 11th time the Spurs will play a Game 5 of a tied seven-game series under Gregg Popovich. The Spurs are 7-3 in those pivotal games, but have lost their past two such games.