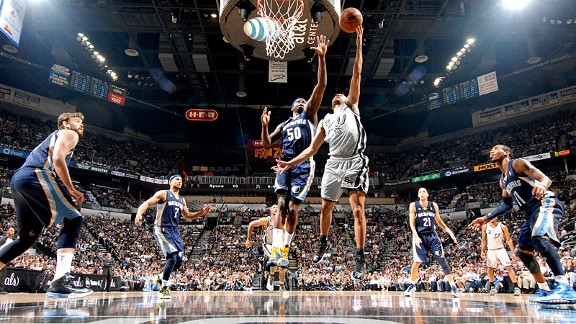 D. Clarke Evans/NBAE/Getty Images
Zach Randolph was the victim of choice for the Spurs' pick-and-roll attack, starring Tony Parker.Gregg Popovich called Tony Parker over to the bench. The game was five minutes old and the Grizzlies were shooting free throws. Parker and Popovich have worked together so long that surely they can finish almost all of each other's sentences.
But Pop had something to say. He was animated. He was instructing. Parker looked to be agreeing.
The next time Parker touched the ball, he was bossy point guard. Pointing here, barking there. Before long he was pointing and -- plain as day as everybody else stood and watched -- calling Boris Diaw over to set a screen.
Red Rover, Red Rover, send Boris right over. Boris was nowhere near, and he has been looking heavy for several years. He began to jog. It took a few seconds.
But Parker got just what he wanted: Diaw setting an aggressive-angle screen on Parker's man, Jerryd Bayless (who struggled with screens all night) up by the 3-point line.
What was the point of all that? Does Parker love how Diaw screens? Perhaps. But if you look at how the rest of the game played out, I suspect that what Popovich and Parker cared most about wasn't Diaw, but who was guarding him.
Zach Randolph.
After Diaw's screen erased Bayless from the play, Randolph was all that mattered between lightning-quick Parker and the hoop.
Randolph is amazing at a lot of things. He has great hands, touch and in-the-paint jujitsu. He can score over and around bigger players, and rebounds stick to his hands like glue.
None of which helped a lick 20 feet from the hoop, with rocket-legs Parker bearing down on him.
Also, Randolph does not move laterally anymore.
The result: The big photo above.
The Grizzlies have arguably the best defense in the NBA. This happened with all of their good players in, and it was not in transition. This came against a set defense.
And that's an almost-uncontested layup.
Whoops.
Watch Spurs highlights from Game 1 of the Western Conference finals, and it's a good bet you'll see Randolph a yard or two behind the play, carrying regret.
As Kevin Arnovitz has pointed out several times, Randolph excels in one-on-one battles. Box out that guy. Don't let him score. Hang 20 and 10 on this opponent. Done, done and done. But out here on the perimeter, it's not mano a mano. This is "helpland," where all these younger, longer bigs like Joakim Noah can keep their eyes and hands on two defenders at once. But that's not Randolph's game.
Which is why you saw whoever-Randolph-was-guarding called into one Spurs pick-and-roll after another. Plenty of teams do that, but most teams don't have Parker.
It's too early to fire up the Outcoach-A-Tron and declare Popovich the coach of the playoffs -- even on the heels of inspiring adjustments that ended the Warriors' season.
We're not there yet. Lionel Hollins' crew has always played hard and has many an adjustment yet to make. Randolph's backups, Ed Davis and Darrell Arthur, can't do a lot of the things that Randolph can do, but they far outclassed him yesterday at containing Parker in the pick-and-roll.
The Grizzlies had a lovely second-half run, maybe not coincidentally with Arthur in. The Spurs' scoring slowed while long, pass-and-shoot happy players Marc Gasol, Tayshaun Prince, Quincy Pondexter and Bayless found open looks.
Everyone has made a lot of Randolph's stagnant offense in Game 1. And it was not great. But to my eyes, the swarming horde of 7-footers around him when he gets the ball deep can be overcome in the manner Tim Duncan demonstrated yesterday: by getting teammates open looks. The defense can't be everywhere at once. Selflessness and ball movement enabled the wide-open Spurs (Matt Bonner, Kawhi Leonard) to take a lot of shots. (Knicks and Thunder take note -- this has always worked and could have been you). Except when non-shooter Tony Allen is in, the Grizzlies could similarly wrong-foot the Spurs' defense.
But Randolph's starring role in the Spurs' excellent offense ... being the breakdown, play after play ... that's tough to fix.