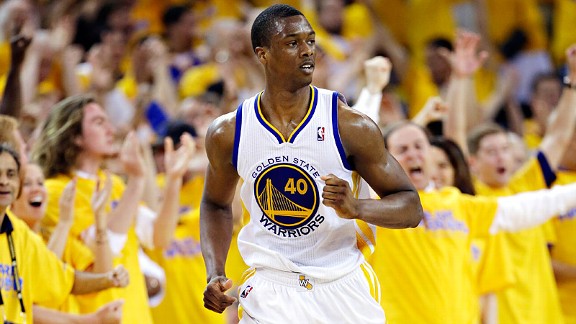 AP Photo/Marcio Jose Sanchez
The Warriors were much maligned for tanking last season -- but it got them Harrison Barnes.
Tanking teams are ridiculed right up until the tactic pays off.
The Warriors are out of the playoffs. But the mood in Oakland has been light in the wake of playoff defeat. Friday's exit interviews at the Warriors practice facility were full of brimming grins. The rhetoric is suffused with hope, not disappointment. This team is building something, not reeling from destruction. The future is now.
Without Barnes, the No. 7 pick in last year's draft, the postseason sentiment would not be so chipper. Not only does he carry a world of enticing possibilities, but the athletic 20-year-old already helped this team overachieve. When David Lee was felled by injury in the first round, Barnes stepped in and drowned the Nuggets in 3s. On the series, he shot 40.3 percent from downtown to go along with precocious good defense.
In doing so, Barnes has become a symbol for Warriors optimism and also, indirectly, a symbol for the practicality of tanking. Just as the "Thunder Model" compelled various teams to ardently pursue awfulness (see Bobcats, Charlotte), Barnes' playoff run is all the reason another franchise needs to pack it in.
It wasn't so long ago that the Warriors had a shot at another playoff run. On March 14 of 2012, Golden State was only three games under .500 with 27 left to play. Instead of making one final playoff push, the Warriors went the other way, consciously. Monta Ellis and Ekpe Udoh were traded for Andrew Bogut, who was out that season with a fractured ankle. In the short term, a deal like that could only hurt the Warriors. The upside had something to do the Utah Jazz and a protected NBA lottery pick.
John Hollinger described the move in real time:
The big loser here may be the Utah Jazz, as part of Golden State's motivation appears to be an elaborate ruse to avoid ceding a lottery pick to Utah. The timing is bizarre because the Warriors had played themselves into playoff contention, but the Warriors' brass had to view the landscape and see that (A) they were still highly unlikely to make the playoffs and (B) they owed their first-round pick to the Jazz if it didn't fall in the top seven.
If the Warriors had designs on playing better after the trade, they certainly didn't show it on the court. Golden State went 5-22 post-swap, with an ugly 1-10 closing stretch. Enough games were missed by enough players that the injuries seemed a little too coincidental. Even if the Warriors weren't actually tanking, the results were compelling enough to make any sentient observer believe that they were.
So the Warriors were either deliberately trying to lose or doing a fantastic imitation of what such a thing would look like. This matters because it sends a blaring signal to other teams that obvious tanking is worth salvaging protected picks.
Remember, the Warriors weren't in line to get a hyped No. 1 pick like Anthony Davis. They'd all but missed out on that sweepstakes because there's no competing with the stink unleashed by teams like the 2011-12 Bobcats and 2011-12 Wizards.
Instead, Golden State was vying for a mid-lottery pick. We tend to associate tanking with a frenzy to get the next LeBron James or Tim Duncan. The Warriors were dragging their fans through an indignity of a season to get, say, the next Danilo Gallinari. All the while those fans were mocking the bad basketball on Twitter with hashtags like #TankExpress, #TankAcrossAmerica and #TankOrDie.
On the face of it, this was a foolish move. Subjecting your franchise to such mockery and malaise for a shot at a Hall of Famer? Sure.
Doing it for a chance at a mere starter? That was beyond the pale. As Jay Caspian Kang put it on the Grantland blog:
There's a way to spin pretty much everything that happens on a basketball team into something resembling reason -- especially in this era of the uninformed armchair GM and his circular gospel of efficiency -- but it's embarrassing, both to your fans and your franchise, to tank so hard when all that's at stake is the seventh pick in a two-player draft.
The Warriors were breaking new ground in the already ridiculous realm of what amounts to socially acceptable point shaving. And, rather than having it all blow up in their faces, Golden State won a coin flip for the seventh pick and selected a player who helped reinvigorate their franchise. If it wasn't standard practice to tank for a late protected pick before, it will be going forward. Other teams saw what the Warriors pulled off.
Rather than blame the Warriors, or the future teams that will emulate them, we should ask ourselves: Why does pick protection have to exist?
There's already enough incentive to tank without a "you'll completely lose your pick otherwise" threat. The problem is actually compounded later in the lottery, where the Warriors were selecting. The later a team selects, the more predictable the lottery becomes.
If your team is the NBA's worst, you still only have a 25 percent chance of the top overall pick. If your team is eighth-worst, you have over an 80 percent chance of getting a pick that's 8th or better. With pick protection, tanking isn't about angling for an improved chance in a raffle; it's about assuring yourself an obvious outcome.
And before the Warriors, it wasn't standard practice to lose on behalf of later lottery hopes. In a post-Barnes world, you'd better believe that teams will squander games to secure a draft pick. That is, if the NBA does nothing to prevent this from happening.
To my mind, the solution is simple: Ban pick protection. If a team wants to trade a pick, they'll just have to risk that the pick becomes a No. 1 selection. Tough. Insulating general managers from risk isn't worth subjecting fans to months of intentional losing. Don't fault the Warriors; fault the system that compels a franchise to favor security over dignity.