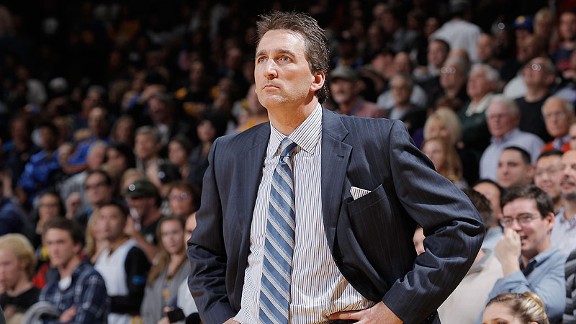 Rocky Widner/NBAE/Getty Images
Vinny Del Negro: When affability isn't enough.
The Los Angeles Clippers lost the most successful coach by winning percentage in the franchise's history when they dismissed Vinny Del Negro, whose contract was due to expire June 30. Del Negro compiled a 128-102 record during his three seasons with the Clippers and for the better part of the past 14 months, had a strong case for a long-term extension, at least ostensibly. The Clippers beat the Grizzlies in the first round of the 2012 playoffs, then finished with a club-record 56 wins this season. No locker room outside of Bexar County, Texas, is perfect, and there were certainly frictional elements in the Clippers' camp, but the overall culture was decent.
Del Negro was confident in what he was building, and turned down a one-year extension from the team last October. Yet despite the regular-season success, Del Negro could never shake the perception that he lacked the tactical feel for the game required to become an NBA championship-level head coach. Del Negro's biggest fans during his five-year career have been owners, Jerry Reinsdorf in Chicago and Donald T. Sterling in Los Angeles. Basketball operations people have always been more skeptical of him.
Del Negro is charismatic away from the microphone and well-liked personally. He charmed Sterling at a dinner with the Clippers' brass at the Montage Beverly Hills in late June of 2010. The mood at the table was festive; Del Negro was a pleasure to be around and the spouses had a nice rapport. Del Negro exuded exactly what the Clippers felt they needed to fumigate the place after the final tumultuous seasons of the Mike Dunleavy era -- a happy warrior, both confident and communicative. Charm is infectious, but if it's a person's No. 1 personal attribute, it can also raise suspicions if not accompanied by success.
When Chris Paul arrived in Los Angeles, expectations soared far more quickly than either the Clippers or Del Negro anticipated. The bar was set at contender, and Del Negro would have to prove himself as not only a morale booster but as a coach who could design a plan that delivered.
Del Negro never claimed to be a tactician. He maintained that everyone in the league ran the same basic stuff. He summed up his philosophy best during the winter of 2012 when the Clippers were playing well. "I think it's important for guys to go out there and play off instinct instead of, 'Go here, go there,' or whatever," he said. "I like guys to play. I like guys to get a feel for what we're doing and how we're doing it and work off the instinct and play. I think guys enjoy the game that way a little bit better."
Paul certainly appreciated his coach's sentiment, as Del Negro happily ceded most of the play calling. It was also nice to have Del Negro go to bat for Paul's personnel causes -- free-agent signings, potential trades and the like. But having never reached a conference finals eight years into a Hall of Fame career, even Paul realizes he needs a little help in the final five minutes of a basketball game.
Del Negro's approval rating has privately been described by those in the locker room as running about 50-50. He had his loyalists, players like Matt Barnes who were grateful for Del Negro's faith. There were also a few players who felt his strategic shortcomings were tolerable given his affable demeanor. For others, those flaws ran too deep. Then there were the detractors, guys who not only didn't care to have their minutes reduced, but felt Del Negro was disingenuous in his management and inconsistent in his willingness to communicate. Ballplayers also don't react kindly when they learn their head coaches advocated trading them midseason. That was one of the unintended consequences of Del Negro assuming a spot at the table as a member of the management team last summer.
Despite falling short in the first round and a desperate coaching performance in Game 6 of the first-round series loss to Memphis, Del Negro still looked as if he might survive. The Clippers aren't an organization predisposed to spend huge money on a head coach, and as decision-makers took an early survey of the coaching pool, they didn't find many candidates they considered a dramatic upgrade from Del Negro. For all his imperfections, Del Negro was a known quantity.
Still, the series loss to Memphis confirmed all the lingering doubts that Del Negro was a schematic lightweight. He got better this past season, but the growth trajectory wasn't steep enough, and fell off when it mattered most. Ultimately, the Clippers decided risk aversion carried its own risks. Opportunities are precarious in the NBA, and conservatism doesn't have a strong track record. Better to explore possibility than embrace certainty.
The Clippers will now have to set a budget, one that will determine the direction of their search. Stan Van Gundy is the best available coach on the market, but he'd give the Clippers sticker shock, assuming he's even interested. Sterling is currently in San Antonio, scouting Memphis coach Lionel Hollins, the hottest candidate on the coaching market. The Clippers could win the news conference with a Hollins hire, the man who outwitted them in the first round, and someone who'd likely meet Paul's approval. But Hollins has coached his way into some serious money. Given the number of suitors for his services, he would figure to earn in the neighborhood of $5 million per year, and the Clippers won't be a favorite in any bidding war. Alvin Gentry would bring the right temperament, along with whiteboard skills and, most importantly, a solid quality-price ratio for a coach with that experience.
Whoever lands the job will encounter a bar even higher than the one Del Negro failed to clear. The Clippers' job might be desirable, but it's fraught with pitfalls. The most treacherous of those used to be history. Now it's expectations.