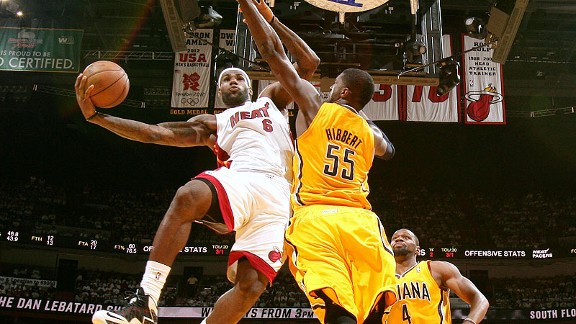 Nathaniel S. Butler/NBAE via Getty Images
The rarest of sights: LeBron James attacking Roy Hibbert at the rim.
After hitting the overtime buzzer-beating layup in Game 1 of the Eastern Conference finals, LeBron James insisted he barely noticed whether Pacers center Roy Hibbert was on the court.
"I don't know if I was surprised or not. I really wasn't worried about if Hibbert was in the game at all."

Later he added: "I was in attack [mode] when Hibbert was in the game, I was in attack when Hibbert wasn't in the game."
I don't believe a word of it.
Let me tell you about Roy Hibbert and LeBron James. On the basketball court, they are blatantly obsessed with each other.
When LeBron has the ball, Hibbert often ignores his own man to better focus on James. And that's not new. When other Pacer bigs sense a James drive coming and step into the lane to protect the rim, Hibbert has been known to physically shove a teammate or two out of the way in order to patrol that zone.
The tallest player in the Eastern Conference (at 7-foot-2) does that because he knows James hates to try to score over him.
James is an entirely different player with Hibbert in the game, to the unfathomable extent that James adds a weird-looking new shot to his arsenal -- the teardrop -- almost exclusively for use over the massive Hibbert. It's such a rare move that James' first attempt in Wednesday's game -- a miss -- was greeted by commentator Steve Kerr's observation, "That's not part of his game."
Which is true -- against most opponents.
ESPN's Tom Haberstroh quoted James as saying he "just dusts it off when he needs it." Based on careful video review from the NBA's advanced stats site, James only "needs it" against Hibbert. James throws it down over a who's who of NBA big men, and essentially all the other Pacers, from David West to Paul George. When he encounters the biggest Pacer, though, he stops short, and flips up one of the toughest shots in the game.
James has made nine floaters over Hibbert over the last year (dating back to the 2012 playoffs). It's tough to find evidence he has attempted more than a couple against the rest of the league combined.
More importantly, Hibbert and the Pacers clearly make James think twice about attacking the rim. As background: James makes dunks and layups over and around an entire NBA's worth of big men. He's not only among the league's most frequent paint shooters, but he's also among the most efficient. According to SportVu, a typical NBA possession is worth about a point. Some of the NBA's most effective plays ramp up the efficiency to 1.2 points, for instance by having a typical point guard break down a typical defense and get close to the rim.
James, however. Hoo-boy. James' drives are worth a mighty 1.68 points each, on average. That's almost certainly the best scoring weapon in hoops.
And yet, despite repeated statements to the contrary, the MVP shelves that super-effective attack when Hibbert is patrolling the paint.
Over the past year combined -- the 2012 playoffs, 2012-13 regular season, and Game 1 of this series -- James has taken 210 shots against the Pacers and made 106. I just watched them all. A grand total of four of the makes -- three in last year's playoffs and the one in the photo above from Game 1 -- came from James taking on Hibbert directly at the rim. There are James scores near Hibbert, for instance by sneaking in behind him, or one oddball hook shot moving away from the hoop. But only four when James identified Hibbert on duty and proceeded to attempt a layup or dunk.
Meanwhile, James spends a lot of time driving close to Hibbert and then dishing (no small part of Chris Andersen's big Game 1) or pulling up from midrange, where LeBron is much-improved, but nothing like as effective. There was also one entire game -- the Heat's win over Indiana in the middle of their 27-game win streak -- when James drove just twice all game against a set defense of any kind.
This reticence has an effect. This season LeBron scored fewer points per game in the paint against Indiana than against any other team, according to the NBA's advanced stats website. Not surprisingly, with those high-percentage attempts down, James' shooting percentages are well below average against the Pacers compared to other teams.
Why does Hibbert so bother James? It's a big question, and size is only part of the answer.
There are some clues on the video. Worth noting: On the rare occasions when James has attempted it, he has scored over and around Hibbert without much trouble. But in addition to coping with the center's size, he must also cope with the Pacers' teamwide defensive tactics. One is that Hibbert and other Pacers have demonstrated a willingness to take charges, something James carefully avoids.
Another is that the Pacers are a "no layups" team if ever there was one. Going all-out to score over Hibbert leaves James distracted, airborne and in traffic, and therefore prone to any number of hard fouls, the likes of which have been constant in Heat versus Pacers games.
Game 1 was one of the most tightly called playoff games in modern league history, but even that one featured Ian Mahinmi's throwing James hard to the court on a rare occasion (Hibbert was on the bench) when James found himself with room at the rim. That fall infuriated the Heat star, who proceeded to drive relentlessly and effectively the next several possessions, marking his only period of half-court rim-attacking in the game. And it ended shortly after Hibbert returned.
James gets fouled hard as much as anyone -- it's a preferred leaguewide tactic to neutralize those effective drives. There's evidence that all kinds of NBA players avoid driving when they can, presumably because of the associated injury risk. That James often avoids those plays is normal, human and game-changing.
This shadowboxing between James and Hibbert has been playing out for at least a year, and matters. It's at the heart of a blossoming Pacers-Heat rivalry, and it could easily determine who'll win the East.