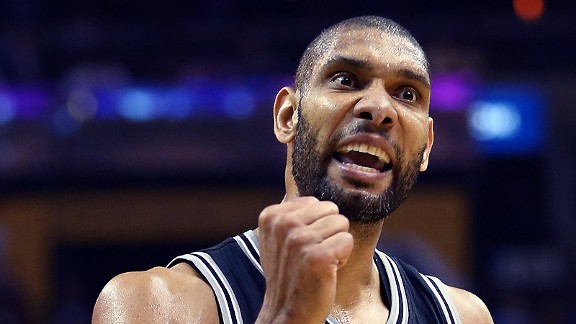 Ronald Martinez/Getty Images
After Paul McCartney rocks Memphis Sunday, Tim Duncan will try to seal up a fifth West finals.MEMPHIS, Tenn. -- The press release promoting the weekend's big concert in Memphis and all the surrounding activities sat next to my computer as I typed up my story on Tim Duncan's masterful Game 3 performance.
"Paul McCartney's 'Out There' tour will feature hours of material from the most beloved catalog in popular music," the release read, "with Paul performing songs spanning his entire career -- as a solo artist, member of Wings and of course, The Beatles."
I couldn't help but link it to this quote from Duncan on my screen, which described why the San Antonio Spurs have looked so comfortable and in control during the two overtime games in these Western Conference finals.
"We've been together for a long time," Duncan said. "We have a lot of plays to work from and a lot of experience to work from."
Whether it's a deep playbook or an extensive songbook, there's a level that only sustained excellence can achieve. With McCartney in town and the Spurs enjoying a 3-0 lead in the series, it seems like a good time to bask in their achievements.
Duncan, Tony Parker and Manu Ginobili have played in 28 playoff series together, winning 97 postseason games. Only the Los Angeles Lakers' combination of Magic Johnson, Kareem Abdul-Jabbar and Michael Cooper won more.
It probably isn't a coincidence that when the Spurs were trailing in the final minute and a half of the fourth quarter, they came out of a timeout and the ball went from Parker to Duncan to Ginobili in an exquisitely executed play that resulted in an easy layup.
"I have a great deal of confidence in them," coach Gregg Popovich said. "They've earned that. They've been together, they're all very competitive. They may or may not do something perfectly, but they're going to do it to the best of their ability. That allows one to go to bed at night and deal with whatever the consequences are."
"We don't panic," Parker said. "We know what we want to do. We made a lot of great plays at the end of the game last night."
Ginobili described it as "corporate knowledge," an institutional memory that resides in this trio that has played together for more than a decade.
"We know how we feel without even having to say a word," Ginobili said. "And that's important. And we have five pieces that are very important to what we do that are new."
The playoff contributions from the likes of Danny Green, Kawhi Leonard and Tiago Splitter can't be discounted. Green and Leonard have knocked down open 3-point shots when Parker or Ginobili force the defense to collapse. Splitter provides a big presence and is an underrated passer. Matt Bonner has added driving and inside-scoring elements to his game in addition to his 3-point shooting.
"It's the core group and new pieces, just being altruistic and trying to help out," Ginobili said. "Pop being very communicative and very clear on what he wants. It's the whole package. But of course, Tony, Tim, Pop and me, we know each other very well and it's easy to communicate."
They're the ones who Carry That Weight. They're trying to Get Back to the NBA Finals for the first time since 2007. I could go on with the McCartney-written song titles, but I'll just Let It Be.