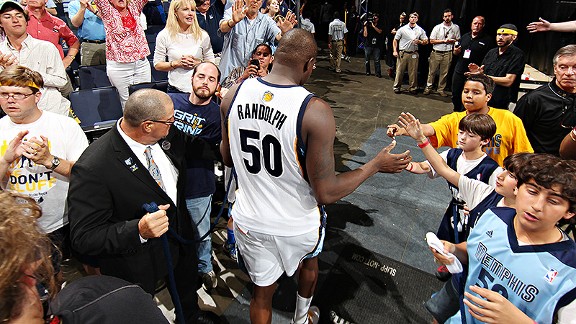 Joe Murphy/NBAE/Getty Images
Has Zach Randolph left for good? He departed the floor after a sweep at the hands of the Spurs.
MEMPHIS, Tenn. -- Memphis Grizzlies guard Tony Allen feeds off his emotions while he's defending the ball, something he does as well as any player in the game. But those emotions consumed him as he contemplated the thought of playing anywhere other than Memphis next season.
"I don't want to cry, but, I just ..." Allen said after the Grizzlies' 93-86 elimination loss to the San Antonio Spurs on Monday night.
Allen's eyes welled up as he collected himself before continuing to reflect on what the Grizzlies accomplished in 2012-13.
"It was just a great season, man, and I love the fight in all my guys," Allen said.
Although he isn't the Grizzlies' most talented player, Allen's idiosyncrasies -- an awkward shooting stroke, two wonky knees, nervous energy -- made him a civic icon. He coined "All heart, grit 'n' grind," the war cry that rallied a rugged city around a flawed team. He's also a first-team all-NBA defender who was essential to the Grizzlies' success as the league's second-ranked defense.
Allen becomes an unrestricted free agent on July 1, and his return is no certainty for a team that has close to $60 million committed in salaries next season, and is determined to establish payroll flexibility going forward.
Grizzlies power forward Zach Randolph accounts for more than a quarter of the Grizzlies' balance sheet next season when he's due to earn $17.8 million. Randolph's brawny style is every bit as synonymous to the Grizzlies' collective character as Allen's odd brand of competitiveness. It's not all lovable girth, either, because Z-Bo also delivers the goods on a nightly basis.
But a team with the Grizzlies' limitations under the salary cap would be wise to at least explore the marketplace for a player of Randolph's caliber and paycheck, a reality Randolph understands.
"I would like to retire a Grizzly and be here," Randolph said. Asked if he could imagine playing elsewhere, Randolph laughed.
"Nah! Not really!" he said. "I'll take my fan base with me from Memphis, though!"
Grizzlies coach Lionel Hollins is a free agent, and his availability has stoked the interest of a couple of teams. Grizzlies management appreciates that the team's current core has improved each year under Hollins. He might occasionally be stubborn, but his leadership has been crucial to the team's culture.
How do you quantify culture? That's one of the inordinately difficult questions facing the Grizzlies this offseason. Because it's impossible for even the most unsentimental observer to spend time on the ground in Memphis without sensing there's something authentic about the relationship between the city and its team. Other teams talk about identity absently, just another cliché from the podium after a win. Sales and marketing departments around the league erect billboards with canned slogans and sanitized images.
The Grizzlies didn't have to do any of that in Memphis. Their identity wasn't the product of a campaign fueled by focus groups or marketing professionals. Their persona has been entirely self-constructed. This is a team that embraces its imperfection, much the way Memphians make a go of it in an old river city whose economy and offerings have trouble matching up against more dynamic (but less soulful) big, shiny new cities like Atlanta and Dallas that lie a few hundred miles away in either direction.
Typically, these identities are more important to fans and media, who need reference points and storylines to maintain interest, than it is to the players themselves, but in Memphis, again, that's not the case.
"No doubt, that's who we are," Grizzlies center Marc Gasol said, when asked if this stuff matters behind closed doors. "That comes [about] for a reason. We scratch, we claw, we fight. It doesn't always have to be pretty, but we always get it done -- well, not always. Of course not always, but we always try as hard as we can."
In an era when brands are manufactured so self-consciously, the Griz sculpted something organic, the sum of which almost made Allen cry on Monday night when he thought about the prospect of losing it. And there are thousands of locals who feel the same way.
But what if finding more proficiency from long range requires a different course? What if keeping both Allen and Randolph means that the 2013-14 Grizzlies will encounter the same spacing issues that plague the Grizzlies' offense, problems that could potentially cost them a chance to contend? Do you cling to an identity even if getting better means abandoning a little bit of grit and grind in exchange for some stretch and shoot?
The brainy new management group in Memphis brings certain principles to its work, and one of the goals is to diminish the role of emotions in the decision-making process. They're absolutely right to pursue this strategy, because rational thought produces better results over time, but that idea won't be an easy sell to a fan base in love with this team.