On Monday, on TrueHoop, I invited fans of the Cleveland Cavaliers to e-mail. The idea was: The dialogue in the media about the summer of 2010 has a big chorus of New York-centric voices. What about fans in Cleveland? What's it like to live in their skin? How does all this feel?
John Krolik of CavstheBlog weighed in with a thoughtful post:
Calling whatever sportswriter or writer who says LeBron is leaving misinformed or worse isn't going to make LeBron any more likely to stay. This is something that could happen. Even if he ends up staying, this is something that could happen. If you claim to know different, you are lying, arrogant, or LeBron James, and I'm not sure the latter category knows. There is a very real possibility.

And wasting internet space on the "hey, this 2010 stuff is useless, I can't believe everyone is going so crazy over it," is not only more tedious to read than a 2010 article, but is also completely wrong, because this is a story.
Smart guy, that Krolik. Of course this is not going away. Of course no one really knows what's going to happen, and pretending otherwise is fruitless. LeBron James is being coy as hell. The notion that LeBron James may well leave Cleveland comes from a lot of sources in the know, including LeBron James himself.
All fans can do is read the tea leaves, and hope.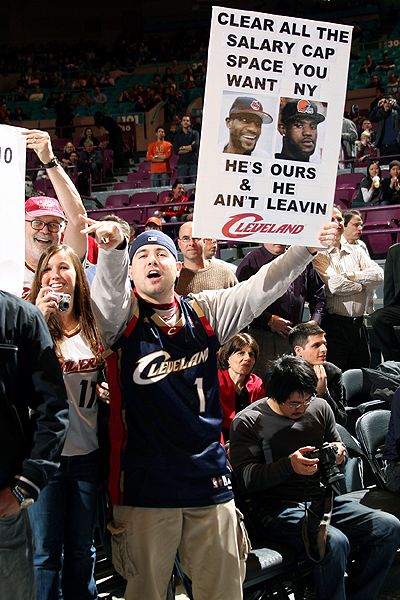 That reality is a problem for Cleveland fans. A majority of the feedback I got was far divorced from that reality, and was more along the lines of "IT'S A JOKE TO THINK LEBRON JAMES WOULD EVER LEAVE." (The mood of most of those e-mails, by the way, is 100% all-caps.)
There are certain hard realities. Yes, the Cavaliers can offer more. Yes, he is from Ohio. Yes, he recently built a huge house in Ohio. Yes, he is involved in the community. Yes, it would be hard to leave a team that has just won a title. Yes, the Knicks might be terrible then. Yes, Cleveland sports fans need good news.
But no, all of that together does not tell us anything that matters about what will be in LeBron James' heart in the summer of 2010. And that's all that matters.
It's tough to have everyone breathing down your neck, eager to acquire your prize. It can make you irrational. One e-mailer, John, had a typical thought process. First he tells us nobody knows what LeBron James will do, and it's comical that people make such assertions:
Sure we're tired of all the dissing by the national media. And I believe that LeBron thinks it's pretty comical too, with everyone saying what he's going to do when even he isn't sure.
In the very next sentence, John gets into asserting that James will stay:
I think the funniest part WILL be when Cleveland makes a serious run at the title THIS year. Then LeBron signs an extension over the summer, thereby attracting another big name to join him in Cleveland for the foreseeable future.
Another thought, about all those vehement e-mails saying James would certainly stay. I didn't ask if he was going to leave or not. Stupid question, right? Even if LeBron James himself told me that right now, until he puts pen to paper, I wouldn't believe him.
I asked how it feels to be a Cleveland fan. Taking that question, and responding with the answer that of course he's not going to leave ... well that just strikes me as someone who has been backed into a corner, and is not quite eager to assess all the available facts.
There's a fine line between optimism and denial. Here I'm going to quote writer Ben Sherwood, as told to the Freakonomics blog:
Optimism is a critical survival tool, but only when it's balanced with realism. This concept is known as the Stockdale Paradox, named after Admiral James Stockdale, the highest-ranking American prisoner of war in Vietnam.

The idea was popularized by author Jim Collins in his best-selling book Good to Great. When Collins asked Stockdale to explain which American prisoners did not survive captivity in Vietnam, the admiral replied, "Oh, that's easy. The optimists."

Collins was perplexed, but Stockdale explained that the optimists "were the ones who said 'we're going to be out by Christmas.' And Christmas would come, and Christmas would go; and then Thanksgiving, and then it would be Christmas again. And they died of a broken heart."

Stockdale went on: "This is a very important lesson. You must never confuse faith that you will prevail in the end - which you can never afford to lose - with discipline to confront the most brutal facts of your current reality, whatever they might be."
Another very consistent theme from Cleveland fans, and I'm inclined to believe it, is that it would be just impossibly inhumane to break that many hearts. This reality may or may not carry the day, but we ought not underestimate the power of it. Time and again people wrote "LeBron IS Cleveland." You can take that to mean: He is made of the same stuff as the city of Cleveland. Or you can take that to mean what he encompasses the entire thing, and without James, there is no Cleveland left. I think that is now many basketball fans in Northeast Ohio feel.
So, without further ado, here's the best of what I heard from Cavalier fans:
I was born at about 1 PM on December 27, 1964. The significance of that date is that it is also the last day any Cleveland sports team won a professional title. A transcendent athlete named Jim Brown led the Browns over the Colts in the NFL championship; of course, there were no TVs in hospital waiting rooms back then, so my dad missed the game and has suffered through 44 more years without a parade in Cleveland. Hoping to see the drought end behind our only other transcendent athlete, I took my dad to Game 3 of the Cavs-Spurs Finals two years ago. Alas, our lasting memory is of an ill-advised Anderson Varejao shot against Tim Duncan that clanked off the iron in the midst of our journey to the wrong end of a 4-game sweep. I really don't care if LeBron finishes his career with a NY or LA team, but there's a catch: He has to give us that parade. He has to leave his people – all of us with northeast Ohio roots like him – a championship before he goes. This year, next year, it doesn't matter…I want to be with my dad watching when David Stern hands Dan Gilbert the gold trophy. It will be a moment we've literally waited for my whole life.
-Mark
I have honestly started this e-mail five different times with five different angles on why LeBron James will stay in Cleveland, yet each time it had the unsatisfactory feel of a half truth. Of course there's the argument that his family and roots are tied into the greater Cleveland area. That the organization has consistently and gradually built a championship caliber team around him, per his request. That LeBron has a sense of history and loyalty and that he knows the only way to become a mythical player is to stay with one team like Bird or Magic and of course Jordan.

However, all this merely feels like empty reasons, thrown out there to calm the worries of fans.

In practical terms, I understand why the media is obsessed with predicting where LeBron will end up. He is a superstar looking to become a
global icon. I have read all the articles (with a large degree of frustration mixed with a dash of fear) about why LeBron would leave Cleveland. And I have also read (happily and naively) why he would stay in Cleveland.

In my opinion, what it boils down to is that Cleveland, as a city, needs LeBron. Before Cavaliers games, especially during the playoffs, the city is abuzz with excitement. We are a hopeless sports town; our miseries have been well documented on numerous occasions. However, after each sucker punch to the gut, we always return to our fruitless cheering, latching onto a team or player that will help distract us from reality.

LeBron transcends the curse that seems to envelope our sporting culture. He has given the city a reason to hope, given us a reason to be optimistic. Normally, when a Cleveland team gets defeated in a horrifying fashion the fans are initially devastated yet quickly become numb and begin the endless cycle of self loathing followed by pessimistic outlook. Yet when the Cavs lose in such fashion (like to the Pistons in 06, Spurs in 07, Celtics in 08) the fans did not feel helpless. Instead, we all saw it as a positive: Next year LeBron will conquer this.

Perhaps LeBron's most amazing accomplishment aren't the mind blowing statistical achievements on the court or the deep playoff pushes at such a young age. I believe his most amazing accomplishment is that he has changed the pessimistic sports culture of Cleveland into one of continual hope.

Sure, he is embraced by all citizens of the city like a family member; he can never do wrong in our eyes. And if he wins even one championship in Cleveland, he will be immortalized. If he leaves us in 2010, it will be the most devastating moment in Cleveland sports history -- worse than the Drive, the Fumble, or the Shot. It wouldn't be because it would feel like he is turning his back on his team. It wouldn't be because he'd be turning his back on the city. No, it'd be because he'd turn his back on the people, who finally are learning to believe again.

-Ben
The thing outsiders don't get is, LeBron and his family are protected by the media in Cleveland. There hasn't ever been a negative anything. Can you imagine Mom partying in the Big Apple and LeBron dealing with the N.Y. media, no way! No worries in Cleveland.

-Steve
"Dark cloud" hanging over us? What about that category 5 storm called "Hurricane Dolan" battering the Knicks? The only that has been constant about the Knick's organization has been the turmoil. Look at the way they are butchering the STILL unresolved Marbury situation. Look at the way they handled the Isiah situation. Look at the way they handled the Larry Brown situation. Could they have handled these situations any worse at all?
-PD
Cleveland Cavaliers fans DO NOT CARE about 2010. This is a fabricated state-of-mind injected into the journalism of sports because people need something to talk about. We know that 2010 is 2010, and not 2009. The Cavaliers are playing championship caliber basketball and are serious contenders to win the whole thing. Strangely enough, that is what us fans of the Cavaliers actually care about. Rotations, injuries, matchups; these are the things that preoccupy our minds because that is what we actually care about. Fans of other teams, the ones whose seasons ended before they really even began (yes New York, I'm looking squarely at you), they're the ones that salivate over 2010 because it is the chance to turn things around without doing much. No building from within, no smart drafting, no savvy veteran signings, none of that. Sign one guy, solve all problems. LeBron is the cure-all (supposedly) to whatever ails a team. Bring him in and all problems are solved.

Problem being, he's the KING, not the MESSIAH. Any team with the cap room to bring LeBron aboard will have sold off most of their "veteran" talent, and won't have much else around to show for it. I just know LeBron is pining for the day he can finally team up with Chris Duhon and Danilo Gallinari! That just screams a great way to waste the prime of someone's career. Hell, stuck with those guys during the TWILIGHT of someone's career would probably be painful.

People that say they are "Cavaliers fans" that are "really worried" about LeBron leaving are fans of LeBron, and not the Cavaliers.

-"Buddy"
The one thing a Cleveland sports fan knows, and knows all to well, is loss. We lose things. Be it games, players, titles, or franchises. We've lost them all over the years. We got back the Browns, but the losing continues. The city hasn't won a damn thing since we lost Jim Brown to the movies, and if we lose LeBron James, our #23, in the summer of 2010 Cleveland won't just have lost another superstar choosing to shine brighter in a bigger market, but the city itself will be losing one of her own. The sports equivalent of a death in the family -- the royal family even. The king is dead... long live King James (in Mike D'Antoni's system wouldn't be so bad... But I digress).

Yeah sure, technically LeBron's from Akron, but he gets what Cleveland is all about. He understands loss. It's in his blood. So much so that when choosing what sports franchises to root for as a kid he chose winning over the losing that Cleveland teams had to offer every year of his life. He took a lot of s--- for wearing that Yankee cap to the Indians game and for glad-handing various Cowboys before their game with the Browns, but to me, those moments showed that when LeBron gets behind something he stands by it, come thick or thin, no matter the public perception. And therein lies the rub -- LeBron never chose to be a Cavalier, and he didn't choose to be from Northeast Ohio. Now that he has the choice to stay or to go what the hell is he going to do with it?!?

I chose to leave. I live in Los Angeles now, but whenever I've gone back to Cleveland to see family and friends over the last couple of years the question has been coming up. Even before the Knicks sold the store to put themselves in position for LeBron's services we talked about what LeBron's relationship to Jay-Z meant to his future with the Cavs. Our clock has been ticking. A lot of the stories out there paint the Cavaliers fan base as being paranoid (Dan Gilbert hasn't dissuaded this perception), but we're not paranoid. We are realists. Cleveland actually winning something (the '03 lottery in order to land LeBron) didn't change that. We realize that loss and losing are part of our city's equation, but if LeBron chooses to stay in 2010 he stands a good chance of turning all that around. Isn't that a legacy worth sticking around for?

-Rohrs
If we lose LeBron, we give up on winning a championship for at least another decade, likely more than one. And remember, this isn't just about a great player. This is OUR player. He grew up a half-hour from Cleveland, in Akron. He played at St. Vincent St. Mary's high school. We saw this kid grow up in front of us. He IS Akron. He IS Cleveland. The Nike billboard proclaiming "We are all witnesses" in downtown Cleveland makes every Clevelander smile as he comes into the city.

But the media and the rest of the U.S. doesn't care. To most, LeBron James means money. They see him and they think of all the movie deals, advertisements, shoes, powerade, vitamin water, bubble gum and god knows what else they could use him to sell. They talk about how much more money LeBron could be making (as if he was struggling fina
ncially as a Clevelander). They bring up words like "mainstream" and "larger market" and use them matter-of-factly as reasons as to why LeBron would prefer New York over Cleveland.

I don't know who to believe or what to believe. Stephen A. Smith is out there quoting "inside sources" that LeBron to NY is a virtual lock. You have others reporting about how much he loves Akron/Cleveland and how he plans to raise his kids there. All I know is that my mom always told me that when something seems to good to be true, it usually is. And unfortunately for us Cleveland fans, having a team that wins multiple championships here is too good to be true.

-Marco

Yes, we realize that this 'woe is us' culture of losing is probably part of the problem, but we embrace it, and it really is part of the fabric of who we are.
-Joe
This team has such good chemistry, that I've really been able to put the Knicks thing aside and just enjoy it. There's been a definite trickle-down effect of sorts. They work hard and they like each other, and they haven't wilted under the loss of two starters, either. The truth is, if LeBron leaves what he has in Cleveland for that ugly monstrosity of a team in NYC, then it was never about basketball or winning, and he was never going to stay, anyway. (The Knicks are not good at their basketballing.) I'm just going to enjoy it -- what will be will be.

- Brian

P.S. What nobody has mentioned yet is that there's a chance the Knicks and Cavs could play each other in Round 1.
I know this is going to sound kind of paranoid, but I don't think anyone outside of Cleveland wants LeBron to stay including the NBA!!!!! As a superstar LeBron takes WAYYYY too many shots when he goes to the rim where no fouls are called. Same with other players on our team.

If LeBron is truly driven by winning championships (which I believe is his main goal next to being a billionaire) then in order to get him out of Cleveland, the NBA can't let us win a championship!!

In the years past I don't think our team was championship worthy, but this year, when we are healthy we are almost unbeatable unless the refs/NBA stop LBJ and the Cavs. I think it is total BS to believe that Donaghy was a "rogue" referee who acted alone!!! The NBA is quite suspicious at times and that really really frightens me because LeBron will make money no matter where he is, don't give me this BS that he'll make more in NY, it's the NBA's greed that scares me.

Bottom line if Cleveland wins championships and looks like they can win many more he stays, if not he goes to where he has the best chance to win ...

-"Dedicated Clevelander"
One thing people forget is that LeBron is a historian about the game of basketball. He knows much more about the past and who preceded him than many others. He knows and understands the significance of not only Jordan, Bird, and Magic, but old-school guys like Oscar Robertson, Russell, Wilt, etc. I truly think that LeBron wants to be like Jordan or Bird or Magic and stay in one city for his whole career (okay, so Jordan wasn't ALWAYS a Bull) and take that franchise to prominence. Anybody can win a title with another team, but it takes a truly special player to take an organization like the Cavs and a city like Cleveland (which hasn't won ANYTHING...ever!) and bring home a championship for Cleveland fans. I think (and hope) that LeBron embraces that idea of not just winning a title in a couple different cities (like Shaq) and never really settled into one place (Orlando, LA, Miami, Phoenix), but wanting to be a one-town megastar and define his legacy and be what Jordan is to Chicago, Bird is to Boston, and Magic is to the Lakers.

DJ
You want to know what being a Cavs fan feels like? I'll tell you exactly how it feels. It feels like we're Lyle Lovett and Lebron is Julia Roberts, circa 1993. Every time he visits New York, we have to endure constant tabloid coverage of his flirtatious comments to reporters, paparazzi photos of him partying with other celebrities, statements from "closely placed sources" about his desire to leave us, and constant reminders that he's way out of our league. It's not fun. But then again, we're Clevelanders. Sports here are never fun, even when our teams are winning. With Lebron, the best we can do is just enjoy each game and hope that in a year and a half we're not all singing the blues.

-Anonymous
Before LeBron's first game at MSG Brian Windhorst wrote about how LeBron has been something of a tease ever since he was playing ball at St. Vincent St. Mary. He'd wear adidas shoes at a Nike camp and Nike shoes at an adidas camp. People would ask him where he would have gone to college and the answer was always dependent on where he was in the country.

-Karl
What I Wish Every Knick Fan Could Know

Simply stated, you're not bigger than Lebron. You may be bigger than C.C. Sabbathia or A-Rod but you don't hold that same power over Lebron. Lebron doesn't need you anywhere near as much as you need him. Let's face facts here: New York is not a premier basketball destination. Yankee stadium is famous because the Yankees play there. Madison Square Garden is famous because it's in New York. You see the difference? The Knicks are not really a flagship NBA franchise to anyone outside of New York. Do you really think Lebron is going to want to start over at the age of 26 building a franchise from the ground up? Do you really think he's going to want to leave Mike Brown to play for D'Antoni, a guy whose calling card is building teams that don't play defense and are doomed to fail in the playoffs? You see New York fans, Lebron covets the one thing that you can't deliver . . . a championship. All the money in the world can't change that, and at the end of the day, that one simple fact is the only thing that matters.

Enjoy the next two years New York fans. You can be sure that we will.

-Seth
We have patented the freak injury, the bad bounce, the big draft picks who bust, the goofy coaches. ... I won't go through the litany, but we've redefined ordinary terms like Drive, Fumble and Shot.

In hoops, the Cavaliers have been mostly a sideshow, outside of just a handful of good teams -- and those good teams in prior eras were undone by key injuries to star players, as well as the Celtics, Pistons or MJ. LeBron fell into Cleveland's lap as our homegrown superstar. The kind of singular force we haven't had since Jim Brown -- come to think of it, LeBron is kinda like JB in short pants, isn't he? He was Ohio's most famous modern hoops star while still a junior in high school. He is fulfilling his potential nicely -- how many athletes actually live up to today's hype? He does so most nights. And he's even developing the killer instinct, defensive toughness and winning drive that seems to elude many other super-talented NBA stars. So, while he's not perfect, LeBron is truly great. And he's ours.

Look, we know he can do most anything he wants on and off the court. And that includes the right to leave someday if he so chooses. What we object to is the assumption that he "must
" or "should" leave -- that it's expected or inevitable. It's not. LeBron does what LeBron wants to do. Why is it that for nearly every other superstar, in every other sport, the default choice is to stay put? No one is encouraging Jeter to look past NY. Nobody's wondering about Peyton's future -- and he's in freaking Indiana! Nothing against Indiana, but you know what I'm saying! Peyton Manning -- king of endorsements -- is just fine in Midwestern, low-wattage Indianapolis.
-David
So instead of all this nonsense about the Summer of LeBron and LeBron as a Knick; how about talking about something that has a better possibility of happening. For example, how do you like this idea?

Cleveland is in great position for the summer or 2010. They have a great core of young players who will continue to improve over the years, and there is plenty of chance to make room in the cap to bring in another superstar to play along side the King... say Chris Bosh? Can you imagine a team starting James, Williams, West, Bosh, and Big Z and then still having the luxury of bringing solid players in Gibson, Hickson, Varejao, Wallace, and not to mention some the addition of future draft picks who could play a key role for the team. off the bench!? Now that would been a force to be reckoned with and LeBron and company would be in a great position to win not just one, but multiple championships. Which is a better chance than the one he would have playing in the spotlight at MSG.

-Michael
I don't think about 2010. As a Clevelander, I have learned from the past to take each year for what it is ... one year. I don't take any success for granted. Unlike most N.Y. fans who feel that since they are in N.Y. that the media and every sports organization should just hand feed them accolades with a golden spoon, I am grateful for the blood, sweat, and tears that LeBron shed to give our city an Eastern Conference Championship in 2006. I am grateful that LeBron has lifted our spirits and given us something to believe in during these times. He can single-handedly carry all of Northeast Ohio, Akron, Cleveland, Glenville, etc. on his back, the way he did with the Ira Newble/Larry Hughes Team of 2006, to greatness. If you want to hear my worries about 2010 ask me after next season is over (if LeBron hasn't already re-signed). Until then, I am going to be enjoying LeBron, Mo, Big Ben, Z, Brother Redz aka Delonte (who is vastly underrated), and company continue their dominance and bring us Clevelander's something to celebrate. GO CAVS!
-Anonymous
... riding the bus and walking around the city every day, I see a fraction of the people sporting Cavs gear, while Browns hoodies and the like are everywhere. I just don't get it, you've got one of the best teams in the NBA to rep and you display your support by wearing a hoodie for one of the biggest disappointments in professional football? I love the Browns, and have high hopes for them under Mangini (just beating the Steelers once would be an improvement). Yet at the same time, you complain because our star player wears a hat supporting his boyhood baseball team? Come on Cleveland - stop worrying about this NYC drama, wear your Wine & Gold, and I'll hopefully see you at the parade route.

-Zack
It's just like freshman year of college, and you have just met and started dating an unbelievably hot girl from a small town you just met in your dorms.

At first she has an inkling that she might be pretty hot but you were there first, you were loyal, you gave her that attention first. She took a liking to you, still unsure of herself but with great potential.

But let's be honest, you're no Brad Pitt. As the first semester drags on you start to realize more and more guys are becoming her "friends." She starts gaining more and more confidence with each week and you begin to realize, man she's starting to look even better than before, walking and talking with swagger. In your head you start thinking "OMG this is amazing, life is perfect, watching Sixteen Candles and Boy Meets World growing up really paid off, I was patient and was the nice guy and now I have the hottest girl in school. I hope this lasts forever, could it? I mean why wouldn't it?"

UH-OH. Second semester has rolled around and the starting quarterback of the football team has taken a liking to her and she seems to be reciprocating but no matter how many times you nervously ask about him she appears to say all the right things about you.

"Honey, you're worrying about nothing, I love you, you're great, I love that you're only a foot taller than me, and that you're not obsessive and spend all day in the gym and your slight lazy eye is really cute. Why would I ever leave you for the 6'7 220 quarterback of the football team he would just leave me and go off to the NFL anyways"

Then BAM! You catch the flu from your World of Warcraft playing roommate who refused to shower that whole week he thought he was talking to a real life girl in the game but it turned out to be the kid down the hall messing with him. You're laying in bed for a week, your mom convinces you to go home for the weekend and for days you hear nothing from your girlfriend. You get back no notes, no calls, nothing.

Then it all hits you like a ton of bricks, while you were away the quarterback kicked it into high gear. He offered her things you could never and even though she said all the right things to you she was of course curious. Curiosity became infatuation and before you knew it she jumped ships quicker than Kelly Kapowsky when she left Zack for that bastard Jeff. Now you're left in your dorm, pondering whether you should be grateful for the time you had with her or ticked off and jealous that she left you for the only guy you were suspicious of after she constantly told you not to worry.

DAMN YOU JEFF!!

The moral of this story is Cleveland is that average guy who just landed the hottest girl in school (that would be LeBron). LeBron is loyal to Cleveland right now I mean we embraced him first since he was in high school and we got him first in the draft. Now he has taken off just like we knew he would and all those big cities that we know we can't compete with market wise and appeal wise are working hard to split us up. We know we aren't NYC, L.A., Chicago etc.

We're just Cleveland. Our river caught on fire, Drew Carey used to be our biggest celebrity, and how did he repay us? He ruined the Price is Right!

So now its getting closer to that time where LeBron can jump ships, and all we can do is hope he remains loyal even though we know we aren't as appealing to those other cities, all we got is that we're the good guys.

In this world good guys finish last. LeBron please continue dating below your level, and stay in Cleveland!

-Shane
(Photo by Nathaniel S. Butler NBAE/Getty Images)