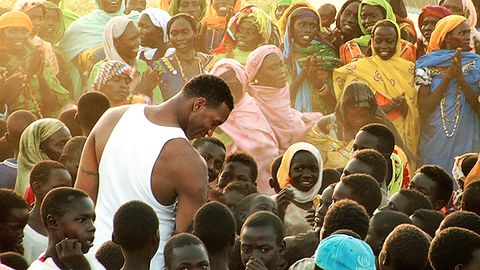 A lot of NBA players have talked about Darfur. As you'll see in an upcoming documentary (excerpt below and here), Houston's Tracy McGrady has been there. And what he saw has changed and inspired him. Writing in collaboration with activist John Prendergast, McGrady describes what comes next.
The points of view here are their own.

BASKETBALL, WAR, AND HELPING KIDS IN AFRICA
by Tracy McGrady and John Prendergast
Sometimes when we hear about war and famine in Africa, our instinct is to turn away. Maybe it is too much. Maybe we have our own problems or think the problems in America need to be solved first.
We want to tell you that there are solutions to the worst problems in Africa, they don't need to be that expensive, and there is a way we can all participate in the solution.
We traveled together to refugee camps deep in the heart of Africa. We met people who were fleeing the civil war in Darfur and who had trekked for hundreds of miles to the camps across the border in Chad.
We heard stories of unimaginable suffering, of women who had been raped by soldiers, of children who had been thrown into fires. That is the human toll of one of the world's deadliest wars. In order to maintain absolute power, the Sudanese government has targeted non-Arab ethnic groups in Darfur for destruction. If that sounds unimaginable, let one of the people we met on our trip help you understand better what we mean.

We met a young man named Isaac, sitting on a mat in a humble community center in one of the camps we visited. Isaac happens to be from one of the non-Arab ethnic groups the government of Sudan has targeted for extinction. We listened closely to his story to comprehend why a government would try to destroy a whole group of people based on their ethnic identity.
Up until late 2003, Isaac was a student in a high school in West Darfur. His village wasn't wealthy, but his family lived well, growing all kinds of crops, nurturing large orchards of fruit trees, and raising goats and a few cows. He had heard about some distant fighting involving rebel groups, but he was too focused on his schooling to pay much attention.
But suddenly one December morning, everything changed.
Isaac had just left a wake at his mosque -- nearly everyone is Muslim in Darfur -- when his village came under attack. The Sudanese government and its Janjaweed ("Devils on horseback") militia allies, Darfur's version of the Ku Klux Klan, blew into town, hunting all the males in the village, no matter what their age. At least 150 men and boys were killed that morning, including 42 children, the village was looted, and most of the houses were burned to the ground. Isaac lost two uncles, two aunts, and two brothers.
Scared and devastated, the survivors hid in the orchards outside the village. For the next two months, the Janjaweed scouted out their locations and warned them, "If you don't want to turn to ashes, you better leave this place." But for Isaac and his neighbors, "this place" was their home, and they didn't want to leave.
Two months later, however, the Janjaweed -- backed by government forces -- attacked again. Many more villagers were killed. But this time, many of the women who were trying to hide were raped.
Isaac and his surviving neighbors trekked for three months before they finally found their way to the safety of the refugee camp in Chad. There we found him, three years later, trying to make sense of his ordeal.
He told us that the government of Sudan had decided to destroy the communities like his from which rebels were being recruited, even though no rebels lived in his village. And he said the Janjaweed want their land, so they have to get rid of the people on it. This is why there is an alliance between the government and the Janjaweed, in order to destroy the non-Arab communities of Darfur.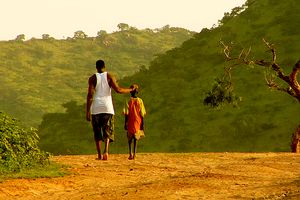 We are just two guys, so alone it is probably true that we can't do much. But we are not alone. When we went down to Auburndale High School (Tracy's high school near Orlando), we found hundreds of students who wanted to get involved with us in reaching out to the people of Darfur. So we decided to find a way to link students here in the U.S. with young Darfurians who want to go to school.
To do this, we created the Darfur Dream Team Sister Schools Program. It creates connections between schools in the U.S. with schools in the Darfur refugee camps, with the ultimate objective of creating a quality education for every young refugee from Darfur. Players from around the NBA are pitching in, as is the United Nations and the movie company Participant Media.
We don't need to look away when we hear about Darfur. There is something tangible we can do that can provide an education to thousands of young people in Darfur at the same time as it enriches the lives and widens the horizens of young people here in the U.S. We can change the world, as our new president says. With the Darfur Dream Team, we're going to do it one student at a time.
Tracy McGrady plays for the Houston Rockets and John Prendergast works for the Enough Project (www.enoughproject.org). They are recruiting schools, NBA players, and interested individuals for the Darfur Dream Team (www.darfurdreamteam.org). Photos by Josh Rothstein and Brian Jackson.