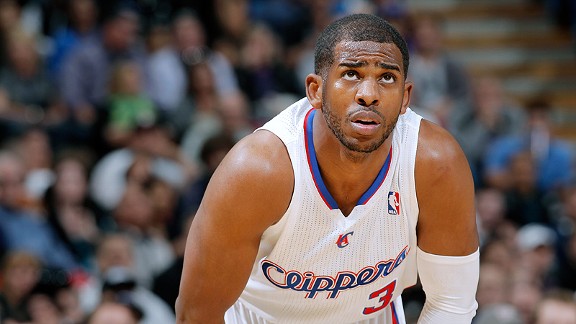 Rocky Widner/NBAE/Getty Images
If the Clippers aren't careful, they might find themselves looking up at the competition for Chris Paul.ESPN the Magazine's Chris Broussard is reporting that Chris Paul is unhappy that the dismissal of Vinny Del Negro as coach has somehow landed on his doorstep, in large part due to comments made by Los Angeles Clippers owner Donald Sterling.
After Del Negro was let go May 21, Sterling told the Los Angeles Times that it wasn't "off base" to suggest the Clippers' players were calling the shots. Sterling also said, "This is a players' league, and unfortunately, if you want to win, you have to make the players happy." Meanwhile, on radio this week, both in Los Angeles and nationally, Del Negro has rejected opportunities to dispel the idea Paul was behind the coaching change.
It was only a matter of time before we caught word of Paul's displeasure, and you can't blame him. First, the notion that Paul was the primary force behind the decision to replace Del Negro is patently false. Management wanted Del Negro gone in March 2012 and, again, when the Clippers bowed out to the Memphis Grizzlies in the first round of this season's playoffs. If anything, Paul has been more deferential than he had to be with regard to Del Negro's fate. He didn't object when the team decided to kick the can down the road and pick up Del Negro's option for the 2012-13 season last summer, and he stayed below the fray during deliberations this spring even though he had the leverage to flex his muscles. Letting Del Negro's contract expire was management's recommendation and Sterling's final verdict -- and Sterling knows it.
Paul makes a point to be cautious about his public comments. As much as he might ride teammates in practice or officiously tell them what to do on the floor, he almost never calls out fellow players -- or coaches -- publicly. It takes a fair amount of discipline to carry oneself this way, but, despite Paul's best efforts, Sterling is effectively calling him a coach-killer.
The substance and timing of Sterling's remarks are bizarre, given Paul's pending free agency. The Clippers have been widely viewed as Paul's likely destination, largely because Paul has achieved a certain level of comfort as a Clipper. Know what compromises that comfort? Being falsely and publicly accused by ownership of sabotaging a coach.
Even with the Clippers sitting as favorites to retain his services, Paul was always going to explore his full range of options; that's what intelligent businesspeople do. Always take the meeting, after all. Whether those are courtesy meetings or legitimate two-way interviews will depend on Paul's mindset going in, and, as it stands now, this most recent development isn't helping the Clippers' cause.
NBA general managers are some of the best salesmen around. They wouldn't have scored their coveted positions if they weren't. At some point in the first week of July, these top-flight recruiters will employ their powers of persuasion to convince Paul that he's better off with their organizations than with the Clippers.
Atlanta Hawks president of basketball operations and general manager Danny Ferry, with new Hawks coach Mike Budenholzer beside him, will have the chance to sit with Paul and pitch him. Ferry can tell him, "Chris, you know how you're always saying there's no franchise you respect more than the Spurs? Well, welcome to Spurs 2.0. That's the template here, and we have the credentials to pull it off. This guy sitting right here is the next Gregg Popovich, just nobody knows it yet. And guess what? You're Tim Duncan. So come with us; we'll find you a running mate. You're going to love Al Horford as your pop guy. This is the No. 9 television market in the country and moving up. Your folks live a 45-minute flight away. They can come to a 7:30 p.m. tipoff, and we'll have them in bed back in North Carolina by midnight."
Houston Rockets general manager Daryl Morey will make his own appeal to Paul, focusing on the assets and flexibility the Rockets have to surround Paul with the right talent, including possibly Dwight Howard.
Dallas Mavericks owner Mark Cuban can plop down a championship ring and craft a message as well as any owner or exec in the game. With regard to quality-of-life perks, the Mavericks are the Singapore Airlines of NBA organizations, an entity in which everything runs smoothly and every detail is accounted for -- and Paul is the kind of person who appreciates competence and order.
So far as the disparity in money, both Houston and Dallas can pull up a PowerPoint on how the lack of a state income tax in Texas, coupled with California's new 13.3 percent income tax on the highest earners, make the Lone Star State a better value play.
To an alienated Paul, are these presentations more or less alluring than reminders from the Clippers that he likes Los Angeles, has been given influence in personnel decisions, has gone 6-11 over two postseasons and gets to work out at a cool training facility?
The Clippers have a month to smooth things over, and there's a good chance they'll be able to placate Paul after this brush fire dies down. Yet the fact that they'll have to expend the energy to do so is a net loss for the Clippers, and it bolsters the skeptics' case that however capable Clippers management is these days, ownership will find a way to muck things up.