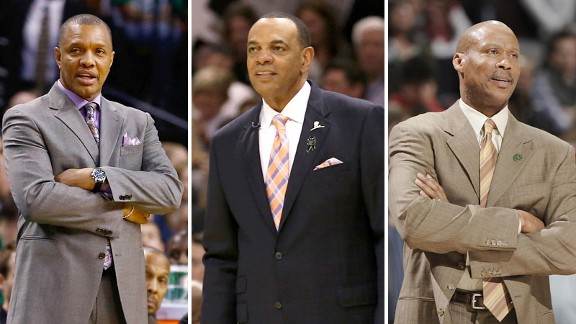 NBAE/Getty Images
Trying to handicap the Clippers' coaching field is a fool's errand.There are no bad head coaching gigs in the NBA. Only 30 positions exist in the league and that scarcity means that hundreds of capable professionals who have spent a lifetime preparing to be an NBA head coach never get the chance. But some coaching jobs are more attractive than others, and of the remaining vacancies, the Clippers' opportunity is most alluring.
Before Chris Paul and Blake Griffin suited up for the Clippers, back when Cuttino Mobley was the highest-paid unrestricted free agent in franchise history, it was a different workplace, literally.
"Sometimes we'd practice at Southwest college, sometimes at UCLA, sometimes at [Veterans Sports Complex in] Carson," Alvin Gentry said. " Now look at the facility -- it's as nice as there is in the league. There's a totally different vibe now around the team. Darius Miles was a popular player, but he wasn't selling the jerseys Blake [Griffin] and Chris [Paul] sell."
Gentry coached the Clippers for nearly three seasons between 2000 and 2003 and is now on the list of leading candidates to succeed Vinny Del Negro for the 2013-14 season and beyond. The slate includes Indiana Pacers assistant coach Brian Shaw and former Cleveland Cavaliers head coach Byron Scott. Now that Memphis Grizzlies coach Lionel Hollins has been granted permission to speak to other teams, he assumes a spot toward the top of the Clippers' list.
There's increasing chatter about ESPN analyst and former Houston Rockets coach Jeff Van Gundy, though there's no indication how eager Van Gundy is to take the gig. Denver Nuggets coach George Karl could enter the fray, though he's currently under contract. That means the Clippers would need permission to reach out to him formally, and be fairly sold on the idea that Karl would be their choice, if they did.
---
The interview process will proceed with Clippers management, a group that includes team president Andy Roeser, vice president of basketball operations Gary Sacks, director of basketball operations Gerald Madkins and director of basketball management Eric Miller. The candidates will lay out their respective visions for the on-court product, share their philosophies, tout their achievements, emphasize their capacity to communicate and convey the kind of temperament befitting of an NBA head coach.
Expectations for the Clippers have multiplied exponentially, and the bar for the next coach is nothing short of a conference championship. That's never been the case in any of the Clippers' previous hirings, but one thing hasn't changed:
The choice will be made by Clippers owner Donald T. Sterling.
The management team has been given the freedom to draw up the short list and they'll be invited to voice their recommendations, but the final decision on a head coaching hire has always been Sterling's call. That was the case when Sterling opted for Del Negro in 2010 over management's recommendation of Dwane Casey, and Sterling will exercise his rightful claim to render the verdict again this year.
The Clippers job isn't won in a conference room or in whiteboard exhibitions, it's won at Sterling's home up in Malibu and at dining rooms for the well-heeled in Beverly Hills. Of all the privileges as team owner, choosing a head coach might be the one Sterling savors most. The ring-kissing procession places him at the center of the affair. Candidates regale him with praise, and share insider anecdotes. They grant him equal footing on discussions of basketball while eliciting his opinions, and they listen attentively to his descriptions of what he wants in a head coach. That the open position with his team is more desirable than ever makes this year's proceedings all the more fun for Sterling.
---
Management still gets to arrange the display case for Sterling. The group will shine the spotlight on the couple of candidates it prefers most, and will lay out the comparative strengths and shortcomings for the owner.
Gentry is well-liked by the front office, which values his combination of affability, experience, media savvy and game preparation skills. From an X's & O's standpoint, the Gentrification of the Clippers would begin with spacing, getting Griffin on the move, sending shooters to the corners early for quick-hitters, taking the best principles of Suns basketball and creating the conditions for Paul to thrive as Steve Nash did. Former players rave about Gentry's capacity to maintain the tough balance between giving players freedom, but also demanding accountability.
Over the past few seasons, Shaw has interviewed for several head coaching jobs, but has yet to finish first. Shaw brings the blessing of Phil Jackson and Kobe Bryant and a Lakers pedigree (a quality that matters to Sterling, loath as the Clippers would be to admit it). Over the past two years, Shaw has been steeped in Indiana's meticulous game prep, and the Pacers' impressive run this spring helps his cause.
Now that Memphis has signaled it's comfortable starting next season without Hollins, the Clippers can pursue its fascination with the Grizzlies coach. Hollins would be a more expensive hire than either Gentry or Shaw, but toughness has emerged as a buzzword inside the Clippers as they draw up the prerequisites for the job. Being the head coach of the Clippers means, first and foremost, earning the respect of Paul, Griffin and a professional but demanding group of veterans. There's a popular notion that Paul wants unilateral control of the Clippers. But those who play alongside him say that characterization doesn't capture the full picture. They describe a superstar who prefers to commandeer most of the half-court possessions, but who also grew up in a staunchly disciplined environment and wants a kindred spirit as coach, a man who can get 14 guys to buy into a common vision. Hollins, who wrangled a wide assortment of egos and temperaments in Memphis, is regarded as someone who can accomplish that.
Should Karl become an official candidate, he would be the luminary in the field, a legend who has won 1,131 games and compiled a .599 winning percentage. The Clippers have been battered in the local media since firing Del Negro, and a Karl hire would likely get the pitchforks back in the shed. The same would be true of Van Gundy, whose name has been connected to various openings in recent seasons. Are Karl and Van Gundy legitimate candidates, and would either accept the job if offered it, or are they high-profile names who lend gravitas and sex appeal to the sweepstakes?
Finally, there's Scott, who hasn't been mentioned in many recent reports as a favorite, but identifying the favorite in any Clippers' head coaching search is tricky. This is Sterling's show, and the candidates will be judged by his criteria. Scott might be coming off a 64-166 stint in Cleveland, but examined through Sterling's eyes -- and getting inside Sterling's head is a strange exercise unto itself -- and all of the sudden Scott's negative trend line as a coach fades into the background.
On the surface, Scott seems most equipped to win Donald Sterling's favor. As a Laker great and native, Scott is beloved by Los Angeles, its mucky-mucks, rank-and-file fans and press corps. He has a familiarity with the city's celebrity culture and would win the press conference for himself and the team. Any table that has Scott dining with the owner, brass and spouses would be imbued with a halo effect, and it's easy to imagine the well-wishers stopping by to bid greetings to a smiling Sterling party on their way out of the restaurant. Scott would crush the one-on-one at Sterling's compound in Malibu, an event as important as any résumé bullet point. He's led teams to two NBA Finals (more than either Karl or Van Gundy), so the Clippers could sell the message that they aren't satisfied with early playoff exits. Scott passes the Chris Paul Smell Test, and if the experiment didn't work, Sterling would have a convenient scapegoat (someone he's demonstrated he's already comfortable using in that role). Finally, the Clippers would have to pay only a portion of Scott's first-year salary, as an offset exist from the final year of his contract with the Cavaliers.
Naming a coach has always been a personal imperative for Sterling, as it is for many owners. Candidates can jockey for position and impress with their acumen. They'll think they've won the schmooze-fest with owner, his wife and the brass, but with Sterling, there's no method to the madness. Whether he'll ultimately bow to optics, frugality, a hunch or a passionate recommendation from management is anyone's guess.