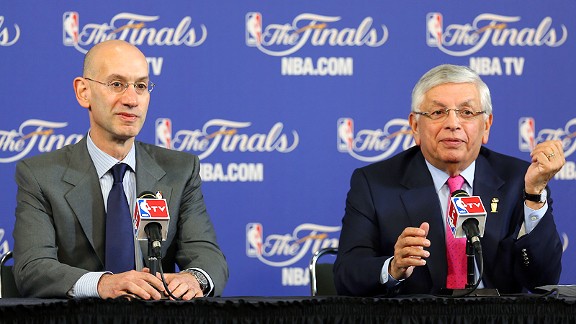 Mike Ehrmann/Getty Images
The NBA's leaders are considering game-changing video innovations.
David Stern's NBA has been aggressively progressive, moving early on everything from globalization, a number of race issues, women in sports, drug testing and many kinds of technology. And now they're ready to lead the way again.
HoopIdea was born in 2012 with a mission to focus on ways the best game in the world could be even better. A year and a half later, HoopIdea has helped move the needle -- on traveling, flopping, drug testing, speeding up the game and more.
One of the big opportunities for the league now, however, is to give key officials the best possible information about what's actually happening on the court, specifically with real-time high-def video. Fans have it at home and increasingly in the arena. And the league has it, if it wants it.
"We're actually even toying with the notion," Stern divulged before Game 1 in Miami, "of whether replay can be done [by] off‑site review, the way it's done in the NHL, to relieve the burden on the referees, who are stuck in the middle of intense game‑time action."
Deputy commissioner Adam Silver outlined a vision of how things might work in the future: "If you have a group of officials in a broadcast center somewhere, location could almost be anywhere in this day and age of digital media, there wouldn't be that delay which officials need to walk over, turn the monitor around, put the headphones on, call for the replays. You could have off‑site officials looking at multiple monitors at once."
Why does this matter? Because this is how the game evolves to keep up with the world. Now that Silicon Valley means as much as Wall Street, and most fans have high-def instant replay in their living rooms, the league appears ready to use high-quality, real-time replay in a way that will let the league base in-game decisions on the best possible insight, insight that is commonly available to fans.
It also solves a key riddle: Missed calls echo in eternity, now. Flopping isn't especially new, but annoyance at it has reached a fever pitch in the DVR/YouTube era, when motivated fans know when officials are fooled. The truth can hurt, especially when the truth is the league got something blatantly wrong. There's no reason to believe refereeing has ever been better, or is better in any other league, and yet only in the past few seasons has the league been compelled to announce corrections and missed calls in the days following the game. Thanks to video, there's little point in denying it.
Video review isn't a perfect way to fix bad calls. But it's a perfect way to fix calls that are clearly bad on video. Those are the ones causing the NBA credibility problems.
That can and should happen in real time, and it makes more sense than ever. It's also a perfect avenue for the league to truly address a number of issues, including flopping. The NBA's current flopping penalties are based on video review, but with a day's delay or more. To a lot of players, flops are still a way to help a team win. Real-time video review would expose the floppers in the seconds after the flop, when a penalty would mean something.
Earlier this week, we wrote that the key solution to the NBA's problems with its rules, officiating and sluggish game was to Just Play Basketball. But to do that, the league has to create the best possible systems, rules and enforcement. The way to allow the game to flourish and let its great athletes play offense and defense as it was meant to be played is to keep the rules and officials and delays out of their way.
"It's a subject of continued discussion in our office, and has been," Stern said. "Because as I said and have been quoted, the idea that everyone with a smart phone can see it, everyone at home can see it, everyone …"
"Except," Silver chimed in, "the official."
"We've got to find a way to make it a little smoother," Stern concluded. "But we like it a lot, because it is very much evidence of the fact that we care about getting it right."