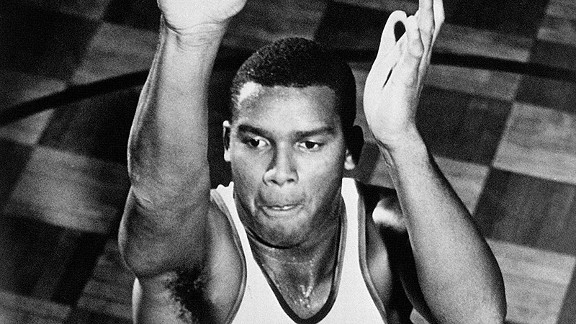 NBA Photo Library/Getty Images
Maurice Stokes was paralyzed by a hard fall at a time when there were no safety nets for NBA players.
Earlier today the NBA announced the creation of the Twyman-Stokes Teammate of the Year Award in honor Jack Twyman and Maurice Stokes. The league couldn't have picked a better duo to illustrate the extent and power of being a good teammate.
Stokes was a burly, fast and exciting power forward with the Rochester and Cincinnati Royals back in the mid-1950s. In his brief three-year career, Stokes made the All-Star and All-NBA second teams in each season. In 1956, Stokes ranked in the top 10 in points per game, rebounds per game and assists per game. That kind of all-around excellence easily earned him the rookie of the year award and left contemporaries, like former Celtics broadcaster Johnny Most, awestruck:
His quickness, passing ability, and court awareness were just unbelievable. When I first saw Magic Johnson play, it brought back memories of Maurice. You have to understand that Stokes was 6-foot-7 and weighed 240 pounds. He could handle the ball like a point guard and rebound like a center.
Stokes' career was cut short, however, due to a terrible fall he suffered against the Minneapolis Lakers in the spring of 1958. Landing on his head, Stokes was knocked out and slowly drifted back into consciousness. In today's world, such a frightening spill would have a player carted off the floor, but back in the 50s Stokes was practically given a pat on the butt and sent back into the game.
Just days later, Stokes suffered a series of seizures while aboard an airplane to Cincinnati to face the Detroit Pistons in a playoff game. The ordeal left Stokes permanently paralyzed.
The Royals were obscenely quick to remove Maurice and his $20,000 salary from their payroll. There was no pension or medical plan for NBA players back then, which left Stokes and his family unable to endure medical bills that would approach $100,000 a year. Facing financial peril, Stokes was saved by his Royals teammate Jack Twyman. The hot-shot small forward filled a void few would, and he did so for the duration of Maurice's life.
Twyman became his teammate's legal guardian and undertook all kinds of fundraising efforts to round up the money and save Maurice. A benefit game of NBA All-Stars was played annually in New York to raise funds. Twyman, who worked for an insurance company during offseasons, successfully sued under Ohio law to have workman's compensation awarded to Stokes.
The never-ending assists from Twyman helped keep Stokes alive until 1970. In 2004, Stokes was inducted to the Naismith Hall of Fame. Twyman had the honor of inducting his old friend but, as always, the humble Twyman insisted the honor was all his to have cared for such a class individual as Stokes.
The award the NBA is naming in their honor will acknowledge the bond they shared, but it also doesn't quite measure up to what Twyman did. He wasn't just a good teammate who rallied and cheered on his fellow Royals. He continuously saved the life of another person for 12 straight years. That's a hard act for any Twyman-Stokes Award winner to follow.
Fortunately, with the benefits players receive today -- protections not afforded to Stokes during his short tenure in the league -- it's one they won't have to.