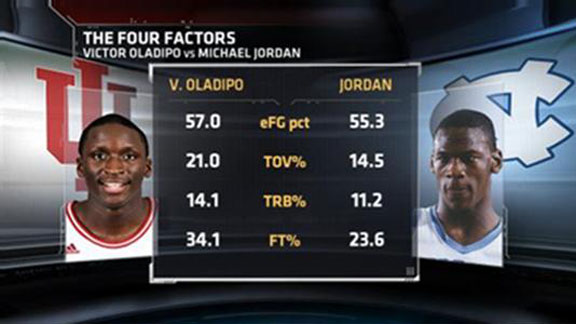 Getty Images
In laying out a comparison for Victor Oladipo, we looked no further than the Indiana-Michigan State game in which ESPN broadcasters Magic Johnson and Dick Vitale lauded Oladipo as the next Michael Jordan.
While Jordan's NBA career was (insert adjective here), we focused on his statistics at North Carolina.
The Four Factors
Effective field goal percentage is a weighted number that accounts for all shots from the field. Specifically, made 3-pointers are worth more than two-pointers.
And in this metric, Jordan had a very solid 55.3 effective field goal percentage. His collegiate scoring was not other-worldly, in large part because the pace of the game was much slower in the early 1980s. As the shot clock and 3-point line were introduced, the game changed.
But even so, Oladipo's effective field goal percentage was slightly better than Jordan's. Oladipo's effective field goal percentage was 57 percent. Using effective field goal percentage in this comparison and others, we can predict that Oladipo will enter the NBA ready to become a very efficient scorer.
Turnover percentage really separates the two players. Jordan took care of the ball well. In fact, he turned it over about a third less in college than Oladipo did.
Rebound percentage favors Oladipo. His total rebound percentage of 14.1 percent was a couple of percentage points higher than Jordan's.
We measure free throws not only at what percentage a player shoots from the line, but how often he gets there. Oladipo's rate was about 40 percent higher than Jordan's.
Defensively, there are some comparisons as well. They blocked shots and got steals at the same rate. They both measured out as having wingspans about five inches longer than their height. Oladipo is listed at 6-foot-5.
Conclusion
Oladipo compares very well to Jordan in terms of several efficiency stats and is worthy of a very high pick in this draft. His offensive numbers suggest that he will score efficiently in the NBA. His defensive metrics suggest he will be an above-average defensive player. Oladipo should make an enormous impact as a rookie and, based on our metrics, he should be considered a front-runner for rookie of the year.
As for the Jordan comparison ... we've left out above a few important differences. For instance, Oladipo took only about 22 percent of Indiana's shots when he was on the floor, whereas Jordan took almost 32 percent when he was at North Carolina. With fewer shots, Oladipo still turned the ball over more than Jordan, turning it over on 21 percent of his possessions. Jordan's amazing ability to limit turnovers showed itself in college where he turned it over only on 14.5 percent of his possessions.
It is always tempting to compare athletic shooting guards to Michael Jordan. Oladipo has several characteristics that make it even more tempting, and he looks like a good top-3 pick, as Jordan was. But let's reserve judgment on whether he can reach the heights of Air Jordan.