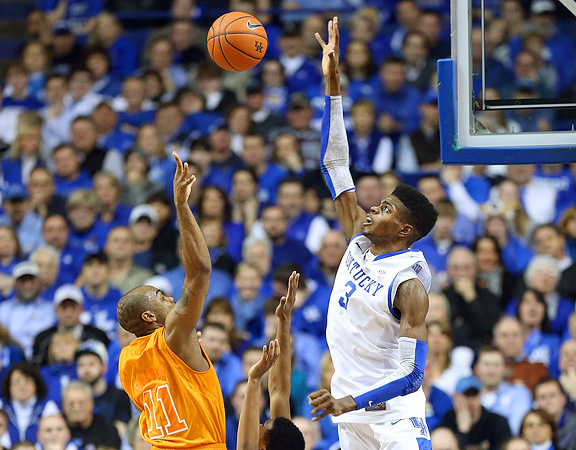 Andy Lyons/Getty Images
Every team knows Nerlens Noel can play, but few could stomach the risk.The best, most honest assessment, by the eye test, the advanced stats test, the mock draft test and every other kind of test, on the record or off, and virtually no matter who you ask, is that -- despite ongoing recovery from surgery to repair his anterior cruciate ligament -- the player most likely to matter from the 2013 NBA draft is Nerlens Noel.
He ended up in Philadelphia, earning the 76ers Chad Ford's only A+.
But there's something unsettling, a little stomach turning, about how it went down. Almost every team in the NBA had a shot at him. A full fifth of the NBA passed on him in one night. The Cavaliers, Magic, Wizards, Bobcats and Suns chose other players over him. The Pelicans picked him and traded him.
But that's just the beginning: The Cavaliers shopped their top, Noel-ready pick every day between winning the lottery and draft night. To get the star center, all any team had to do was make a winning offer to the Cavaliers any time in the past few weeks. On draft night, the list of teams that could have traded him expanded to six, and the asking price was not prohibitive.
The Sixers had Noel targeted and the scenarios to get him mapped out. As Noel fell, a deal the Sixers liked emerged. The Sixers gave up a quality point guard in Jrue Holiday. Holiday is very good, barely 23, high character and at a reasonable price. But the Sixers didn't just get Noel for that point guard; they also got an incredibly valuable pick in next year's draft, touted as the richest since the LeBron James draft of 2003.
Phil Jackson once said trading away quality NBA big men is a bad idea because you can never get enough value in return. The Sixers got one of those and a great draft pick, all for a point guard.
Which raises the question: What's wrong with Noel?
The best answer is creepy and just about impossible to get on the record. But it goes like this: As a player with a known medical issue, Noel falls into one of the NBA's most damning cracks, between what's good for teams and what's good for general managers.
In short, Noel is the kind of player who can get a general manager fired, and most front offices couldn't stomach it.
There are different ways players fail in the NBA. If he doesn't work hard, it's on him. If he doesn't fit the system, it's on the coach. None of that threatens highly paid and career-minded general managers; in both scenarios, they can keep their jobs. (I've even heard it suggested that some general managers keep subpar coaches around to have someone to blame should it all go awry.)
But things go down differently if the team fails because it bet on a player known to have been injured and injuries are his undoing. That tends to be seen as the front office's fault. When the engines fail in that airplane, there never seem to be enough parachutes for the front-office guys. That's just how it goes.
Kevin Pritchard was the NBA's next great GM when he drafted Greg Oden -- on track to be alone at the top of a big-budget team's hierarchy. Then Oden got hurt. Six years after making that pick and after a spell of unemployment, Pritchard is still keeping his head down, trying to restore his reputation in Indiana's increasingly crowded front office.
There are regular reports that Daryl Morey's job is in jeopardy. True or not, you simply must admit that a healthy Yao Ming would have been a perfect cure for all that.
Whatever blame ends up going around for the decline of the Lakers, all of that could have been replaced with wheelbarrows full of championship rings if only Andrew Bynum's knees had played along.
Noel fell in this draft because if he fails, he'll fail in a way that will drive blame to the front office now and forever.
Credit Sam Hinkie, the Sixers' new GM, as the one willing to take the risk. He says he and his ownership group -- led by Josh Harris and Dave Blitzer -- talked long and hard about the big gambles that are part and parcel of building a championship-caliber team.
"To their credit," Hinkie said by phone the morning after the Noel trade, "often with a little talking, and other times with a lot of talking, they have been unwilling to settle for being average. That doesn't guarantee you'll be good, or great, by any stretch. But it gives you an opportunity."
Front offices are thought to be thick with shrewd basketball people, and there's plenty of that. But also, like any organization, a lot of them are skilled in pulling the strings of power. On NBA teams, each its own strange kingdom, with but one final authority on everything, that means cozying up to owners. Like all characters in palace intrigues, the most successful tend to be insecure and career-minded. The chief goal, often, is to redirect blame, hoard credit and avoid drama at all costs.
But that's not what happened in Philadelphia this time. The Sixers took a real gamble, albeit a good one. That has to be refreshing for Sixers fans, as nobody will be surprised if Noel anchors a long-term resurgence for the franchise. That includes the many front offices that might have had him but lacked the Sixers' appetite for risk.