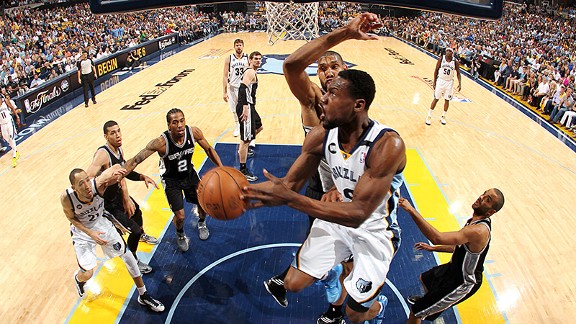 Joe Murphy/NBAE/Getty Images
Five Spurs in the paint. Zero easy layups. One desperate need for shooting.It's a copycat league, and the cat they copy most is the one who just won it all.
But let's be real: Without infinite cap space and three of the 20 best players on the free-agent market, you're not copying the Heat.
However, this season's Finals did, in fact, present a powerful and important concept that any team might steal -- just not from the winners.
In the right situation, it's both devastatingly effective and so easy that old men in pickup games have been using it for decades.
What is this mysterious weapon? It's a trick from the other team that made it to Game 7 of the Finals, the San Antonio Spurs.
It's the Spurs' pack-the-paint and make-the-shooters-prove-it defense.
Made the Heat think
Simple though it may be, the Spurs' approach has scrambled some of the game's best minds by exploiting the difference between what an NBA player can do, and what they will do. LeBron James can shoot from downtown -- he just completed a season making an excellent 41 percent of his 3s.
But the Spurs know LeBron's really about getting the ball to the rim so he can find open teammates for 3s, as well as layups and dunks for himself. On James drives, the expected points per possession crawl up around two, whereas a typical NBA possession is worth about half that. Stopping one of the most powerful scoring attacks in history was the Spurs' priority, and they did it by having all kinds of players waiting for James around the rim, leaving him with jumpers or nothing, essentially.
The Spurs said, sure, LeBron can shoot jumpers, but will he really do that enough to carry the offense? People like to say a dominant player can do something (beat his man off the dribble, drill the open jumper, block a smaller guy's shot) "all game long" but when have you ever seen someone score the same way 10 times, or even three? Basketball is just too variable. Nothing happens all game long, especially in a case like this, where James would have to give up driving, which is out of character.
After Game 7, LeBron said it took him more than two games of the Finals to decide how to handle the Spurs' "let 'em shoot" approach: "I watched film, and my mind started to work and I said, OK, this is how they're going to play me for the whole series. I looked at all my regular-season stats, all my playoff stats, and I was one of the best midrange shooters in the game. I shot a career high from the 3-point line. I just told myself why … abandon what you've done all year. Don't abandon now because they're going under. Don't force the paint. If it's there, take it. If not, take the jumper."
The transition to a new way of thinking cost the Heat a game or two of the Finals.
And it's not just about 3s. It's all long shots. Factor in degree of difficulty and points scored, and the long 2-pointer is generally one of basketball's worst shots. The efficient shooting spots are from behind the 3-point line and in the paint. When there are no layups to be had, however, whatever's open looks pretty good. It's no coincidence that in the warm-ups for Game 7 James, Chris Bosh and Dwyane Wade all spent most of their time practicing long 2s. That's what the Spurs were offering.
It was fitting the game was iced with a long James 2-pointer that gave the Heat a four-point lead with 27.9 seconds left. James took 21 shots in Game 7, and 16 of them were either long 2s or 3s. The three shots he made at the rim were all oddities -- a putback, a missed assignment and a fast-break and-1. But when the Spurs' defense was set and the Spurs were doing what their coach wanted, the NBA's primary layup machine didn't even attempt a single shot at the rim in the biggest game of the season.
Tough on Dwyane Wade
The Spurs' effective pack-the-paint defense is great for teams searching for ways to stop paint scorers and bad for people who like dunks in traffic. But, as we'll get into, the real victims are not LeBron and the like, but NBA players who don't love shooting 3s, including some big names on the free-agent market, like Andre Iguodala, Tyreke Evans and Tony Allen, as well as the Heat's own Dwyane Wade.
This approach has been horrid for those guys, as evidenced by the fact while the Heat won the Finals against the Spurs, San Antonio was the far better team when Wade was on the court.
The multifaceted effects of Wade's bad knees were a big part of that. He wasn't creating havoc, turnovers and fast-break points like normal. But he also can't shoot 3s, and spent a lot of the series standing without the ball, entirely unguarded behind the 3-point line, while his defender helped make sure Wade's teammates didn't get any easy points.
Bench Wade for a 3-point shooter like Ray Allen or Shane Battier, though, and the Heat could score again, as the Spurs looked like regular-season Heat opponents, in real distress, having to decide between giving up paint points or 3s. It's almost 24 feet from the bucket to a straightaway 3. Making defenders scramble that distance is a great way to get the defense distorted, which is likely to create an open look somewhere.
Wade, a career 29 percent 3-point shooter, didn't attempt a single 3 in these Finals. The Heat were outscored by 7.7 points per 100 possessions while Wade was on the court in the Finals -- the worst number on the team. In contrast, the team's 3-point shooters, Mike Miller, Shane Battier, Mario Chalmers and Ray Allen, joined Chris Andersen as the only Heat players who finished the Finals with positive plus/minus numbers.
Those were the lineups that could punish the Spurs for sagging into the paint, and great though he may be, Wade simply can't help with that.
Tony Allen: Excellent, almost unplayable
The Spurs made the Finals with a Western Conference finals sweep built on a similarly unusual defense. Against the Heat, the Spurs packed the paint to keep LeBron away. Against the Grizzlies, it was Zach Randolph the Spurs feared around the basket. And sure enough, one of the NBA's best post scorers -- with a rich history of playoff success against San Antonio -- was mobbed when he got the ball in the paint. Tim Duncan and Tiago Splitter are both much longer than Randolph, and with helpers, they made life impossible for him.
And that was essentially the series. The Spurs took the Grizzlies' best option off the table. The easy fix would have been for Randolph to kick the ball out to waiting 3-point shooters. But that's not how the Grizzlies are staffed.
Tony Allen is up there with James as one of the best perimeter defenders in the world, and he can do a lot to help Memphis. He's no zero … until it comes to punishing the Spurs for crowding Randolph. He's a career 11.5 percent playoff 3-point shooter (he has made a grand total of three playoff 3s over nearly a decade). In the Western Conference finals, the Grizzlies were outscored by 8.8 points per 100 possessions -- a blowout, basically -- when Allen was on the court.
When Allen was out there the lack of spacing kept any Grizzlies from being efficient on offense. It's too much to ask for Allen's grit-and-grind perimeter defense to make up for that.
The numbers were similarly bad for just about all the Memphis starters, because every reluctant and/or inefficient 3-point shooter you put on the court freed up another defender to hang out in the paint, gumming things up for everybody. Know how many enthusiastic 3-point shooters the Grizzlies started? One: Mike Conley. Tayshaun Prince has made a solid 37 percent of his career 3s, but that percentage dipped a bit this season and, like James, an efficiency minded player, Prince wasn't eager to fire away. That only encouraged the Spurs to pack the paint even further.
Needing 3s like oxygen
The NBA's high priest of lineup data was the first person to point this out to me, in 2009; Wayne Winston's theory of NBA lineups is basically if you play two or more guys who can't shoot, the lineup is very likely to perform poorly, even if it's loaded with good players. More recently Winston looked up lineups with four shooters, and found they were almost all excellent.
And that's against any and all defenses.
Related:
A few years ago Dwight Howard and a bunch of otherwise unremarkable 3-point shooters had one of the best offenses in recent NBA history.

The Warriors' playoff run only took off when an injury to David Lee forced them to start four 3-point shooters.

The Heat haven't lost a playoff series since they adopted a strategy of playing 3-point shooters with their superstars.
NBA coaches have long been far too timid with 3s -- merely attempting more has long predicted winning more games, thinking which is only slowly catching on. 3-point shooting has long been seen as a condiment, a little something to sprinkle onto your time-tested offensive diet.
When your opponent packs the paint like the Spurs did, 3s quickly become even more important. They go from being condiments to survival food. Either you can get the defensive players scrambling far from the hoop to close out shooters or you cannot. Either you can punish opposing coaches for playing two plodding 7-footers (by making them run out to cover someone far from the hoop) or you cannot. Either you can efficiently turn possessions into points even without layups, or you cannot.
If you cannot do those things, you're basically done.
That's why life's getting harder for players who don't shoot it. That's what hangs over this year's free agency. The Spurs just wrote the book on shutting down lineups with players who can't shoot. It might not matter all season long, but when you get locked into a playoff series against a determined coach like Gregg Popovich, it could matter more than anything.