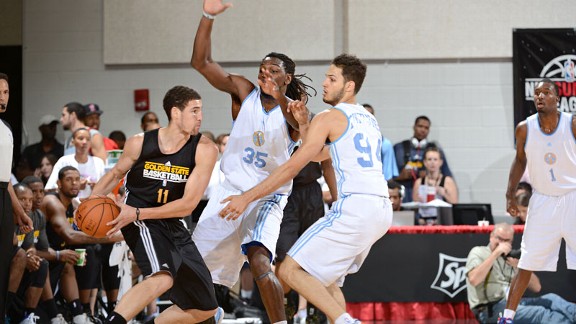 Garrett W. Ellwood/NBAE/Getty Images
Las Vegas Summer League: The world's first glimpse at future stars in their NBA uniforms.It seems impossible that we need more basketball.
The NBA Finals ended less than a month ago, and for the past several years it has become common among smart observers to debate whether the NBA is already playing too long a season. For players, coaches and executives -- and for many fans -- 82 games followed by a two-month postseason is already a grind. And yet, just three weeks after the lights go down each season, the basketball world congregates in Las Vegas to endure 120-degree heat and nine-hour days of games between young and little-known players who have no demonstrable bearing on the NBA power structure.
This is the Las Vegas Summer League, and it has somehow become one of the most important weeks on the basketball calendar.
Often, even the most die-hard fans have only a perfunctory awareness of what goes on in Vegas. Lottery picks' point totals are bandied about among the faithful as reasons for concern or celebration. Occasionally, a previously unheralded player grabs headlines with an explosive performance.
But the true function of the Summer League goes much deeper than the highlights. In a way that no other event can match, Las Vegas Summer League is a conclave for the luminaries of the NBA world; scouts, executives, players and power brokers all find their way to the desert in July. Why this is so, and how it came to be, is something of an untold story.
Albert Hall, officially, is the vice president of business operations at VSL Properties, the venture that started and owns the Las Vegas Summer League. Along with NBA agent Warren LeGarie, Hall is one of a handful of people who might be referred to as The Man at summer league. Las Vegas Summer League was hatched in 2004; today, if something needs doing in Vegas, Hall is likely to be doing it.
Before Vegas, summer league had existed in several forms. There were leagues at Long Beach State and Loyola Marymount, two colleges in Los Angeles. But attendance was always shifting, and the leagues hadn't managed to evolve into the fixture Vegas has become. LeGarie and Hall saw an opportunity: the allure of Las Vegas, a stable opportunity for teams to scout and develop players, and a summer event to help the NBA rival what Hall refers to as the NFL's "365 media presence." And so, in 2004, LeGarie and Hall launched Las Vegas Summer League. It was an instant success.
"After the first game, we probably had 98 emails," Hall said. Fans were complaining they weren't keeping box scores. League officials took notice. Six teams participated in the 2004 league. Fifteen came in 2005. And by 2008, LVSL had a solid NBA majority with 22 teams.
The built-in advantages of Las Vegas didn't hurt, Hall said. But Vegas became the summer destination of choice for the league with a little luck. He cites a few instances in which the branding power of LVSL was put on full display, chief among them the Portland Trail Blazers' 2006 team. Having drafted Brandon Roy and LaMarcus Aldridge, Portland was showing off a roster that would help them turn the corner from the "Jail Blazers" era.
"That was a turning point," Hall said. "It became a way for teams to reinvent themselves a little bit."
The potent draw of Vegas was now interwoven with a built-in offseason branding opportunity for teams, and that combination turned summer league into a nexus of league business.
Vegas became the basketball analog to baseball's hot stove league, the offseason crucible of deal-making that shapes the coming season. In fact, Hall courted the comparison as NBA execs as high up as David Stern came to use the analogy.
"We love that," Hall said. "It's where deals are done."
In LVSL's early days, Hall said, free agents could be seen talking to GMs right in the stands. But in a very real sense, Vegas has something that baseball's offseason can't match: the players driving the interest are on the court in front of scouts and executives every day. There's no winter baseball, but summer basketball turns a hot stove into a feeding frenzy for scouts, coaches and peripheral NBA talent. It's this unique mixture that has led ESPN's Kevin Arnovitz to refer to Vegas as the "Sundance Film Festival of the NBA." Hall prefers to call it the league's "American Idol," and said his partner LeGarie embraces the benign anarchy to call Vegas the NBA's Burning Man.
In that frenzy, most agree, are a few tiers of players: There are recently drafted picks -- newly minted first and second-rounders -- who are guaranteed a long leash and a green light for the league. There are young veterans who have carved out an NBA niche but may not have one for very long. And at the fringes, there are unsigned, unheralded players who are, as Hall terms it, "playing for food" when they take the court. This is the class of players looking to snare a contract playing in Europe, the D-League or wherever else might bring a steady check.
In some sense, the disparate talent levels and differing objectives among the players on the court serve to foster a chaotic environment. Athletes are a touch less explosive than in the NBA, and defenders accustomed to college zone defenses are often a step slower. Thus Vegas action is ripe for the occasional Anthony Randolph explosion -- instances when players who may not be real NBA starters seem to overwhelm their surroundings with their talent. For this reason, it has become common for some NBA wonks to dismiss summer league as somewhat worthless, more a self-contained oddity than a genuinely useful organizational tool.
ESPN's David Thorpe vehemently disagrees with that idea: "When you say, 'I dismiss the whole brand of summer league,' you're saying 'I don't understand NBA basketball.'" For Thorpe, the summer league offers developmental opportunities that neither smart players nor smart teams can afford to turn down.
For players, summer league represents the perfect compromise between their competitive instincts and lowered stakes that allow them to experiment. The games are games, after all, but their improvisational nature allows players to develop weaknesses and play in ways they might not during the season. A common example is LeBron James playing point guard for most of his first two summer leagues.
Players in Vegas have an opportunity to assess their shortcomings outside the pressure cooker of the regular season. Wing players who can't shoot have the opportunity to hoist with their revamped motion. Post players known for clumsy feet may get to unveil a newly crafted up-and-under move.
What's more, said Thorpe, "The games can be a big reference point for what a player needs to work on the rest of the summer." Rookies, unsigned free agents and other young players who've had to carve out a spot on an NBA bench rarely get full-speed repetitions to gauge the state of their games. What the summer league provides is an opportunity to expand their horizons and see what areas they need to shore up. For Thorpe, "knowledge gained from the failure" of summer league experimentation is of immeasurable value for players who aren't guaranteed starring roles.
On the team side of things, Vegas represents an opportunity to bring players into an organizational culture, to reduce what Thorpe calls their "idle time." Players new to the league or floating between contracts benefit enormously from time spent playing within a team's system, interacting with coaches and scouts and simply staying in mental basketball shape. So valuable is this time to teams and so beneficial for the developmental feedback players receive, Thorpe said, that "the only thing that really doesn't matter about summer league is the score."
At the end of the day, what is perhaps most beguiling for fans is summer league's capacity for happy chaos. With so many unformed and unknown talents, summer league is the perfect petri dish for rare strains of basketball beauty. Summer league performance can be a footnote on an otherwise pedestrian career -- see Jerryd Bayless capturing the 2008 Vegas MVP -- or it can build a career. In Hall's mind, the legend of Jeremy Lin actually began at summer league, when Lin keyed in for a matchup with John Wall and "fed him his lunch." "It was like, 'Wow -- this guy can play.'"
Lin's parable isn't the only one that validates Vegas as a proving ground for talent. Players such as Gary Neal, Brian Roberts, Danny Green, Shannon Brown and J.J. Barea all gained some legitimacy as NBA prospects at summer league. Thorpe agrees with Hall that summer league performances, no matter how unrepresentative or forgettable fans may see them as, can often keep players employed even when their chips are down. Those Vegas successes, he said, linger in the minds of front office execs years later. The assistant GMs and assistant coaches in Vegas become full-fledged GMs and coaches, and may return to the players who made the most of their time. "You're always auditioning for 30 teams," Thorpe said.
Summer league, then, is an utter rarity in the basketball world: An environment in which stakes are modest enough that players can stretch their games, but high enough to inspire players seeking a basketball livelihood to play their hardest. It is a time when league executives and power brokers, unencumbered by scheduling quirks or the demands of the season, can gather to fill a few rooms with insider smoke. A festival, a feeding frenzy, whatever. As Hall puts it: "If you're in the basketball business, you need to be at the summer league."