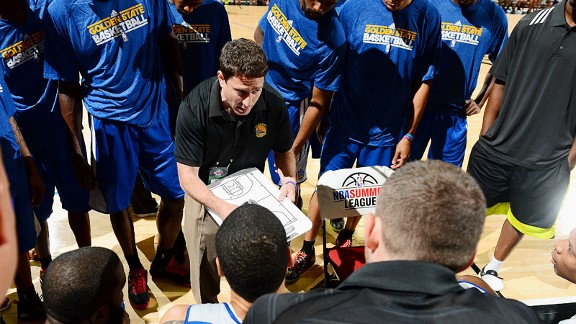 Garrett W. Ellwood/NBAE/Getty Images
Boys of Summer: The Golden State Warriors own Las Vegas.
LAS VEGAS -- In a real sense, the Golden State Warriors' first playoff season in six years started last July at the NBA Summer League. Before the NBA went to a tournament format in Las Vegas, the Warriors were unofficially crowned champions after finishing as the only undefeated team in last summer's competition. Ten months later, Golden State upset the Denver Nuggets in the playoffs before a hard-fought six-game series against the eventual conference champion San Antonio Spurs. Members of the organization saw a connection between those facts.
"I thought it was great last summer to win ballgames during the summer league," said Golden State coach Mark Jackson after this summer's Warriors opened play with a 56-52 win over the Washington Wizards. "We had great draft picks and we were teaching them. It was good for us and it propelled us into the regular season."
Many of the players who dominated the opposition in Las Vegas ended up factoring into the Warriors' resurgent season. Rookies Harrison Barnes, Festus Ezeli and Draymond Green were all part of the team's rotation. Barnes and second-year guard Klay Thompson were both starters. And even undrafted rookie Kent Bazemore saw playoff action against the Spurs, converting a key layup in Game 1 of the series.
"Those were guys who ended up getting meaningful minutes for us, not only in the regular season but in the playoffs," said Warriors general manager Bob Myers. "To give those players an opportunity to experience some success and have some time with them to teach them different philosophies about defense, things like that, was really beneficial for those guys - kind of a springboard into the regular season."
Summer league was uniquely important to the Warriors not only because of the youth of their roster but also because Jackson was entering his second season after taking over a perennial lottery team. The coaching staff's increased emphasis on defense and competitive spirit started in Las Vegas and continued throughout the year.
"What we tried to do," Barnes said, "is establish a culture that Coach Jackson wanted to see and we used as a bridge to turn this program around."
"Summer league is probably primarily for developing your young talent, but then you also can attempt to instill certain cultural components that you'd like to have happen within your organization," added Myers. "Our coaches did a good job of really focusing on defense, which I think was a new concept for some of our young players. I think that did carry over to the season."
Barnes saw the benefit when he arrived for his first NBA training camp.
"It was huge, because we didn't have to have as long of a learning curve as rookies," he said. "We were able to step into practices and go game speed and not have to worry about slowing everyone down."
Indeed, what Barnes and his teammates started in last year's summer league didn't slow down until mid-May.