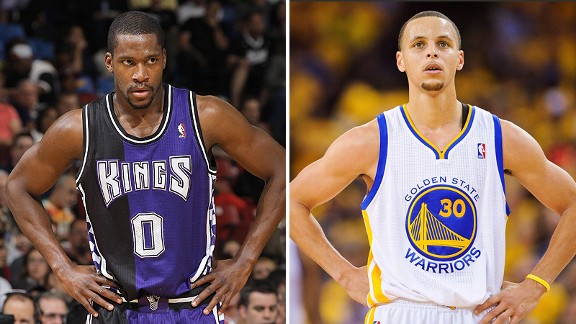 Rocky Widner, Noah Graham/NBAE/Getty Images
Few players know much about stopping Stephen Curry. New Warrior Toney Douglas is an exception.Toney Douglas is a 6-2 journeyman point guard who never really got a handle on how to run an offense. When he signed with the Golden State Warriors this offseason, the news barely qualified as "news," even during an uneventful time of the sports year.
But in signing this particular role player to a one-year deal, the Warriors didn't just get some fringe backup to occasionally spell Stephen Curry; they saved Curry from having to face Douglas. Because if there is such a thing as a "Curry stopper," then Toney Douglas is just that. Douglas is the archetype for how to ground a rising star. Fortunately for the Warriors, there aren't many with his skillset and with his approach.
First, a few thoughts on how stars who aren't Steph Curry get guarded. Your typical NBA superstar possesses time-warping athleticism and presents a constant threat of a rim attack. Thwarting the dynamic talent's rimward path is the defender's first priority. In these last NBA Finals, the Spurs emphasized that concept to an extreme degree when they decided that thwarting LeBron's drive was their only priority.
Whenever LeBron James putzed around the perimeter, San Antonio's defenders jumped backwards as though LeBron's dribble was exploding shrapnel. The idea was to splash a roiling human moat around the paint, making drives impossible -- but jumpers available. Though James is a good shooter, the shot was the lesser of two evils. It worked so well until Game 7, when it finally didn't. In any event, the approach was illustrative of how, even when facing a 40 percent 3-point shooter like James, the smartest move is probably to cede long shots off the dribble.
Steph Curry is the human inversion of that thinking. He's not especially adept at getting to the rim and when he gets there, he converts at a paltry 49 percent. Curry's layup efficiency has declined after a series of ankle injuries, possibly because landing feels like a dangerous proposition. So the points arrive from far away, where shots are theoretically harder to hit. Last season, Curry was far more accurate on right corner 3-pointers (60 percent) than he was at point-blank range.
While there are certainly other players who shoot well and drive poorly, Curry is different in that a) He shoots incredibly well off the dribble and b) He dribbles well, thus tempting defenders to stop him from driving.
Golden State's spindly point guard feasts on defenders who aren't used to worrying about 29-foot 3-pointers off the dribble, and who instinctively leap backward when Curry makes a move towards the basket. Even if those defenders know that Curry's the best off-the-dribble 3-point shooter we've ever seen, instinct and experience shout them in the wrong directions.
But Douglas can not be had. Last season, Curry was thoroughly frustrated by Douglas, to the point where Kings announcer Grant Napear yelped the following on three different fourth quarter plays:
"Douglas is right on him!" (Curry misses.) "Oh that's tough, tough, defense."

"You can't play better defense than that, ladies and gentlemen."

"And he's wearing him. He's wearing him!"
In the admittedly small sample size of Toney Douglas sharing the court with Stephen Curry (three games, 39 minutes last year), Curry hit only one shot while marked directly by Douglas. It was a fadeaway 3-pointer. The normally masterful point guard spent the rest of that time wholly flustered on offense. Under constant duress, Curry dribbled off his foot, tumbled to the floor twice, had multiple passes deflected, and shanked six feeble attempts, including one that smacked the backboard's side.
Douglas bothers Curry for the same reason Avery Bradley and Norris Cole have bothered Curry. Beyond that these are all just plain good defenders, they boast an assertive quickness that crowds a player so reliant on long shots off the dribble. There are only so many guards who possess the talent and endurance to play pressure defense, far from the hoop. It's probably no coincidence that these guys have limited offensive duties. Their grueling defensive sprint leaves little energy for anything else.
If there was a criticism of Douglas' specific approach to guarding Curry, it was that he fouled Curry twice on jump shots. Douglas errs towards forcing the issue, daring the ref to bail out the ballhandler. He also chases Curry off the ball with a rapidity that borders on rabidity. Douglas recalls his family's football background (his brother Harry plays wide receiver for the Falcons) as he darts between and around screens like he's returning a punt. His slender frame also allows him to slip between physical objects like an ominous, vaporous ghost. It's as though he can choose to have no physical presence off the ball, only to envelope Curry in an imposing blur of limbs as Curry catches a pass. In these moments, Douglas lives to live in Curry's space. It's a constant closeout, because a guy who can shoot off the dribble like this demands a constant closeout. He might be the only player for whom this kind of defense makes sense.
Few defenders also have this tenacity and energy, mixed with a willingness to eschew standard defense against a unique offensive force. Some other team could have had this weapon to deploy against Golden State for the cheap price of a $1.6 million, one-year contract. The Nuggets certainly could have used such help in the first round last season. Instead, the Warriors get to keep a player whose main value might be that someone else doesn't have him.