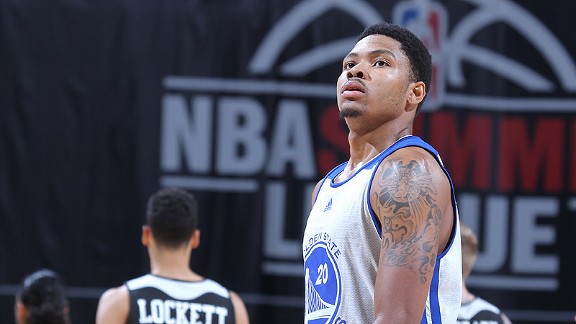 Jack Arent/NBAE/Getty Images
Kent Bazemore hopes to be on the receiving end of sideline cheers next season.
Kent Bazemore, the gangly Warriors' second-year guard, is trying to go from standing out to fitting in.
Bazemore's outlandish sideline celebrations made him a cult celebrity last season. Rarely are fans introduced to a player's style before getting introduced to his style of play, but Bazemore's off-court moves were elite, liable to trump an announcer's call in hyping a Stephen Curry 3-pointer.
The bench can be a frustrating, even depressing purgatory, but the kid's telegenic smile conveyed no misery or anxiety -- only charisma. This Warrior is a "Happy Warrior," a man impervious to the dread and drudgery of the NBA fringe. Even though he didn't fit into a rotation role last season, Bazemore is optimistic that his distinctive frame and manner can mesh with what Golden State needs.
Not getting drafted in 2012 coming out of Old Dominion was a blessing, because "I ended up on the Warriors." Not playing as a rookie was even better, because he got to watch and learn first. Otherwise, as he puts it, "I might have played myself out of the league."
The Warriors designated him as a small forward before his rookie season. Right now, he's handling point guard duties for Golden State's summer league squad, running high pick-and-rolls like a Stephen Curry understudy. In between then and now, there's been a lot of time on the bench, a lot of time to think. At the moment, as he drapes his arms nearly all the way across a perforated table at Starbucks in the Mandalay Bay Shoppes, Bazemore muses on the downside of his own freakish wingspan. He could carve a Greek amphitheater when making a snow angel, but such reach isn't so helpful for making a jumper.
"Biggest hole is my jump shot. I can run and jump and rebound with the best of them, but I was a liability on the offensive end," Bazemore laments. "We reconstructed my entire jumper. I got a shorter, quicker release. I mean, I got a 6-11-and-a-half wingspan. So, instead of bringing the ball down and all the way up to extend those long arms, I catch it up already and it's like a shorter stroke, which has improved my jump shot vastly."
The longer a player's arms, the lower the shot tends to start. The lower it starts, the longer the motion, and the greater the margin of error. Not only that, but a lower shot means more opportunities for defenders to block or steal. But the lengthy among us have someone to look up to, someone to emulate.
"Look at Kevin Durant. Look at his release," Bazemore says. Kevin Durant, despite his considerably long arms, manages to tuck the ball and shoot quickly right up from his chest. "You look at all the great shooters, they catch the ball and it's all one short motion. They don't catch it and bring it down. They catch it right into their shooting pocket and let it go."
Warriors video coordinator Joe Boylan has been working constantly with Bazemore on shortening that form in pursuit of the Kevin Durant ideal. The stretchy shooting guard will never get there, because, well, no one gets to where Durant lives. But getting a little bit closer would all but assure Kent Bazemore a place in this league for a long time.
While he's working on that jumper, Bazemore has to deal with another peril of length: the temptation to gamble for steals. Finance tycoon Bernard Baruch famously once said, "When you have a hammer, everything looks like a nail." Bazemore is long and quick, so therefore thousands of defensive plays look like the right time to reach for the ball.
"Oh my god, yeah," Bazemore exclaims when asked if it's tough to stop lunging. "That was one of my biggest problems in college. Shoot passing lanes too fast. Reaching. That's one thing I've learned not to do this summer."
With great defensive potential comes great temptation, apparently. "My first two matchups, Otto Porter and (Ben) McLemore, their handle wasn't as tight as a lead guy," Bazemore says. "So I had ample opportunity just to reach. But Coach always says, when you out there, act like you're in an NBA game."
Warriors summer league coach and defensive specialist Darren Erman is currently immersing Bazemore in team defensive principles, running the team through repeated "shell drills" where the defense must stay congealed while under duress. All the work has inspired a new philosophy for Bazemore: "Get in the right spots and the ball will come to you."
To fit in at this level, Bazemore must occasionally resist trying to stand out with a flashy steal. To blend into what the Warriors want, Bazemore must contort his most striking feature -- that hang glider wingspan -- into an accurate catapult from behind the arc.
With the right adjustments, you'll know Kent Bazemore by his game and not by his cheerleading.