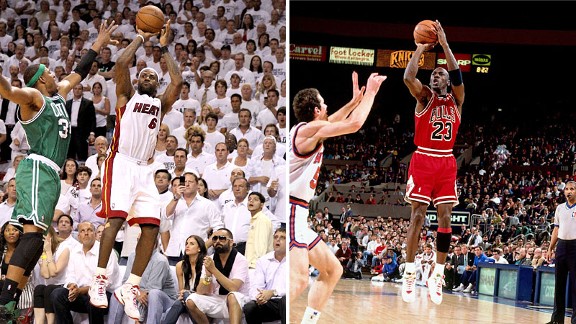 Mike Ehrmann/Nathaniel S. Butler NBAE/Getty Images
Michael Jordan's 3-point shooting was poor -- except during the seasons when the line was shorter.After securing two consecutive NBA Finals MVP awards, LeBron James is finally drawing Michael Jordan comparisons that are actually favorable. In theory, time is on James' side as he's a year younger than Jordan was when his Bulls steamrolled the Portland Trail Blazers for a second title. After all, if Jordan was able to stay productive into his mid-30s, then LeBron should be similarly blessed. It would seem that James is on pace to match or eclipse MJ's absurdly high level of play in these upcoming years, with no baseball break to slow him down. The battle is on.
But this isn't exactly a fair generational fight. Unlike MJ, LeBron isn't getting a gigantic, league-sanctioned gift.
At the start of the 1994-95 season, in response to fears of a scoring decline, the NBA went from a 3-point line that extended 23 feet, 9 inches, to one that was 22 feet all the way around. The famous "It's gotta be the shoes!" slogan didn't actually explain Jordan's basketball genius, but a couple of feet really did help his production.
There's lore of how an aging MJ stayed on top by refining his post game, but it's often ignored that his latter career prowess had a lot to do with the 3-point line migrating into Jordan's shooting range. For reasons that may always elude me, some players are super accurate from deep midrange but are weak from a step or two farther out. Jordan was one of those guys. Basketball's least efficient shot, the long jumper, was ridiculously efficient under Jordan's command, indelibly so when launched over poor Craig Ehlo and Bryon Russell.
On 3s, he wasn't so Jordan-like. In seasons where he played with the longer 3-pointer, Jordan shot a terrible 28 percent from long range. With this in mind, it's no wonder he famously shrugged after hitting six 3s in Game 1 of the 1992 Finals. That season, the sport's greatest player had averaged 0.3 made 3s a game on 27 percent shooting.
When he returned from the baseball diamond to the newly shortened 3-point arc at the end of the 1994-95 season, Jordan's distance shooting was about all that went right over 17 clunky regular-season games and his subsequent playoff exit. His 50 percent 3-point mark that season presaged how an older, more grounded Airness would come to dominate after a summer of sharpening his skills to fit the new rules.
He came back that fall and, at age 32, had one of his greatest seasons. Not only did Jordan's team famously win 72 games, but MJ posted his most efficient shooting season in five years while claiming his second-best win shares mark. He was less potent inside the arc and less explosive around the rim. But he shot a scalding 42.7 percent from 3. A season later, Jordan's (still good) 37.4 percent 3-point shooting augmented otherwise slipping numbers.
Of the 581 total regular-season 3s Jordan sank over his long career, 238 of them came in the little more than two seasons he played with the short line (1.3 3s a game with a shortened line, and 0.39 3s with a longer line). Credit the greatest player ever for being savvy. When the 3 point-line retreated, he went on the attack, launching shots from distance more frequently while hitting 40 percent of his treys, like a regular Ray Allen. Jordan knew his strengths and his limits. He knew he was deadly from 22 feet and feebly inaccurate from 23 feet.
Perhaps an even greater testament to Jordan's game was his ability to persevere after the NBA took away his edge. The league reverted to the old 3-point line in Jordan's final Bulls season and his shooting took a hit. Though he reduced his long attempts significantly, he sank just 23.8 of his triples and suffered a drop in scoring efficiency. Despite that, Scottie Pippen playing only 44 games, acrimonious feuds with management and Jordan turning 35 that season, the Bulls somehow won 62 games and an eventual title. Jordan keyed a vicious defense while grinding out just enough offense to triumph overall.
So none of this is to say that Jordan had it easy or that the rule change completely explains his late-career success. It's more to say that rules influence how or what a player does, even a player who seems bigger than the game itself.
It's also fun to consider what LeBron might do with a 22-foot arc. Last season, according to NBA.com/stats, LeBron shot roughly 52 percent on 3s in the 22-24 foot range. (He has long been a lot better a bit closer to the hoop -- for instance, in the corners -- while hoisting many longer 3s regardless.) Imagine the seasons LeBron could have with, to borrow a baseball term, a shorter center-field porch. He might make Michael's greatest seasons look tame by comparison.