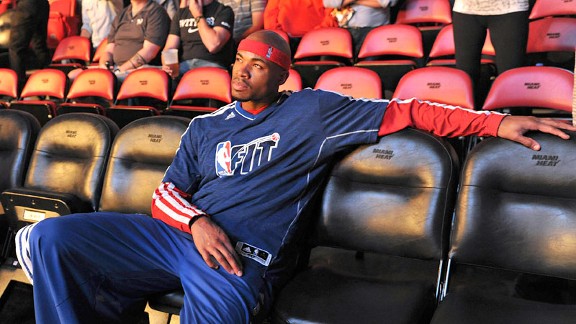 Steve Mitchell/USA TODAY Sports
Even though he's not retiring just yet, Corey Maggette is getting a look at life after basketball.Corey Maggette wants to play a few more years in the NBA. But that didn't stop the free agent from taking unique steps this summer to learn about other career opportunities.
It all started in early June, when Maggette traveled to Treviso, Italy, with Detroit Pistons assistant GM George David for the 11th annual adidas Eurocamp, a three-day showcase of Europe's best youth basketball players. While getting the rare opportunity to shadow David as he evaluated talent, Maggette also wanted to build relationships with the many other NBA GMs and team presidents in attendance.
"I gained different perspectives on how these guys think, and it kind of gives you an idea of things that you want to be about when you're finished," Maggette told ESPN.com.
"I was actually able to sit in on [David's] interview process with the players. It was kind of cool because as an active player those players actually knew who I was, and I kind of gave them a raw-deal speech of what the NBA is really about."
From there, Maggette traveled to Las Vegas in mid-July during the NBA Summer League, where the players' association hosted a leadership program. In addition to Maggette, a few other current players, including Caron Butler, Andre Iguodala, Andre Miller and Evan Turner, met with several former ballers to discuss personal development off the court.
A few weeks later, Maggette attended the NBA's newly launched Corporate Crossover program, where he, along with 14 former players, including Willie Burton, Ronald Dupree, Bo Kimble and Kerry Kittles, heard from many different NBA department heads about their roles and getting in the door to work for the league. Maggette was the only active player present.
Kevin Carr, NBA VP of player development, said potential salaries would not be inflated for any player regardless of how much they made in the league. Carr said the program doesn't put the players on a pedestal just because they have competed professionally, but rather it teaches them to be grounded and understand the real-life process of getting a 9-to-5 job.
"Access, fame and money is just the beginning," said former NBA player Rory Sparrow, who is also a VP of player development, during a panel discussion on what it's like to work for the league. "Players just want to invest and want to shake hands, and not do the back-end work. You need to understand the business side. Know how your skills can help the NBA business if you want to work here."
At one point during the Making the Transition class of the program, Maggette's résumé was shown on the projector and analyzed by a human resources representative.
"I was embarrassed," Maggette said, laughing. "But I appreciate the criticism; it's an opportunity to learn. ... You have to be able to take constructive criticism; that's a big key."
Reflecting on his time spent in New York City, Maggette credited three close NBA friends -- Michael Finley, Grant Hill and Juwan Howard -- for always encouraging him to prepare for a life beyond basketball. He was also very thankful for NBA commissioner David Stern's support to start Corporate Crossover.
"David Stern said, 'We want to have this program. We don't want to be in a situation where guys are going broke,'" Maggette said.
"You hear so many stories about guys going broke, but you never hear the stories about multimillion-dollar companies from Eddie Jones, Jamal Mashburn, who's killing it, or even Caron Butler, who has 14 [Burger Kings]. ... I think David Stern is taking a big step, and I think with that big step, the NBA is combining with the union to step up."
Maggette has also decided to get a degree in technology at Arizona State, where he's finishing up this fall. On the side, he's been helping to finalize development for a unique mobile-gifting app called Drinkboard, which is projected to launch on iPhone, Android and BlackBerry in September.
"Let's say you and your buddies are in Vegas or New York, and you can't make your friend's birthday," he said. "With this app that we're building, you can buy him a drink or dinner for his birthday at one of our New York chains that offers the mobile gifting. ... The redeem for whatever [gift] he received is directly on his phone. From that redeem, he takes that right to the hostess. We kind of found a way to monetize that process."
As for what Maggette will do next season, he's still in the middle of that process.
Maggette said his priority is to return to the Pistons, who have not made him an offer.
"Overall, I'm just waiting and being patient and see what opportunity comes," said Maggette, who's currently training with Olympic speed coach Benoit Duboscq in Southern California. "You always got to explore your options, but if the Pistons want me back, it's great, man. I would love to come back."
Whatever happens, Maggette knows he'll look back on this offseason as an unforgettable one.
"Overall, I think I had a pretty interesting summer," he said, "just trying to learn and kind of take your mind away from actually the pounding of basketball.