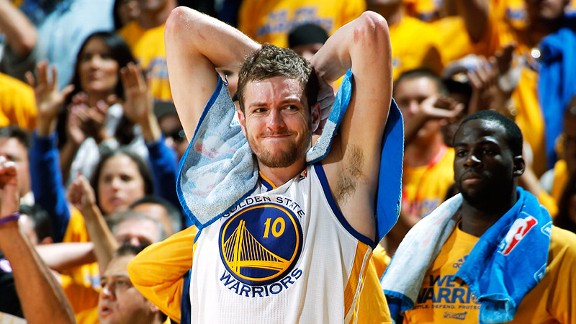 Rocky Widner/NBAE/Getty Images
David Lee is a winner, a great teammate ... and a conundrum for the Warriors.
You're living in one of the few times in human history when Warriors optimism is surging.
It's to the point that many Golden State fans expressed social media displeasure over an NBA Forecast of a "mere" 50 wins. This is a radical shift from when, about one year ago, owner Joe Lacob's words were drowned out by a tsunami of Oracle Arena boos.
Having just outperformed postseason expectations, the Warriors have some perceived momentum.
Buried in the buzz is how Golden State's playoff run made its lone All-Star look rather expendable. Today, the David Lee question is an awkward one in Oakland. A flurry of trades has passed, and the power forward remains on the roster. If the Warriors caught lightning in a bottle this spring, the unresolved Lee question could be how that electricity leaches away.
Now, if you're a nerdy Lee fan, this is the part of the article when you might counter with: "Sample size!"
That's a fair point: The Warriors were awesome without Lee for a very small number of minutes. But it's difficult to dismiss just how much better the Warriors were within that postseason run.
"Signature significance," as Bill James coined it, dictates that a singular event can be so dramatic as to have some analytical meaning. For example, when James Harden scored an efficient 82 points over his first two Houston Rockets games, you'd have good reason to believe he'd fare well in Houston.
After Lee injured his hip in Game 1 against Denver, the Warriors beat the Las Vegas spread in eight consecutive games. The staggering streak only ended when Stephen Curry badly injured his ankle.
What's a bit confusing about the Lee question is that Golden State certainly was better with Lee on the floor in the regular season. This can be attributed to Lee's skill, but also to how the Warriors played without Lee. Carl Landry, Lee's primary sub, can be roughly described as a slightly worse version of Lee. When Landry came in, he'd run pick-and-pop plays with either Jarrett Jack or Curry, just like Lee did.
When Landry wasn't spelling Lee, a replacement-level center was. Sitting Lee under those terms was no recipe for success.
The playoffs, though, were different. Because when Lee was out with injury, Golden State tried something new and, for an NBA team, radical. Coach Mark Jackson elected to slide rookie Harrison Barnes from small forward to power forward, something Jackson never tried during the season. The Warriors spread the floor with four 3-point shooters for the first time all year.
The results were astounding, and on a subjective note, aesthetically thrilling. The Warriors had been the NBA's most accurate 3-point shooting team that season, but only on 19.8 attempts per game. In Round 1 against the Nuggets, the small-ball Warriors hoisted 24.3 3-pointers per game while maintaining a sterling 40.4 percent accuracy. Like a Roman army unleashing flaming arrows, the Warriors flung volley after volley of long shots at their target.
Suddenly, thanks to that offense, the Warriors looked like a team that should have won far more than 47 games.
Denver was helpless.
Teams have enough trouble tracking Curry and Klay Thompson above the arc without two additional perimeter threats yanking the defense in uncomfortable contortions. The Nuggets were stretched too thin, often ceding ridiculously wide open shots to Barnes. Andrew Bogut's brutal above-the-break screens also helped set the stage for Curry's unique off-the-dribble shooting ability.
Around the time Curry got hurt, the Warriors reverted to more traditional roles for Barnes and Landry. Though the Dubs played well defensively, San Antonio shut down their attack, winning the series in six games.
Now, the Warriors must figure out if life without Lee was aberrational or a glimpse into a better future, where four 3-point shooters carry a team to ever-greater heights.
It would be one thing if Golden State could merely play its All-Star fewer minutes, but he will earn nearly $14 million in the 2013-14 season -- and since when do All-Stars get spot minutes?
This could easily go the way of the Knicks with Amare Stoudemire or the Grizzlies in the time of Rudy Gay. Paying a guy forces a team to play a guy, lest they lose face or trade value. Some of these kinds of players could actually help their teams, if only they weren't in the game so much. Hypothetically, 15 minutes of Stoudemire could be a boon to the Knicks, whereas 37 minutes is probably a disaster. Lee at 37 minutes wouldn't be a disaster for the Warriors, but all that inclusion would phase out the Warriors most effective lineups.
Rumor has it that Lee is spending this offseason practicing his 3-point stroke. Though a fine ball handler, passer and midrange shooter, he'll need to bring something additional to cancel out defense like this, which shows up in some analysis as among the worst among all NBA big men.
I haven't dwelled on Lee's defense because it almost goes without saying that he's bad at it. The entire Golden State pick-and-roll scheme is now based around the inability of their bigs to move well. Bogut shares this problem with Lee, but unlike Lee, the Aussie center protects the rim. Klay Thompson, as a shooting guard, claimed twice as many blocks as Lee did last season.
All that was excusable when it at least looked like Lee made the Warriors better offensively. The playoffs turned the necessity of Lee's offense into an open question. If a big guy can't defend, might be holding your offense back, and makes a ton of money, should he be in your team's future plans?
That's where the Warriors are with Lee, whether they or their fans would like to admit it. While it's possible that Lee's presence helps an injury-prone roster scratch out wins, it's almost certain that Lee -- a skilled player, to be sure -- would be more useful to a team that didn't have to put aside its best offense to play him.
Lee gives the Warriors a distinct ceiling: Neither the defense nor the offense is at its best when he's on the floor.
To aim higher than "playoffs" as a goal, the Warriors likely need to push the 3-point attack as much as possible on offense and do whatever it takes to get a little better on defense. If Lee can join that party, maybe he can be a key part of a special team. But counting on players to change seldom pans out. And if Lee doesn't change, the Warriors must find a way to trade their All-Star -- because talented and hardworking though he is, he's making far too much money not to make the team better.