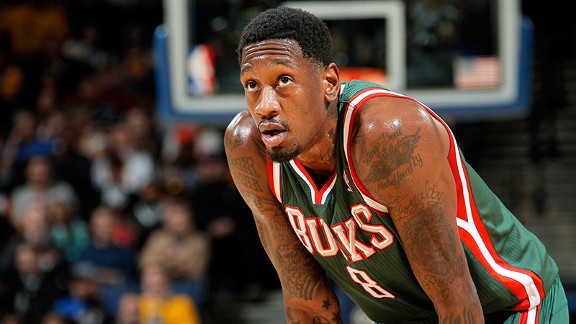 Rocky Widner/NBAE/Getty Images
Larry Sanders' big payday in Milwaukee reflects a new world order in the NBA.
When Larry Sanders signed his four-year, $44 million contract extension, he exalted, "... can't believe I've been granted this opportunity to represent Milwaukee for the next 5 years and hopefully the rest of my career."
Perhaps Sanders is referring to the unlikely journey of going from mid-first-rounder to franchise building block, but he also just might be genuinely surprised. The Milwaukee big man has never averaged double figures in any major statistical category and he scored a mere 3.6 points per game in 12.4 minutes the season before last. He's not even the kind of super athlete on whom general managers project future success -- Sanders registered a combine vertical leap five inches below what master shuffler Chuck Hayes managed as a rookie.
Just based on the raw numbers, signing Sanders to this deal makes no sense.
Unless you're a nerd -- the kind who appreciates Sanders' mastery of angles, the timing of his jumps and his penchant for adhering to his defensive responsibilities. To the NBA geek, this validation of Sanders is a validation of looking deeper than mere "counting stats." Though Sanders is the big winner with a hefty pile of cash, his success is a giant victory for basketball nerds all over.
It means Kirk Goldsberry, in detailing Sanders' secretly sterling defense at the MIT Sloan Conference, isn't talking to a wall. His reality-based ideas can either influence NBA decision-makers or reflect smarter NBA decision-making.
It means Grantland's Zach Lowe, he of the "LARRY SANDERS!" meme, can get many readers excited about the subtleties of Sanders' interior defense, stuff that didn't rate before in-depth writers like Lowe seized the mainstream as their turf. Even if big men tend to make more, they rarely cash in while scoring fewer than 10 points a game. But the basketball cognoscenti isn't laughing at this contract.
Why? Because the nerds are winning.
If the nerds are indeed winning, someone has to lose. That poor guy is Monta Ellis. The volume scoring guard opted out of $11 million this year with those same Bucks, banking on greener pastures. Instead, he found a market wary of his inefficient offense, concerned about his flighty defense, and underwhelmed by his raw point totals. Ellis finally signed with the desperate Dallas Mavericks to a little more than $8 million per year for three seasons.
Historically, inefficient volume scorers like Ellis usually got paid more generously than guys like Sanders. Ellis hogged the ball and racked up points, which was enough to make him the face of the Golden State Warriors. In a nerdier era, though, a ball-dominant talent like Ellis can be overshadowed by Sanders, a dirty-work defender who formerly worked in the shadows.