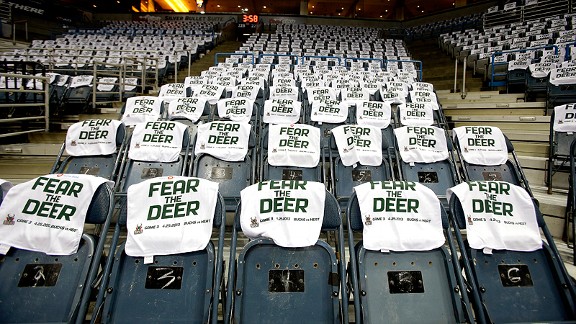 Mike McGinnis/NBAE/Getty
The Milwaukee Bucks don't believe in tanking, which makes them misguided -- or wonderful.
There was a time when the Milwaukee Bucks lorded over the NBA's Central Division as perennial contenders. In the mid-1980s, Don Nelson still had a modicum of structure in his nightly war plan (Nellie's Bucks consistently ranked in the bottom half of the league in pace), and the Bucks ran off seven straight divisional titles between 1979 and 1986.
Sidney Moncrief was a rock in the backcourt. Out on the wing, Paul Pressey established himself as a prototype for what would become the modern-day defensive stopper. Marques Johnson joined him out there as one of the more reliable, high-percentage wings in the league. When the Bucks swapped Johnson for Terry Cummings, they adapted seamlessly, and Cummings would become a top-10 player during the latter half of the Bucks' golden period. Alton Lister anchored a defense that was routinely in the top three.
Soon after that stretch, expressions like "small market" entered the league's lexicon, and the NBA's better players became empowered to be more selective about where they'd build a career. Gradually, places with cold weather and less cosmopolitan sensibilities had a harder time attracting talent. To play in these markets, stars have to accept a lower Q rating, and that represents lost dollars in today's sports economy. All of this produces a compounding effect: the belief among players that building a winner in that city is near impossible.
The Bucks organization has always retained its reputation as one of the league's classier outfits, but it couldn't fight this tectonic shift. The franchise simply didn't have enough mitigating factors to overcome it. Like their city, whose spirit has been sapped by new insurmountable economic realities, the Bucks began to fight an uphill battle.
---
Since Milwaukee struggles to recruit the kind of players who can single-handedly deliver home-court advantage in the playoffs, that leaves the Bucks with two general directions to follow. They can tread water as a league average team with the hope that, with a break or two, they can add 10-12 wins to their .500 record, join the adult table and continue to build from there. The Indiana Pacers, the former employer of Bucks assistant general manager David Morway, have deployed this strategy in recent years. The Bucks' alternative is to deliberately place themselves in a position to acquire a collection of high draft picks who could morph into an elite core -- the Oklahoma City Model, now a proper noun in the NBA.
"Guys are going to say, 'I want to be a part of this because they're winning,' or you need to be a team, like Cleveland, that gets two No. 1 picks or three or four top-five picks, and a guy says, 'I see what they have,' " Bucks general manager John Hammond said.
The treading-water strategy needs a public relations professional. The basketball intelligentsia mocks teams that seem content to chase the No. 8 seed, especially in the East (No. 8 seeds in the West are usually pretty good and generally have legitimate aspirations to finish higher). The maxim, "If you're not contending, you're rebuilding," is regarded as smart thinking. Some league executives publicly adopted another neologism -- "the treadmill of mediocrity" -- to describe what many of them see as a fatal condition. A popular notion exists that nothing short of running the table with a series of mid-first-round picks as the Pacers did, a team is a long shot to contend with this blueprint, even though there's little evidence that losing ultimately leads to winning.
The more clever teams looking to improve seek to capitalize on the glitch in the league's incentive structure. Blow it up, pick high, nail those picks (and every front-office guy believes he was born to evaluate prospects), and you'll play in late May. Don't you know that the market inefficiencies that come with the existence of the NBA draft were meant to be exploited? We don't make value judgments about the ethics of tanking, because aesthetics are irrelevant. These are the rules as they've been designed by the league, and the job of an executive is to succeed within those confines.
Under the leadership of owner Senator Herb Kohl and Hammond (a contributor to the assembly of the Pistons' teams of the early- to mid-'00s), the Bucks have squarely situated themselves in the survivalist camp. Their goal each offseason is to shoot for as many wins as possible. The catalog of transactions in pursuit of this goal isn't without blemishes -- and management will own up to the Harris-Redick deal -- but that's been the consistent tactic in Milwaukee.
The Bucks' brass articulates its rationale behind this strategy. Part of that argument is based on principle, while the other half is the stated belief that tanking doesn't necessarily yield better results than doing it their way.
"We're trying to say with Larry Sanders -- one of the top defenders in the league -- with Ersan [Ilyasova], with veterans like Zaza [Pachulia], Luke [Ridnour], Carlos [Delfino], with young players like O.J. [Mayo], Brandon [Knight], John [Henson], Gary [Neal], Ekpe [Udoh], and Giannis [Antetokounmpo], I know we may not win a world championship today, but I do think we can be competitive and continue to build with draft picks and cap space" Hammond said.
Critics (present company included) raised eyebrows at extending Mayo a contract of $8 million per season over three years, but the Bucks answer that they acquired one of the best talents among the free agents they could realistically target. If they overpaid by 10-15 percent, that's just one of those variables that Milwaukee can't control. Besides, it's not as if giving a $6 million player $8 million is going to decimate their fairly roomy cap situation.
"We're not unique," Hammond said. "Cleveland has to do the same thing. Indiana has to do the same thing. Sacramento has to do the same thing. It's also true in major league baseball. Sometimes you have to overpay for talent."
Morway was one of the architects of Indiana's build-on-the-go strategy. Now in Milwaukee, Morway has considered the Pacers' success and has come to feel deeply that, even with the league's weird incentive structure, tanking isn't necessarily a better strategy.
"There isn't one way to build a franchise," Morway said. "You can build a team [by pursuing high draft picks], but there's a lot that goes on between the concept and the execution."
For every Oklahoma City, there's a Charlotte and Sacramento. There's cause for optimism in Minnesota, Cleveland and Washington, but those teams are still trying to make good on multiple high picks, and none of them have seen the postseason during their current era. The Bucks can cite their own history -- the center they chose at No. 15 in the draft (Sanders, in 2010) will likely contribute more when it's all over than the center they drafted No. 1 (Andrew Bogut, in 2005). There was undoubtedly some bad luck involved but, for the Bucks, that's the whole point -- there's no certainty hitting the lottery jackpot will actually pay out in real life.
---
Then there's the case against tanking that can't be quantified on the floor but which most small-market teams feel a need to abide by. Like Pacers owner Herb Simon, Kohl is one of his city's last great patricians. The son of Jewish immigrants, Kohl built his fortune in Milwaukee, where he was born, raised and has resided in his entire life except for a couple of years earning his MBA at Harvard. With that accumulated wealth and a dutiful sense of noblesse oblige, Kohl has been one of Milwaukee's leading philanthropists for decades. And as a member of the United States Senate for 24 years, he literally represented Wisconsinites for a generation.
A sports owner like Kohl (and similarly Simon) who lives in an older city that has struggled to join the growth economies of the sun belt or tech corridors often sees his franchise as a public trust. The team has an accountability to the city. And part of that is delivering a competitive product, to let those making the trip to an aging arena know that there's a better than 50 percent chance they'll see a win for the home team. Unlike so many of the newer owners who live out of town and have only a passing relationship with the cities of their teams, Kohl sees Milwaukeeans as neighbors. When you invite your neighbors over to your place, you owe them your hospitality.
"Why should I come to the games if you're telling me you're not trying to win?" Morway asks rhetorically.
For Kohl, playing to win every night is a common courtesy to fans, the majority of whom have elected him to the Senate on four occasions, the last time with two-thirds of the overall vote. Public trusts have to perform -- especially if they're asking for popular support. The Pacers are, again, an appropriate case study. In Forbes' team valuations published in January, they ranked 24th, while the Bucks were dead last. The Pacers asked from the public and received $33.5 million to address their shortfall in operating income at their home arena. Coupled with a negative public image, the fallout from the Palace brawl, the Pacers felt they couldn't afford to tank. That's a privilege reserved for organizations in healthy markets and/or those who have accumulated equity and good will.
The Bucks will soon need to make a hard sell to the residents of Milwaukee that they can't survive without a new home. They play in arguably the worst facility in the league. Unlike some of the concrete palaces in Sacramento or Salt Lake City, there's no intimate charm or deafening noise in the Bradley Center. It's just tired. While a team can't control the climate, economy or general mood of its city, it can offer a nice work space. The Bucks can't do that until they build a new facility in Milwaukee, and that's an easier sell when there's electricity in town, the Bucks are on the verge of a series upset and Bango the Buck's antics make him a cult hero.
The Bucks maintain that putting together a run like that without cohesiveness and that there are psychic costs when a team accepts losing as part of the program.
"To build a winning culture ... you can't turn it on and off," Morway says. "Players see that."
Oklahoma City managed it, but by pulling off a rare trick. It built a unique relationship with Kevin Durant, who understood that for a few years, the organization would define success on its own terms. Building that kind of trust requires the rare player in a near-perfect situation. For most young players -- even some who project as future All-Stars -- losing can quickly become a bad habit, and that's not a risk most teams can assume.
---
At one point or another, most executives at least float the idea to their owner of starting from scratch. But for reasons ranging from civic responsibility to anecdotal evidence, Kohl and Bucks management decided some time ago that they couldn't seriously entertain a tanking strategy. Instead, they'll strive for respectability year in and year out. Since dynamic scorers tend to look past Milwaukee in free agency, the Bucks will focus first on building a top defense, then look to add durable perimeter scorers who can nudge their offense above the league average mark.
Some of the criticism targeting the Bucks is aimed squarely at questionable deals like trading Tobias Harris for two bumpy months with J.J. Redick and a 3-year, $15.6 million contract for reserve big man Zaza Pachulia. But the overriding sentiment is that the Bucks are foolish to do anything to compromise their future in service of winning more games in the present. Truth be told -- they might be. Unless Antetokounmpo, Henson and Knight explode, and Mayo makes a quantum leap (he's still only 25), it's difficult to see the path to the conference finals, and history tell us that's even more likely if they continue to pick in the mid-first round.
Teams like Bucks who direct their management to assemble this year's model with the highest-performing engine they can design are regarded as quixotic at best and, more times than not, myopic. Chasing the eighth seed is the ultimate act of madness because respectability is worth far less in the current structure than 60-65 losses. Does this kind of arrangement, one where NBA teams who put the best product on the floor might compromise their future, make the league stronger?