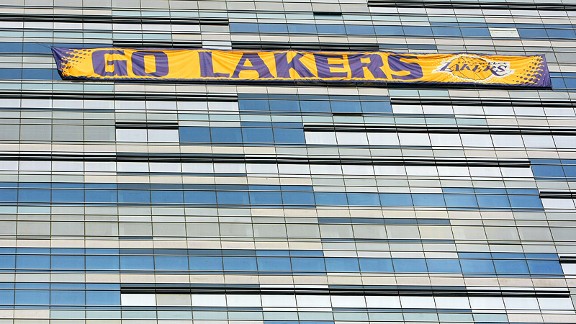 Stephen Dunn/Getty Images
Luring the kind of players who can bring titles to Lakerland will be tough.
The history of the Lakers is that they may stumble now and again, but never for long. One way or another, huge names come to play in L.A., and as a result they contend near-constantly.
The franchise is by any measure one of the strongest in sports, and here's a crazy statistic: Since beginning life in Minneapolis in 1948-1949, the Lakers have never gone more than eight years without making the NBA Finals. To keep that streak alive, they'd need to make it back in the next five years. The race is on.
This year has all but been conceded, with stopgap post-Dwight Howard signings combining with aging players to produce a team ESPN Forecast predicts will finish 12th in the West.
But wait, the Laker faithful say, until the next star arrives to save the day. And it's true, the Lakers have everything it'd take to lure a major player by free agency: a desirable city, a respected brand and deep pockets at the ready.
And let's be honest, for all the excitement about the 2014 draft, in terms of likely impact, it's nothing compared to what the 2014 free-agent class could become. Need I remind you LeBron James can opt out of his contract, as can Chris Bosh and almost every single member of the Miami Heat? Carmelo Anthony could be on the market, along with Tim Duncan and Dirk Nowitzki. The year after that names like Kevin Durant and Paul George become realities.
So ... why all the long faces, Lakers front-office executives?
Why did a source close to Lakers management tell ESPN.com: "Within the organization there isn't a single person that believes we can bring LeBron aboard"?
Why was GM Mitch Kupchak on Colin Cowherd's radio show in the last few weeks saying "I don't know if we'll get a star player"?
The first reason is that the Lakers may not have all that much cap room. Getting huge amounts of cap space would require a ground-level reboot, yes, including renouncing Kobe Bryant, which seems unlikely now that the team has used its one-time-only amnesty cut on Metta World Peace. (If you were going to part ways with Bryant a year from now, it would have made much more sense to amnesty him before this year, when he is making a ton of money, and is a threat to be diminished recovering from an Achilles injury.) With Bryant in the fold, there might not even be enough money to offer a free agent a max contract.
There are conceivably ways the Lakers could have Bryant and huge cap room, as Bradford Doolittle has explained (Insider). But it would take a big pay cut for the Black Mamba, who has been sending signals that he intends to do no such thing. Instead, he's saying he intends to play at a high level for years to come, and without taking a pay cut. He's the highest-paid player in the league at more than $30 million a season. The new collective bargaining agreement restricts team spending all kinds of ways, and prevents almost all other NBA players from making anything like that much. But big contracts such as Bryant's were grandfathered in, and every player in the league is entitled to seek pay raises, no matter how much he made last year. If Bryant keeps making anything like that what he makes now, and the Lakers still have Steve Nash, Robert Sacre and various cap holds, they'll only have around $15 million for a free agent, which means asking a star to take a pay cut to join a vacant and aging roster. It's hard to envision realistic trades that could alter that math enough to matter.
The second reason the Lakers may struggle to get a free agent is that Bryant has gained a reputation as a difficult teammate. The Lakers have been a fine destination of late for role players, but not for would-be stars such as Dwight Howard, Pau Gasol, Shaquille O'Neal and Andrew Bynum, none of whom get the ball as much as they'd like, and all of whom, despite playing well, become targets for media scorn.
"Pau is a two-time champion and a five-time All-Star and he's one of the most disrespected players ever," notes one agent. "He gets bad press all the time."
Another agent says: "The Lakers are Kobe. You have to understand that. It's not the organization for you if you want the ball or the spotlight. All that glitters ain't gold."
I asked a third agent, who has a Lakers client right now, if he thought Bryant might be a sticking point for free agents. His immediate response: "Uh, duh. Yes."
This might sound like a lot of rumor spreading, but players already have declined the option to play on the Lakers alongside Bryant. Howard turned down more guaranteed money to move on to a less celebrated franchise.
And don't forget the fascinating case of Ramon Sessions. He was the toast of the Lakers for a brief spell -- and when he reached free agency there was every chance he could have returned as the Lakers' starting point guard.
Instead he declined the Lakers' offer and opted to become the backup point guard for the Charlotte Bobcats, who were coming off the worst season in league history. Sessions has never expressed the slightest hint of regret.
The multiyear deal Charlotte offered was part of Sessions' calculus. But sources with knowledge of his thinking say tricky Lakers politics, where the blame tends to fall everywhere but with Bryant, was also on his mind.
The theory of finding a star to play alongside Bryant hinges on the notion that such a star would find joy in doing so. But who's the role model for that? Here's a Nash quote, from an interview this summer on Grantland:
I knew it wasn't gonna be the same. I felt like I was going to try something new, and that I was going to adapt — and to accept that, and embrace it. I think it'd be nice to find a middle ground where he does his thing but the ball still can move for great parts of the game. Hopefully we can find that this season. But I knew it wasn't going to be the same. When you play with Kobe Bryant, the ball is gonna be with him most of the time.
Does Nash sound joyous to you?
Bryant is the face of the franchise, a huge moneymaker and a global icon. It would take tremendous guts for the Lakers -- whose embattled lead decision-maker, Jim Buss, has already been belittled publicly, many times, by the likes of Phil Jackson -- to rile up Lakers fans by parting ways with Bryant.
But keeping Bryant isn't simple either, especially when trying to rebuild through free agency.
Of the stars on the Lakers' short list, Anthony is said to be the only one who might actually sign with L.A. in 2014. But even that courtship starts on rocky ground. For one thing, there's no assurance it will work. Bryant and Anthony top the list of stars modern analysis shows hurt their teams with their unwillingness to share the ball, and neither is a defensive stopper at this point. And then there's the matter of Lakers coach Mike D'Antoni -- he and Anthony already had to be separated once before, in New York.
The Lakers are among the most successful franchises in sports by any measure, and history suggests they'll find their way out of this latest bind, too. Either some star will come to L.A. to play with Bryant, or one day the Lakers and Bryant will part ways and some star will fill the void. The Lakers have the money to spend and the cachet. It will work, eventually. It always has.
But there is one last concern: The Lakers have succeeded in the past in no small part by outspending their opponents. Historically big salaries got the Lakers the likes of O'Neal from the Magic, Phil Jackson on the sidelines, and an unprecedented 25-year-deal kept Magic Johnson a Laker for life. They even outspent the competition to get Wilt Chamberlain back in the day.
The 2011 collective bargaining agreement, however, really does constrain top spending in more meaningful ways than ever -- it functions as a de facto hard cap. The Lakers may have the league's best local TV deal, with plenty of dollars to spread around in theory. But they simply can't woo LeBron or Carmelo by offering to pay more than anybody else.
So they have to win free agency by being a more attractive franchise in other ways -- which is tough.