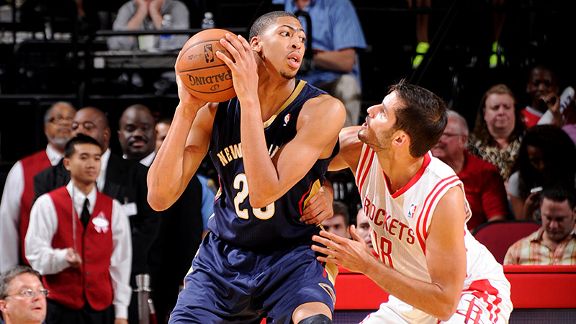 Bill Baptist/NBAE/Getty Images
Anthony Davis often caught the ball far from the hoop against the Rockets, and finished 9-for-16.
Dwight Howard will be one of the most interesting players in the NBA for quite some time -- he splits interestingly across the love/hate spectrum among fans.
So I was curious when I saw that in his first preseason game for his new team in Houston, not only did the Rockets lose to a so-so Pelicans team, but they did so while both giving up 116 points. Howard played 27 minutes.
How did that happen?
A peek at the box score revealed two interesting factors:
Omer Asik has a strained calf muscle and didn't play for the Rockets, which matters, because he's one of the most effective defenders in the NBA, and by GM Daryl Morey's own admission the Rockets' defense was lousy without Asik all last season. Howard has big shoes fill to make this team effective at that end.

Offensively challenged young Pelicans big man Anthony Davis was the game's most potent scorer (if you ignore Omri Casspi's supernatural 20 points in 20 minutes from 10 shots and 90 percent shooting), making 9 of 16 shots, to finish with 21 points in 27 minutes.
My quick question, as I dug into the video: What did Howard have to do with letting Davis' getting those buckets?
Answer: Almost nothing.
Second question: How did Davis, who only scored 20 points or more 10 times in his rookie year, do all that efficient scoring?
Answer: Attacking off the dribble, mostly.
In this game, Davis was strictly a power forward, mostly playing alongside Pelicans big Greg Stiemsma. As such, Davis was essentially never guarded by Howard, who had next to nothing to do with giving up Davis' points.
Davis took an array of jumpers. I am all for big men expanding their games with the jumper (and I'm even more all for big men shooting 3s to make room for their teammates around the hoop). But if this is going to work for Davis, he showed little sign of it in his first preseason game. He's willing to shoot 'em, which is something. But they're not going in. He took a horrible, contested turnaround long 2 with a hand in his face and a foot on the 3-point line. There's not a player in basketball who scores efficiently with that premise, and especially not 0-for-jumpers Davis, who also almost airballed a free-throw line jumper and missed several others too.
Fascinating, though, is what happened when Davis went into quick-attack mode, catching and heading for the rim with a live dribble. That's when defender Terrence Jones started to look helpless. Davis is long! And when he's fully extended, it takes help defense to bother his shots, and that proved difficult for the Rockets to muster. Davis didn't hit all night with his jumper, but on the drive he barely missed, hitting a couple of floaters, a memorable reverse and an old-fashioned running layup. Those made floaters -- high-skill shots -- can serve as the latest in a series of hints that Davis has a soft touch worth developing. Another: He finished last season making his last 17 free throws. No big deal in and of itself, but ... nice.
Add to that Davis' usual assortment of buckets-from-being-long-and-active (two alley-oops from Austin Rivers, an uncontested dunk off a shovel pass from Jason Smith, a putback dunk) and you have a the makings of a tidy offensive night with some promise.
You would also seem to have some endorsement of the idea that Davis' future is at power forward, not center. Thanks to the dribble attack game, Davis is a scoring threat of a kind even catching the ball well outside the paint. That point will be underlined even more convincingly if and when Davis can add some made jumpers to the mix, which'll let him not just beat the defense, but, even better, make it guess.