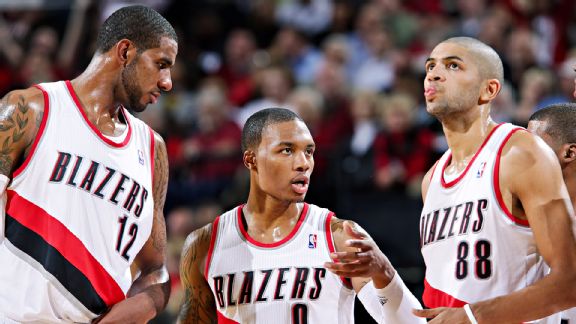 Sam Forencich/NBAE/Getty Images
After a grieving period over injuries to Brandon Roy and Greg Oden, the storm has settled in Portland.
Less than four years ago, the Portland Trail Blazers were thought to have as bright a future as any team in the league. Chad Ford and John Hollinger ranked them first overall in the 2009 NBA Future Power Rankings, commenting:
On paper, no other team possesses as bright a future as the Portland Trail Blazers. It all starts with the players. Nobody, not even Oklahoma City, can match the stable of young talent the Blazers have built. Brandon Roy is already a superstar, and joining him are potential stars like LaMarcus Aldridge (24), Greg Oden (21, even if he looks more like 51), Nicolas Batum (20) and Martell Webster (22).
The Trail Blazers were about to settle into a period of peace, prosperity and stability, but we all know what happened next.
Aldridge and Batum emerged from the rubble as the sole survivors among core players, coaching staff and management. The result has been an interesting exercise in rebuilding at a moment nobody ever dreamed the Blazers would have to rebuild. Catastrophes are devastating, but the only thing to do is start again, even if the final product isn't ultimately as nice as what was destroyed.
"We can't live in the shadow of what might have been," Portland general manager Neil Olshey says, "We'll never know."
Soon after signing on as general manager in the summer of 2012, Olshey drafted Damian Lillard and matched an offer sheet on Batum. Along with Aldridge, the Blazers now have a coveted point-wing-big core. That's most of what they had last season, but without a bench, they played .500 ball for the meat of the season. They have a sturdy foundation if Lillard becomes the top-10 point guard he appears to be, and if Batum (only 24) achieves his potential as the full package of playmaker-shooter-defender.
We're starting to get a glimpse of what the building is going to look like. Lost amid Olshey's candid, Oh-Dear-God media-day address on the persistence of the Aldridge nonstory was a pithy description of the organizational blueprint:
We've supported [Aldridge] with veterans. We've continued to do what we need to do in terms of bringing young talent in here. We've kept our long-term flexibility. We have the ability to aggregate our assets and put those into play if it gets to that point -- where we can put another star around him and [Lillard] and some of the other guys.
This is the design going forward in Portland: Develop the Aldridge-Lillard-Batum trio while accumulating assets and maintaining flexibility that can ultimately yield one more key piece.
"Upon conclusion of the 2014 season, we will know whether or not we have reached the fork in the road," Olshey says. "Either we are on the right course with our current roster by having drafted well, signed good contracts, acquired Bird [rights] players, and this group will stay together and we'll make a strong move forward. Or we're going to aggressively look to aggregate some of our assets to consolidate them into one player to join those players we believe represent the core of the franchise."
Either (a) the Trail Blazers crack the code, or (b) the roster beyond the core remains a little iffy, which means resources will be pooled and big game will be hunted. With that strategy in mind, how important is it that Portland wins in 2013-14? Last season, expectations were modest and priorities were more specific -- the primary one to develop Lillard's skills and confidence. The fact that the Blazers were able to accomplish that task is a far greater takeaway than the 33-49 record. The team played .500 ball until Feb. 10 and there was a general optimism in the Rose Garden.
This season, defining expectations for the Blazers is more complicated than merely improving on 33 wins. Odds are they will, but determining what level of success constitutes a good season is difficult. The roster is better than it was last season now that the team has acquired Robin Lopez, Mo Williams, Dorell Wright and Thomas Robinson to add depth where there was none, though seventh in the West is ambitious, even with the upgrades. Still, Olshey's position is that W's are an imperative.
"All of our offseason moves were made with the intention of competing immediately while not jeopardizing our long-term flexibility," Olshey says. "We are still focused and committed to developing our young talent, but it will not be at the expense of winning."
There are important intangible factors at work, as well. Aldridge has stated he's content in Portland, but it's fair to believe the team's success will be an important factor in his overall happiness moving forward -- and winning breeds satisfaction. And besides Salt Lake City, there isn't a market more vested in the fortunes of its NBA team than Portland, so trajectory matters. The nice thing about 33-49 is the modest baseline it offers, and though a 41-41 record wouldn't win the Blazers anything -- maybe not even a postseason berth -- plus-eight wins isn't chopped liver. It's the savory roasted game hen at Pok Pok.
The recipe on the floor should result in a better product. The Blazers ranked 26th in defensive efficiency last season, which means there's virtually nowhere to go but up. There was only so much that a defense with a 6-foot-9 center could do, but this season Portland will feature Lopez in place of J.J. Hickson. With Lopez, Aldridge and Batum, there's now some serious length on the floor, and a lot more for coach Terry Stotts and his staff to work with.
"We're going to change our principles," Stotts says. "We'll have a style of play defensively that our team lends itself to -- changing our pick-and-roll schemes, not getting out and extending our bigs very much. The principle being we need to do a better job of protecting the rim and forcing midrange jump shots. We were in the bottom of the league in attempts at the rim and in attempts being converted at the rim."
On the other end, the Blazers' starters posted a healthy 104.1 points per 100 possessions, considerably better than the league average. Stotts runs a diverse, user-friendly offense that combines much of the philosophy he helped develop in Dallas with Lillard's inclination to play in the half court, Billups style. Portland features more jump shooters than iso scorers, so Stotts encourages early jumpers, but Lillard and Aldridge are powerful tools in the half court, and you can do a lot worse than running two-man action for those guys several dozen times a game. The trick for the Blazers is splitting the difference, creating flow while exerting Lillard's control over the game.
"Damian's a scoring point guard who's used to having the ball in his hands," Stotts says. "The challenge for our team is being able to get the ball ahead quicker. I don't want to play a 100-possession game but I do want to get the a ball ahead. That makes the flow in the half court easier."
Lillard is still young, and we don't yet know who he's going to be. His potential is every bit as elastic as Aldridge's is settled. We know precisely who Aldridge is, but projecting Lillard's growth is tough, which, in turn, makes setting the bar for the Blazers challenging.
Whether clearing it means logging more than 33 wins, or finishing .500, or qualifying for the playoffs, this incarnation of the Blazers is now officially on the clock.