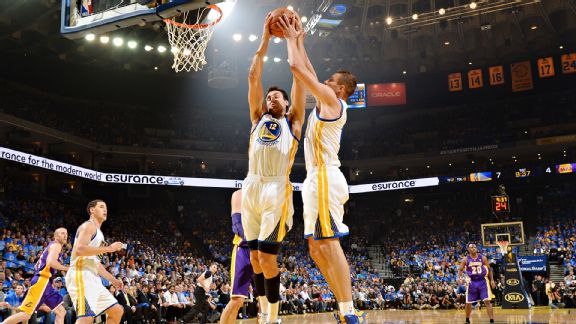 Andrew D. Bernstein/NBAE/Getty Images
Lighter fuel: David Lee and Andrew Bogut battle to start a Warriors possession.
Are the 2013-2014 Golden State Warriors great? That we don't know. Are they fun? Yes, and by broad consensus. They crushed the competition in Bill Simmons and Zach Lowe's League Pass Rankings. They were branded "The New Showtime" in Sports Illustrated. Everywhere you look, the Warriors are appraised as fun, fun, fun.
The reason is Stephen Curry, followed by Klay Thompson. Last playoffs, fans peered in from non-West Coast time zones and saw the Splash Brothers hoisting long 3s in situations usually reserved for dribbling, passing or breathing. Now the viewing public wants more transition bombs. Viewers will get those, but they'll also get another secret weapon -- something that might ratchet this team's entertainment value up even further.
This summer, the Warriors placed an emphasis on their bigs pushing the break off rebounds. Last season, Mark Jackson talked of a "green light" for David Lee to bring the ball up. Lee was reluctant to do so, but gained facility with this role as the season went on.
Lee is now flanked by a newly healthy Andrew Bogut, a center who's an uncannily good passer. Both have full permission to grab a rebound and push it like a regular Jason Kidd. It happened a few times in Wednesday night's stomping of the Lakers, most notably when Lee and Bogut combined to create an Andre Iguodala dunk out of semi-transition.
After the game, Jackson explained his squad's ethos: "Anybody that gets the rebound on this team has the light to push the basketball. Until they get a bunch of turnovers (chuckles), and I will reel them in. But I encourage those guys to push the ball. They are great at making plays. They are great at reading and reacting. And it's a weapon to have all those shooters on the floor. So it's a license to do that at any time."
That license isn't afforded to most big men on most teams. Even centers and power forwards who pass ably are restricted from orchestrating offense end-to-end. Not only does it seem risky, but it can look rather silly. A big man leading a fast break conjures a clown riding a miniature bicycle. Big guys should do big-guy things, as basketball's division of labor dictates.
"It's unorthodox for sure," Curry mused. "In transition, another big, whoever it is, running the lane, it's tough to guard. Especially if they can get into the paint with their dribble. It just draws attention in a different way I'm not sure teams can prepare for."
It's uncommon to see Curry speculate on what the opposition isn't ready for, but really, who spends time preparing for Bogut's And-1 mixtape audition? The novelty of a big man on the loose can be a boon for an offense. The virtue of strangeness is that defenses aren't so versed in counteracting the unusual. Golden State hopes the confusion can lead to more open 3s for Curry and Thompson. The oddball approach is, ironically, another means to Golden State's tried and true.
Curry channeled the defense's mindset: "If I see a big man going coast-to-coast, maybe I'll overreact sometimes, 'cause they can finish. It's not like they're just teasing. They can take it in the middle coast-to-coast. And the way they pass, if we run our lanes right and have good spacing, that's going to be tough to guard. We see our guard, soon as we get a rebound, it's open space. We have no problem turning around and sprinting because we trust them with the ball in their hands."
If a big man leads the break, he's likely to force someone other than an opposing big man to step up and deal with him. This can foment mismatches and defensive miscommunication. Teams that obsess over stopping Curry may forget every principle when the boulder from Indiana Jones starts rolling through the lane.
Yes, the Splash Brothers will be the main draw at Oracle. That much isn't changing. But if you're the type of person who loves watching a lumbering defensive lineman return an interception, you might just find more joy in Golden State's inverted fast break.