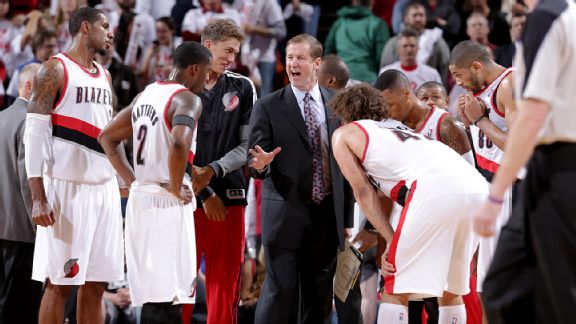 Sam Forencich/NBAE/Getty Images
Portland's 3-rich offense may be untraditional, but it's also off the charts.
The Blazers have just about the best record in basketball, the best offense in the game by a fair margin and egg on the faces of every pundit in the land.
They were supposed to be mediocre, and so far they have been stellar.
A caterpillar of a 33-game winner has emerged from the chrysalis of the offseason and taken flight, on pace to double last season's wins.
Somebody has some explaining to do. Three prevailing theories:
THEORY #1: MVP Aldridge
LaMarcus Aldridge has emerged as an MVP candidate, they say. And he has been fantastic ... but his performance isn't so different from what he has done in recent years. This is only part of the story.
THEORY #2: Roster upgrade
General manager Neil Olshey deserves major kudos for his offseason, most notably in bringing in starting big man Robin Lopez who has been a monster on the offensive glass, the team's best rim protector and, most importantly, the player who let Aldridge play his preferred power forward position. Olshey also upgraded the bench, to be sure.
But remember whatever is working in Portland must account for massive, not incremental, improvement. The Pacers, Thunder and Spurs are 0-3 against this team. Could that really be attributable to Lopez, Mo Williams and Dorell Wright -- even as most people rank this year's top four Blazer contributors as Aldridge, Damian Lillard, Wesley Matthews and Nicolas Batum, none of whom are new?
THEORY #3: Dumb luck
It is undeniable. Lillard can scarcely miss with the game on the line, including Tuesday night's off-the-dribble shocker, which, as Brian Windhorst points out, was "a game-winning 3-pointer that he drilled from the edge of the center court logo with less than a second left." Matthews is shooting an insane 46 percent from 3. Not to mention, they've had a knack for encountering opponents at the right time, for instance when key players are out injured.
But the biggest luck they've had of all, if you are to believe Charles Barkley on TNT the other night, or nearly any other pundit, is that they've hit jump shots.
And, the story goes, that's not how you win in the playoffs, when rim attacks, post-ups and power basketball carry the day. This is well-worn territory of NBA commentary; Mike D'Antoni's Suns and Rick Adelman's Kings tried this high-paced 3-rich offense, and it was cute for a while, but neither won a title, proving it's an offensive approach that is more of curio than a strategy worth fearing. Like those other soft teams, the Blazers will eventually start missing, and beat themselves.
Meanwhile, Portland head coach Terry Stotts chafes at the notion there's anything gimmicky about what's working. "That," he says, "is the easy way out."
The trickier analysis, the more nuanced one, is that these carefully constructed 3-rich offenses have intractable benefits. In Portland, it starts with Aldridge, who has the length and shooting touch to score like Dirk Nowitzki without the 3s. That's somebody you'd double-team.
But, how are you going to do that? The Blazers have, count 'em, five top-shelf 3-point shooters (each shooting 38 percent or better, with at least 65 attempts in the first 26 games). Other than garbage time, every single minute of this season Portland has had at least three of those top shooters on the floor. Help off one of them, and pay in 3s. The only other guy you might help off is the big man, generally Lopez, but how can you leave a seven-footer standing all alone under the hoop?
Every instant, every Blazer is a high-risk scoring threat. And, worse for the defense, they're all so darned far apart. Coaches always talk about spacing, on this team it's like outer spacing. The 3 shooters aren't within 20 feet of each other, leaving Aldridge an unperturbed acre on the left side to make the catch and exploit a defender. NBA defenses have schemes to help and rotate, but helping and rotating with players 20 feet away takes a lot of hard running, with all of its delay and imprecision. These are defenders out of position and under stress.
When such rankings are publicly available, it's a good bet we'll learn the Blazers lead the league in open shots.
And an emerging truism of both basketball history, and cutting-edge stat geekery: There's nothing like an open shot. Shooting those shots works, and has created a collaborative mood among Portland's players.
In a Wednesday phone conversation, Terry Stotts discusses his team's early success:
Charles Barkley says your success can't last because jump shooting teams can't win in the playoffs. Your thoughts?
I think that's the easy way out.
I don't like the idea that Phoenix didn't win a championship and so what they did was wrong. If that's the case, then 29 teams are wrong every season.
We won in Dallas [in 2011] with a lot of shooters. San Antonio has changed their style, and shoots more 3s now. Miami has their approach. There isn't one definitive style that wins. To win a championship you have to be very good, top ten or so, in both offense and defense.
The best defenses take away the paint, and not many teams have been able to score well against teams like that.
But every team can't shoot very well, because not every team has good enough shooters.
You have five elite 3-point shooters, in Damian Lillard, Wesley Matthews, Nicolas Batum, Dorell Wright and Mo Williams. I just looked it up, and except garbage time at least three of them are always on the floor. Is that by design?
Those five guys play all the minutes at guard and small forward, unless we play small, and then they're at the power forward too. I can't play any other way but to have three of them on the floor. Last year, we had a different makeup, and I tried to keep two starters on the floor at all times.
We have a lot of different lineups, but I'm not concerned about three shooters specifically, other than that's how our roster is constructed.
Wayne Winston consulted with the Mavericks when you were there. He is a pioneer of adjusted plus/minus, and once told me he suspects there's magic in lineups with at least three really good shooters. He has noticed they tend to perform very well, not strictly because of the 3s, but also because it gets the defense scrambling, and increases the chances every shot will be open.
I don't know about that theorem, but I firmly agree with the idea.
Look at last year's Finals. They say defense wins championships, and it does.
But look at the key adjustments in the series. The Heat brought Mike Miller in, and San Antonio responded by taking Tiago Splitter out. The key adjustment, for both teams, was to put another shooter on the court.
Meanwhile, one of the league's best shooters, Kyle Korver, a record-setter, recently told me he played for years before any coach drew up a play designed to get him a 3.
It goes against "old school" basketball, which says "pound it inside." And that can work.
But look at the history of this league. I'm big into looking at the history of this league and the ABA. Look at 3-point shooting. We were talking about this the other day: Rick Pitino's 88-89 Knicks team shot 40 percent more 3s than the next team, and won 50 games. That was radical! They shot more 3s than anybody.
And last season? That rate of 3s would have been 29th in the NBA.
I don't think we talk enough about the effect the rule changes had on all this. For starters, for three years they moved the 3-point line in and the attempts exploded. Then they moved it back out, and the attempts stayed up, and then gradually went up even higher.
And the rule changes in 2001, that's about freedom of movement, and it changed a lot. The rules used to dictate that you could only play a certain kind of defense, and that kept the ball on one side of the court. But with more movement, you get more skill players on the court.
Those 2001 changes are still having an impact.
If your team shot even more 3s, would the offense be better or worse?
I'm not concerned with the number of 3s we take. I don't go into a game saying we need to take more 3s, and I don't worry about how many we shot after a game.
My biggest concern is the 3s that we get. If we get the ball in the post, kick out, swing pass, and you're open ... take a 3. We have five guys who are are basically shooting 40 percent. It's about quality of attempts. I'm not talking about dribbling down and taking a 3 off the dribble. Those aren't the 3s I'm looking for. It's about the ball popping and finding the open man. Those are the 3s we want, and they make us an unselfish team.
It's hard to get good shots in the NBA, if we're talking about a good shot for that player.
If you have it, you have to take it.
And there has to be buy-in of what we do. If there were a strategy that said we had to try to shoot a 3 every time down the court, that wouldn't fly with these players. Sometimes chemistry can get lost in the numbers. It's essential to get the buy-in. I'm really proud of how we're passing the ball. I think they're proud of how they run this offense. I think it's the style that works for us.
What about the idea too many 3s are bad for the game?
Change always divides people into two camps: People who want it and people who don't.
That's the way things work. All these 3s, they inspire debate. It might be good for the game. It might be bad. But the debate is good. That's how we learn.
Does it matter to you if your team is fun to watch?
I'm proud we're fun to watch. It wasn't a priority heading into the season. But it comes with what we wanted to develop. I like that kind of basketball, I enjoy it. But it wasn't the goal.
The Suns didn't win a title. Neither did the Kings. Did it delay the NBA's embrace of the 3 that those 3-heavy teams don't have rings?
Why does Dallas get left off the list? We won a title with passing and shooting. Was that too much of an outlier? Is that not accepted?
29 teams failed that year, by this measure.
I have a lot of respect for what Phoenix did for the game. The way they played? They made the game better. What we're doing right now is a byproduct of what they did, absolutely. And those Kings teams were awesome. Just because neither team happened to win a title we're going to assume nothing those teams did mattered?
To win a championship you have to be in the top ten in offense and defense, pretty much. We were outliers in Dallas, where we were 11th in defense, I believe. The other outlier is the Pistons, who were not in the top ten in offense. But if you're trying to be a champion, you have to be good in both.
So what about your defense? [The NBA's 21st-best when we spoke.]
We're working on it. And we have gotten better on D. It's not like we're not defending. Look at the different measures, we've been improving. In games decided by five points of fewer, we're a very good defensive team. We're 12-3, I happened to notice, in games when we've made 44 percent or less. It's not like we have to be making every shot to win.